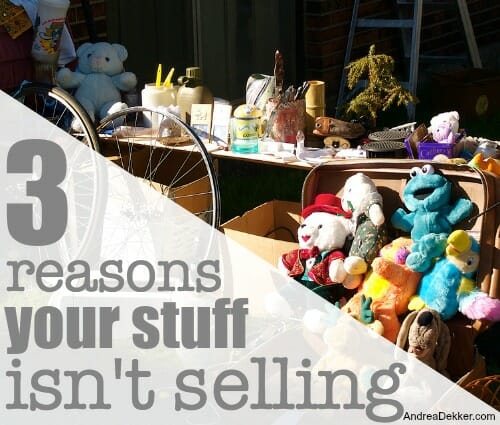 This post is an updated version of one I originally published in June of 2015.

As part of my summer blogging schedule, I'll be sharing a handful of my favorite posts from past years in attempts to give myself a bit of a break, and re-share some goodies from my archives!
I know many people (including myself) are in a purging mood now that summer vacation has arrived. Maybe it's all the stuff kids take home from school, or maybe it's because my kids are outside more so I have time to get a few things accomplished inside. Whatever the case, it sure feels great to get rid of some of the things we no longer need, use, want or love!
Dave and I recently cleaned out a few things from our garage and our extra garage, and I cleaned out a few kitchen items. We also purchased a new-to-us car for Dave — which meant we had to sell his other car.
So a few weeks ago, I took a bunch of pictures and measurements and listed everything on Craigslist on a Friday evening.
Within 2 hours, we sold an extra kitchen table ($150)
About 30 minutes after that, we helped a guy load up a HUGE pile of extra wood we had leftover from a recent project ($50)
Within 4 hours, our car was sold ($3300 — which was actually higher than the Kelly Blue Book price based on super low mileage and only 1 owner)
The next day, we sold our old front door ($150)
And the next day, we sold a small dump trailer that we didn't need anymore ($60)
I sold a few unopened kitchen items I had gotten as gifts, and also a few things for my dad — all within 24 hours!
After the weekend was over, we promptly brought our $3700+ cash to the bank and deposited it into our savings account!! Not too bad for 24 hours!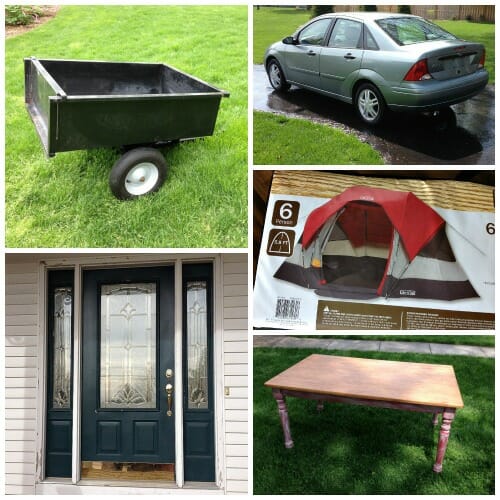 Now obviously, the car sale was a biggie for us, and we were thrilled to have it sell so quickly. But in general, whenever I try to sell anything, my goal is to sell it in less than 48 hours — usually less than 24 hours. If I don't sell it in that time period, I immediately reduce the price and start over again.
If it's not sold in a week, I'll either reduce the price one more time, or donate it. I guess I just figure that if I don't use the item anyway, I'd rather get some cash for it and have it gone ASAP then let it clutter up my home for weeks and months.
If you've been struggling to sell your unneeded items, my guess is that it's because of one of the 3 reasons below…
1. Your prices are too high.
This is BY FAR the biggest problem when it comes to people trying to sell their stuff — no matter where they are trying to sell it.
I'm not trying to sound rude… but no one is going to buy your "excellent condition" stuff or "like new" stuff or "still in the box" stuff unless they feel they are getting a REALLY good deal. And they are definitely not going to buy your "well used" stuff or anything with any sort of issue or stain or problem unless it's almost free.
Yes, you might find an exception to the rule every now and then, but for the most part, there are too many other people out there (like me) who just want to get rid of their things ASAP so they set their prices really low in order to sell quickly. Unless you set your prices very close to what others are selling similar items for, you probably aren't going to sell your items very quickly (if at all).
You will most likely get the most money for your items on Ebay. Craigslist and Facebook garage sales will usually get you the second highest price. And traditional garage sales or yard sales will require rock bottom prices to sell.
Just the other day, the kids and I stopped by 4 garage sales on one street. One lady had ALL her kids clothing for $0.25 a piece while the other 3 homes were selling it for $1.00 or more per item. I realize $0.25 is ridiculously cheap, but I'm sure you don't have to guess which sale the majority people were crowded around. She was selling bags of clothing while the other women just sat by their sales with no buyers.
If your items aren't selling, lower your prices significantly. After all, if the point of your sale is to clear out your house, wouldn't you rather have a clutter-free house and a little extra spending money versus sitting and waiting while all your stuff sits piled up in your home?
2. Your stuff isn't nicely organized, displayed, or described.
I can't tell you how many garage sales I've been to with no rhyme or reason to how anything is displayed. Some sales don't even have the clothing separated by size or gender so it's nearly impossible to find what you're looking for.
Similarly, I've seen HUNDREDS of horrible Craigslist ads with dark, blurry pictures and almost no description. No measurements of furniture, no brand names, no "this is where we purchased it from" information, or "here's the Amazon.com link". In those situations, even if it is something I'm remotely interested in, I usually don't even bother sending an email because I figure if they can't take 5 extra minutes to get a good quality photo and share a few more details, then it's not worth my time to email you asking for all the information.
While I do try to set my Craigslist prices quite reasonably, I know for a fact that one of the main reasons my stuff sells so quickly (usually within 24 hours or less) is because I ALWAYS provide a very detailed description and multiple pictures of every item I sell.
Over and over again, I get emails from people saying "we're buying from you because your ad was so informative". I've honestly even had people email me saying "we're not interested in your items, but just wanted to let you know that it was one of the most descriptive ads we've ever seen"
So yes, how your things are presented makes a HUGE difference in how quickly your items will sell. And to be perfectly honest, if you're willing to take a few extra minutes to get high-quality photos and provide an excellent description, you will most likely be able to ask a higher price for your items.
3. Your stuff doesn't have enough buyer demand.
Sometimes, even if you have a competitive price point and display/describe your items nicely, they just don't sell. In these situations, it's almost always because there isn't enough buyer demand.
Maybe it's a very rare antique that only the "right" collector would be interested in. Or maybe you live in a more remote location so garage sales and Craigslist pick-ups are tricky since no one wants to drive out to your house.
In these situations, Ebay is often the best option for selling and shipping these types of items — however I personally don't have much experience with Ebay so I'm definitely not the person to ask if you have more detailed questions!
Over and over and over again, I get emails from discouraged individuals who have been purging and hoping to make a few extra bucks by selling their castoffs with little luck. After a couple emails back and forth, I can usually pinpoint their selling troubles to one of the 3 things listed above. And when I make a suggestion as to what they might change, they usually excitedly email me back within the next day or so, letting me know their items sold!
Yay for less clutter and more cash!
If your sole purpose for selling your unneeded items is because you simply don't want them taking up space in your home (which is usually the case in my experience), then why not lower the price and add a few extra pictures (or a nice garage sale presentation) to increase the chances they sell ASAP??
And for the record, I do apply this theory to EVERYTHING I try to sell — we even sold our first house for a full-price offer in 3 days!
What are your best tips for selling items ASAP – either online or at a traditional garage sale?