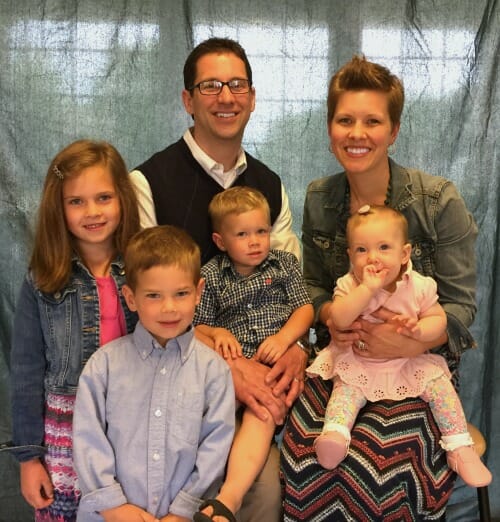 Our fairly unflattering church directory picture. 🙂
It's officially Summer Vacation for Dave… and Nora's school wraps up in just a couple days!
Yay for summer!
To officially kick off the summer at our house (and summer house projects), I'm sort of taking the week off from blogging…
After today's post, I'm sharing updated versions of archived posts for the rest of this week, in attempts to allow more time for Dave and me to plant a bunch of annuals, finally finish spreading mulch, finish setting up a few things with our pool, and finish demoing our laundry room (one part of our over-all bathroom renovation that I can't wait to share with you soon)!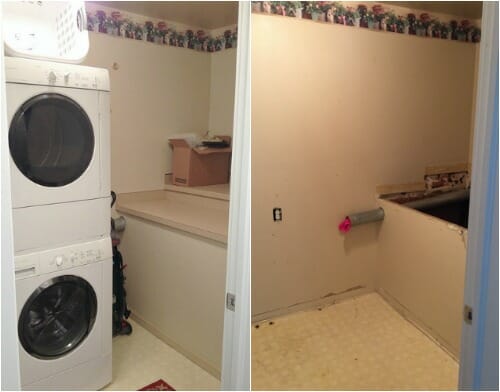 Yes, we have a lot of fun stuff going on over here right now!
I'm not exactly sure what my blogging schedule will look like the rest of the summer as we don't have any vacations planned and we aren't preparing for a new baby as we've done so often over the past 6 summers. I'm contemplating simply sharing one week of reposts in June, July, and August, for a total of 3 weeks of a 'break' for me and an opportunity to re-share some of my favorite posts on the blog.
Either way, I won't be gone long as I have so many post ideas and (hopefully) lots of project updates and pictures to share!
.
Here's A Peek Into Our Week…
We enjoyed a VERY HOT Memorial Day weekend, as well as several extremely hot days last week. We've all enjoyed being outside a lot — and we've all been sleeping REALLY well at night as the fresh air is tiring us out!
We've already crossed so many things off our Summer Fun list.
went to a parade and got SO much candy!
went to Culver's
had a picnic at a park
played on Nora's school playground
got donuts
went to a splash pad
set up our pool and went swimming
swam "late" at night (7:00 — and they stayed up until 9:00!)
went to the library
played at the mall play area
went to garage sales and they each got to buy something
went to a local thrift store
ate outside
ate ice cream cones at home
did sidewalk chalk
did bubbles
went for a walk
made homemade pizza
planted a little herb garden
Not a bad start to our list, considering it's only June 4!
NOTE: you can get this free summer fun printable from Organize 365.
.
We also did several not-quite-as-fun things like…
spread mulch
mowed the lawn (twice!)
pruned several shrubs
weeded and sprayed RoundUp
emptied out our laundry room and started the demolition process
cleaned a bunch of debris out of our basement (after one phase of the bathroom construction project)
purged and better organized our craft supplies
set up a new craft area for the kids upstairs (more on this in a future post)
Dave finished all his exam grading and got his classroom taken apart for summer
It's definitely been a good start to the summer for us so far.
Nora is excited to take a week of Gymnastics and a week of Soccer camp at different times this summer — and I think she and Simon will also go to one week of Vacation Bible School at a local church later this summer.
James is excitedly planning a Bob The Builder party for his 3rd birthday in another few weeks, and Clara cut her top two teeth and is crawling (army style) all over the place!
What I've Been Up To:
Along with the things I mentioned above, I watched the 3-episode series of Little Women on PBS… which prompted me to look for the digital versions of the books on Amazon. Wouldn't you know, I found the complete set for only $0.99 on Amazon Prime!!!!
I know I just mentioned that I probably wouldn't make much time for reading over the summer, but I'm super excited to re-read these books!
I finished the photos for the May pages in our family photo book and I'm shopping online for bathroom and laundry sinks, washers and dryers, a toilet, tile, light fixtures, etc.
Oh… and keeping 4 children clean, fed, dressed, happy, entertained, alive, etc. 🙂
.
Our Weekly Menu
SUNDAY:
MONDAY:
Cook out at my parent's for Memorial Day
TUESDAY:
Club Sandwiches
Raw veggies
Fresh Fruit
WEDNESDAY:
Pork Chops (with this marinade)
Steamed green beans
Fresh Fruit
Oreo Bars (I'll need to post this recipe soon — they are amazing!)
THURSDAY:
Smoked Sausage
Fresh Fruit
Ice Cream
FRIDAY:
Culver's to celebrate Dave's last day of school!
SATURDAY:
Dave and I are hitting up Red Robin tomorrow for lunch. He gets a free burger and fries for Teacher Appreciation Day, and I have a free burger coupon as June is my birthday month!
Yay for a free "date day" 🙂
As I mentioned above, the rest of the week will be updated versions of posts from my Archives… while Dave and I hopefully plow through a huge chunk of our Summer to-do lists!
Happy Summer Vacation!