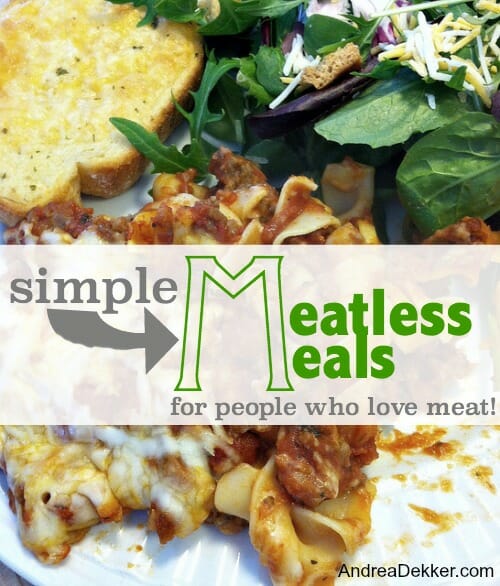 This post is an updated version of one I originally published in June of 2014.

As part of my summer blogging schedule, I'll be sharing a handful of my favorite posts from past years in attempts to give myself a bit of a break, and re-share some goodies from my archives!
I read a few money-saving blogs — and one cost-cutting method they always suggest is to cut back on the amount of meat you eat in order to reduce your grocery bill.
In my experience, meat is often the most expensive part of a meal. However, our family isn't necessarily the vegetarian type (read: we LOVE meat!)
That said, I've recently noticed how easy it has been to go meatless 1, 2, or even 3 meals a week without any drastic change in our diet.
Just last week, I realized we had 3 meatless dinners even though I had absolutely no intentions of planning a "meatless" menu!
Cheese-stuffed tortellini with marinara sauce, cheesy garlic bread, green beans, and salad.
Bean and cheese quesadillas, chips and salsa, salad, fruit.
Blueberry and chocolate chip pancakes, scrambled eggs, fruit, and smoothies.
I'm sure if anyone came up to Dave or to me and asked if we were vegetarians, we would chuckle a little while stating a resounding "no, definitely not".
If you feel the same way, I'd like to encourage you to consider how you might incorporate 1 or more meatless meals into your weekly meal plans.
You might be surprised how easy it is to do — and how little you'll actually miss the meat.
1. ITALIAN:
Everyone in our family LOVES pasta… and while I love a good meaty lasagna, I find that more often than not, our Italian meals are vegetarian.
What's not to love about a heaping pile of pasta with delicious Alfredo, marinara, or pesto sauce, crusty bread, steamed veggies, a salad, and some fruit. This is pretty much our go-to meal of choice any time we're running short on time or any night we can't decide what to eat.
Even if you do add a little meat to the sauce (ground beef, ground turkey, shredded chicken, etc.) it's still significantly less expensive than grilling a big steak or burgers.
UPDATE: We've been eating tons of zoodles and spaghetti squash lately — but we still often enjoy it as a meatless meal (with lots of extra veggies).
2. BREAKFAST:
We eat breakfast for dinner roughly once a week — and it's pretty much a no-brainer for the vegetarian category because there are SO many delicious meatless options.
Smoothies, yogurt parfaits, oatmeal, pancakes, baked french toast, waffles, hash browns, any type of omelet or egg dish without the meat, etc. etc.
3. MEXICAN:
Mexican food is another area where I can easily substitute extra beans, cheese, tomatoes, rice, or other "fillers" for some or all of the meat without anyone complaining. In fact, our kids often prefer my meatless Mexican options.
Quesadillas, enchiladas, and burritos are all completely delicious without any meat (and yes, even Dave will agree with me on this one!)
UPDATE: I've used cooked brown lentils and black beans (together) to replace ground beef in many of our Mexican meals — so far, no one has complained!
4. SOUP and SALAD:
Soup and salad is another really easy way to include a very hearty meatless meal into your weekly menu plan.
I have a bunch of vegetarian soup recipes on my blog — and many of the other soups could easily be vegetarian by simply omitting the meat.
With just a simple loaf of bread or a few rolls, you have a complete (and usually quite frugal) meal!
We'll also often have loaded baked potatoes with soup or salad to add a little more "bulk" to the meal.
5. PIZZA:
Although we prefer some meat on our pizza, there is something about homemade pizza piled high with cheese and veggies. It's so yummy every once in awhile — and such a simple weeknight meal.
UPDATE: my current favorite homemade pizza is a Margarita pizza (Mozzarella cheese, tomatoes, basil).
.
These 5 meals are very simple ways we often incorporate one or more meatless meals into our weekly menu plan without feeling like we're missing out on anything.
Along with noticing a savings on our grocery bill, I've also noticed a time savings when it comes to meal preparation since I don't have that added step of cooking or prepping the meat.
Meatless meals don't always mean a "sacrifice"… at least not in our house.
What are your favorite meatless meals?