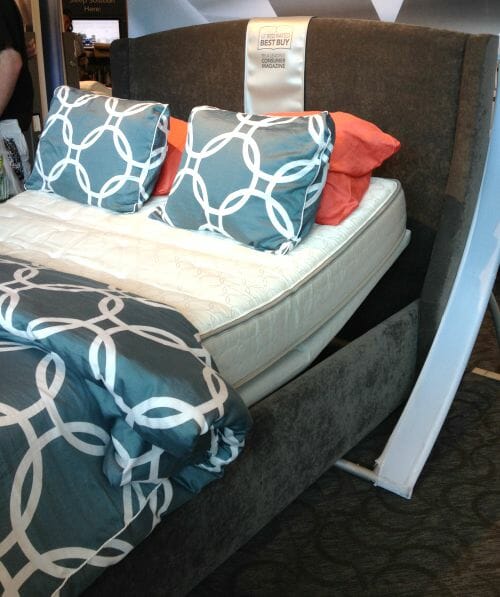 As many of you know, "sleep" has been a hot topic in the Dekker household for the past 3.5 years… basically since we brought Nora home from the hospital. 🙂
This post shares more about our VERY LONG struggle to get that girl to sleep… but the short version is that we tried everything we could possibly think of, everything our friends and family suggested, everything the doctors suggested, and nothing worked. That girl never slept through the night even once until after her 3rd birthday — and although things are SO much better than they were a year ago, she still often wakes up and comes to find us in the middle of the night.
Simon is a fabulous sleeper and started sleeping through the night at a very early age; but now, with a brand new baby, we're right back in the routine of waking up multiple times a night.
I can't complain too much though, because at 6 weeks old, James has already given me a few 5-hour stretches at night. It's amazing how much more alert and awake I feel when I've had a good night of restful sleep. Who would have thought!
.
Speaking of "restful sleep"… did you know that OVER HALF of all Americans feel they do not get enough sleep? (source)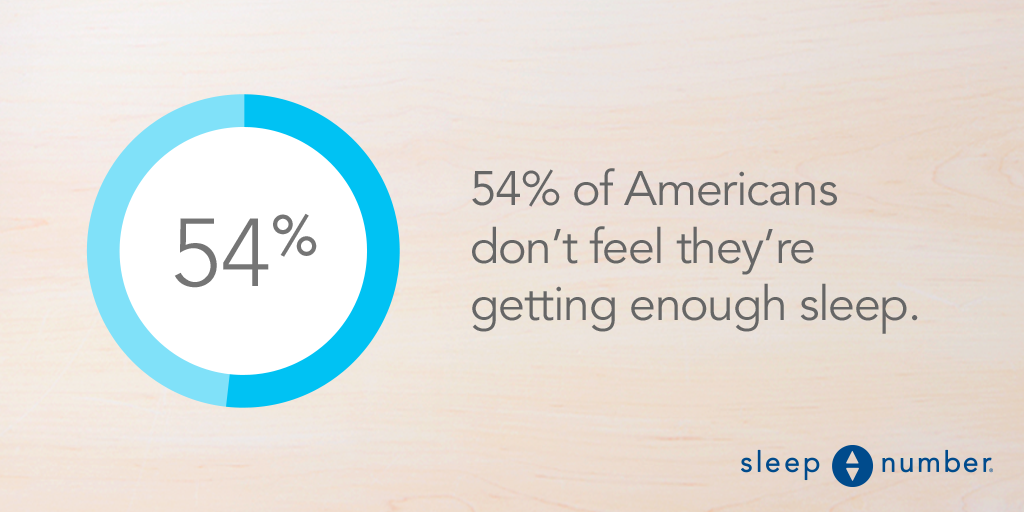 Are you one of them?
Right now, I'm currently one of those Americans who is not getting enough sleep — but that's mostly because I'm smack in the middle of the crazy newborn phase of life. I know it will pass eventually (hopefully sooner than later!) and then I can get back to a more routine sleeping schedule.
In the meantime, I have 3 super simple ways I improve my QUALITY of sleep… even if I can't necessarily improve the QUANTITY right now 🙂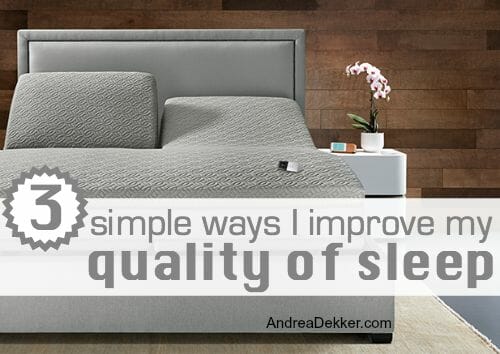 1. I Stay Hydrated:
I realize this might sound overly simple, but that's the beauty of it. I've found that when I'm drinking enough water throughout the day, I sleep SO much better at night.
I shared more about my water-loving journey in this post (including all the benefits I've experienced from drinking enough water)… but the bottom line is, when I stay hydrated I feel better, I sleep better, I wake up less groggy, and I don't wake up in the middle of the night feeling thirsty or with a dry mouth.
Water is so important for me, especially now that I'm nursing again… and it's such a simple (and free) way to improve my health and my quality of sleep.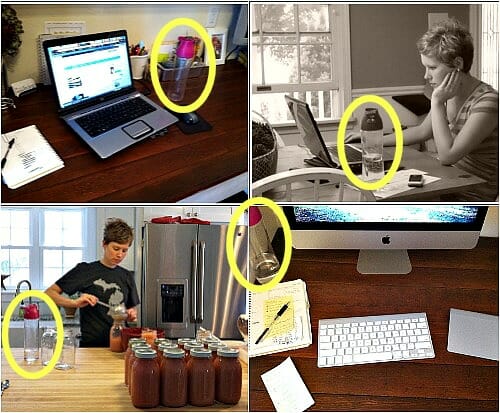 2. I Have a Bedtime Routine:
I'm sure many of you have implemented some sort of a bedtime routine with your young children… right? Well, I'm convinced that bedtime routines are a great idea for older children, teens, and adults as well.
If you think about it, the whole purpose of a "routine" is to get in the habit of doing the same thing over and over again until you don't need to think about it and it just comes naturally. Well, how great would it be to not need to think about falling asleep or getting quality sleep because it just came naturally?
My "bedtime routine" is relatively simple, but it is almost always the same every night. I take a shower, get ready for bed, make my to-do list for the next day, have some sort of a snack, brush my teeth, turn on our fan, and go to bed. Depending on what time it is, Dave and I will sometimes watch a show on Netflix, or just a few minutes of the news before we go to bed.
This process not only gives me time to unwind (especially with a nice hot shower), but it's also a great opportunity to unplug. I almost always shut down my computer and turn my phone on vibrate before I start my bedtime routine — so I have at least 30 minutes where I'm not looking at a screen or thinking about work-related obligations.
Since I do most of my focused work after the kids are in bed, I think this is an important part of my bedtime routine. I've noticed if I don't step away from my computer for a bit before bed, my head is swirling with ideas for blog posts or thinking of what I need to do the next day.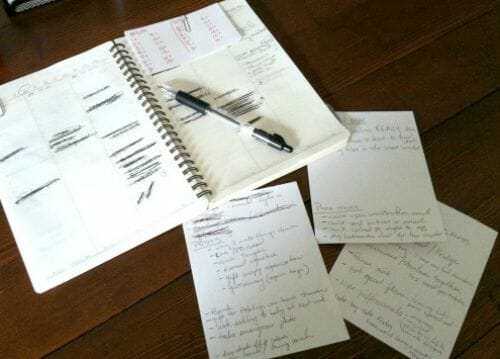 3. I Sleep on a Quality Mattress
When we first got married, we purchased an inexpensive mattress that wasn't necessarily the best quality ever. Then, 2 years ago, we "upgraded" to a much more quality mattress, and I've been amazed at how much better we sleep.
I suppose if you consider how many hours you spend sleeping, a quality mattress is probably a pretty good investment!
Some of the top mattresses on the market today are the Sleep Number® mattresses. Nora and I recently had the opportunity to visit one of their stores to learn more about the amazing technology behind their top-of-the-line mattresses. It was so cool for me to learn more about how Sleep Number takes into consideration all the different body types, weights, sleep positions, and various sleep issues (snoring, restless sleep, etc.), and how Sleep Number beds can be adjusted accordingly to give users a higher quality of sleep.
Oh, and for those of you who share a mattress, the Sleep Number bed was named best bed for couples by a leading consumer magazine 🙂
One of the coolest features of Sleep Number beds (at least in my opinion) is their new SleepIQ Technology. It's available on all Sleep Number beds and provides a simple way to learn more about your sleep (or your child's sleep). It monitors your sleep and provides information you can use to make adjustments to your Sleep Number setting or daily routine so you can achieve your best possible sleep, night after night!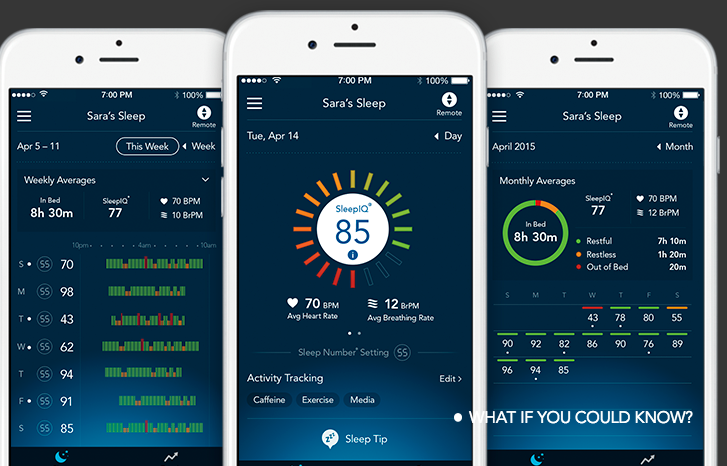 We also learned about the new SleepIQ Kids bed when we visited the store. The SleepIQ Kids bed is so innovative, yet so simple, that I'm kicking myself for not knowing more about them when we were having all those issues getting Nora to sleep. Although we did try a couple different mattresses we already had in the house, I can't help but wonder if the SleepIQ bed would have been the "one thing" that would have finally helped her to sleep!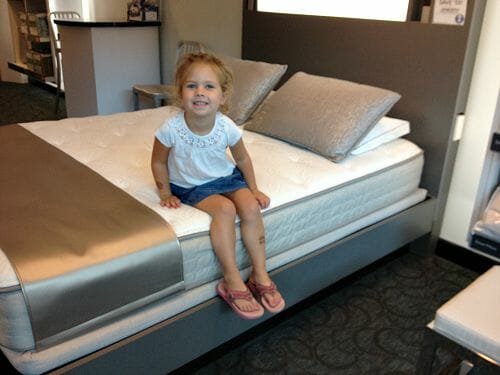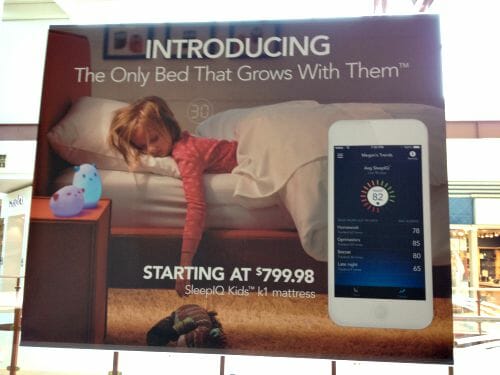 Right now, I'm just super thankful that all the little people in our house are sleeping as well as they are — and that Dave and I are able to make QUALITY sleep a priority as much as possible (even if the ideal QUANTITY isn't there!)
I know that when he starts school in less than 2 weeks, we'll need to get used to a new sleep routine again, so I'd love to know…
Do you have any simple tips to improve your quality of sleep?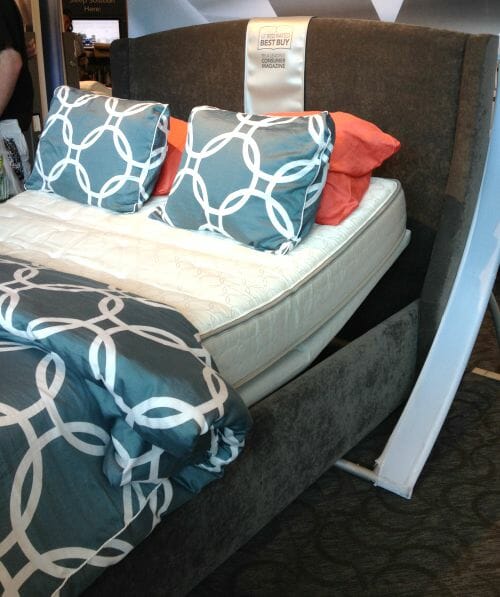 A big thanks to Sleep Number for sponsoring this post and making it possible for me to provide all my blog content free of charge. My opinions (and love of quality sleep) are 100% my own! Please see my full disclosure policy and contact me with any questions you have.