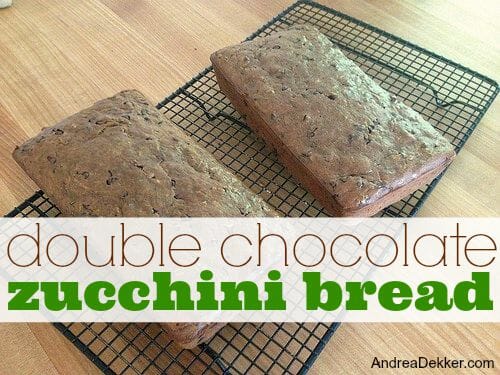 This time of year, I'm ALWAYS looking for new recipes to use up the mass amounts of extra zucchini from our garden.
We only have 2 plants, and I've already given a bunch of it away to neighbors and family members, but even still, we have lots and LOTS of zucchini!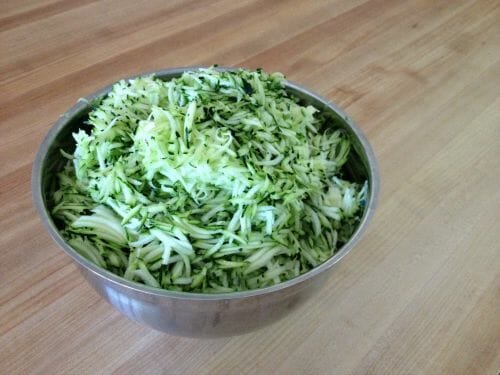 The kids are having fun helping me pick the zucchini, and I've been using my food processor to shred boatloads of zucchini and then dividing it up in 2-cup portions for the freezer. I use those to make zucchini breads, cakes, muffins, etc. all year long.
Since Dave and I are both big chocolate lovers, I've been on the lookout for new zucchini recipes that uses chocolate chips. I know how much we all LOVE my chocolate chip banana bread recipe… so I figured chocolate chip zucchini bread would be pretty tasty as well.
I compiled a few different recipes to come up with this double chocolate zucchini bread recipe… and so far, it's been a huge hit with our entire family.
If you're looking for a new recipe to use up some extra zucchini, you'll definitely want to give this one a try!
Recipe for Double Chocolate Zucchini Bread
Makes 2 regular loaves or 5 mini loaves
INGREDIENTS:
2.5 c. all-purpose flour
1/2 c. unsweetened cocoa powder
1 t. baking soda
1 t. salt
3 eggs
1 c. vegetable oil (or unsweetened applesauce)
1.5 c. granulated sugar
1/2 c. brown sugar
1 T. vanilla extract
2 c. shredded zucchini
1 c. chocolate chips
DIRECTIONS:
Preheat oven to 325*F
Grease 2 loaf pans and set aside
In a large mixing bowl, mix all ingredients together (except chocolate chips) until dry ingredients are moistened. Try not to over-mix.
Stir in chocolate chips.
Pour batter into greased loaf pans
Bake in preheated oven for 1 hour, or until the middle is set
Cool on wire racks and store in a tightly sealed container
This bread is FABULOUS warm out of the oven; however, it's also super tasty for several days after baking as well. And of course, it freezes really well too!
This recipe (along with my chocolate zucchini brownies) is one of my all-time favorite ways to use up the massive amounts of zucchini we have this time of year 🙂
What are your favorite ways to use zucchini?
Visit my virtual recipe box for more simple, delicious, family friendly recipes!