After the birth of both our kids, Dave and I were blessed with LOTS and LOTS of food gifts, gift cards, free babysitting, helpful friends, etc. etc. We were/are SO appreciative of every gift, card, email, and visit we received — honestly!
However, after bringing two kids home from the hospital myself (one of which is still very fresh in my mind) and talking with a bunch of friends who are also new moms, I complied this list of 30 things I would personally suggest NOT doing the next time you visit a new mom ("new" being those first 4-6 weeks). And to be perfectly honest, this list could probably apply to many people who are sick, bedridden, or off their feet for a variety of reasons. Please note that this list is partially my advice and partially tips and advice from MANY other news moms as well!
I realize that my opinions might be different than yours (especially since I've become more introverted over the years), and the intention of this post is definitely not to sound ungrateful for the gifts we received. We have never intentionally acted rude to a visitor, we have never not accepted a gift with thankfulness, and we have never intentionally made anyone feel unwelcome in our home. I just know that before I had kids, I personally did many of the "don'ts" I listed below. So I figure maybe this list will help others, like me, who just didn't know what was helpful and what was not 🙂
Also, I will say that for me, this list would NOT apply to Dave and my immediate family members — they can do whatever they want and are generally VERY gracious guests in our home — however, I'm guessing that wouldn't be the case in all families!
Finally, as I mentioned above, this is a "don't do" list for NEW moms (you know, for those first 4-6 weeks when everything is CRAZY, our hormones are totally out of wack, and we just need a lot of grace). If you are offended by this list or feel it's totally unreasonable, just save your visit for after that time period and we'll most likely be back to our more "normal" selves and more interested in chatting!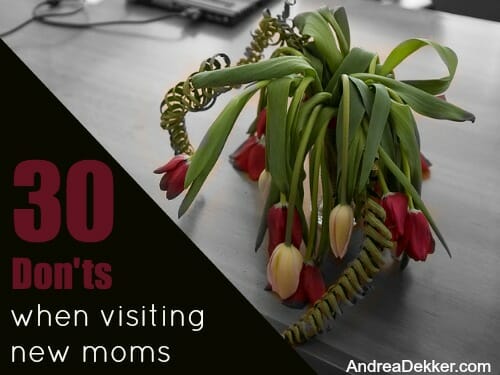 1. Do not show up unannounced unless it's to silently drop off a meal and/or diapers on the front porch and then leave again. Then, make sure to send an email letting them know you dropped something off. (We've had a couple people randomly drop off food or diapers while we were gone or sleeping and I can't tell you what a fabulous gift it was for us!)
2. Do not call unless it's absolutely necessary as you will most certainly call at the exact moment they finally get their baby to sleep or when they are sleeping themselves. Email or text them first and wait for a response. If they don't respond immediately, it's probably because they are too busy or tired, and whatever you were asking/telling them isn't THAT important. They will respond eventually.
3. Don't show up before or after your scheduled time. Assuming you emailed to set up a time… do everything you possibly can to arrive very close to that scheduled time. If you are early, just drive around the block a few times. If you're late, text her to let her know. I realize I like to plan ahead more than most people, but there are few things more frustrating for me than trying to manipulate a newborn's schedule to accommodate a potential guest… and then have that guest come an hour later than planned.
4. Don't come before 9am or after 9pm. That's just too early and too late for a mother of small children dealing with sleep deprivation to function.
5. Do not ring the doorbell… EVER. Please… just knock lightly (especially if you know she's already expecting you)… and then a little tiny bit louder if they don't hear your first knock. Don't ring the doorbell unless it's a matter of life or death.
6. Don't feel the need to come the day they get home from the hospital. Dave and I purposely didn't accept any hospital visitors (besides immediate family) because we didn't want all that busyness in the hospital. We just want to sit and get to know our baby without a stream of visitors. I realize not everyone shares this perspective — but I can more confidently assume that most new moms don't want visitors the day they come home from the hospital (again, our immediate family would be exempt from this rule). Give us a few days, weeks, or even months. The baby isn't going anywhere and we would most likely appreciate a visitor several weeks down the road when we feel more "with it" and ready to converse.
7. Do not show up without food. I know, this might sound selfish, but if you're going to visit a new mom (or anyone who has been off their feet for a couple days) food is seriously just the best gift (here are some of my tips for giving food gifts). If cooking isn't your favorite thing to do, then bring something store bought or gift cards or takeout. Even if they don't eat it, it will be something for their family/spouse/kids to eat — which means one less thing they have to do.
8. Don't eat her food. Even if she offers, just say 'no'. She's only being polite and probably doesn't want you to scarf down the fresh batch of cookies she finally mustered up the energy to make when you're only staying for 20 minutes. Obviously, if you were going over for a "lunch date" or something like that, then it's a totally different story 🙂
9. Don't bring a "cluttery" gift. The last thing a new mom wants is one more thing to pick up and clean around. So although you think you're being thoughtful by bringing a new toy for each of her other kids and a cute outfit for the baby, it might be better if you bring something that can be quickly used up.
10. Don't bring something you didn't want yourself — in my opinion, it's honestly WAY better to show up empty handed than to regift something you didn't want yourself. Yes, there are potentially exclusions to this rule (like if you know your friend wanted an item that you didn't want) but for the most part, if you didn't want it, she won't either.
11. Don't bring seasonly inappropriate clothing even if they are cute and cheap — just don't do it as that forces the new mom to either get out of the house to return it or get out of the house to donate it.
12. Don't bring a plant or anything else that requires maintenance. I never got a plant as a gift, but many friends commented that this was a really bad gift for new moms because it was just one more thing to take care of. Plus, if she has a toddler, he/she will most certainly make a mess with the dirt — which means, she'll need to clean up that mess too.
13. Do not come when the other child/children are napping — unless it's to hold the baby so the mom can take a nap. Seriously, as a mom of a non-napping toddler, I can't tell you how extremely frustrating it is to have those precious fleeting moments of Nora's nap interrupted by a well-meaning visitor who thinks I just want to chat for 45 minutes. I don't — at least not in those first few weeks. Those few minutes are the only minutes in the day when I can just sit and hold Simon or lay down with him on my chest, or get something done without Nora "helping".
14. Don't bring your kids unless it was planned ahead of time — it just adds to the chaos.
15. Don't keep asking to hold the baby if he/she is sleeping. Maybe I'm weird, but I'm not going to wake my baby up from a perfectly good nap just so you can hold him. I know you love babies, but it's not worth making the rest of my day miserable because I woke him up.
16. Don't sit and relax with the baby while she deals with the older kid(s). If the baby is awake when you come, you may hold him for a few minutes — but then, if you're going to stick around for a while, put him in the bouncer and entertain her older kids. Read them books, play with them, take them outside to give her a break — don't sit and snuggle the baby while she tries to chase her 2 year old around the house.
17. Don't come if you're sick or if you're around your own sick kids all day. I don't think this one needs an explanation!
18. Don't ask if the baby is sleeping through the night. No, he's not — can't you tell by the bags under her eyes?
19. Don't ask if he/she is a "good baby". I can't tell you how many times I'm still asked this question, and I cringe every time. What is a "good baby"? Is it a baby who doesn't cry — because that's like saying "good children" are children who never talk. All babies are "good" — some are just "easier" than others.
20. Don't expect her undivided attention. I know I don't speak for everyone on this, but if you're going to come and hold the baby or play with her big kids, please don't be offended if she uses that time to be productive. Let her empty the dishwasher, sweep the floors, fold a load of laundry, and pick up the house while she chats with you. It's not that she doesn't want to sit and chat with you for hours at a time, it's just that she rarely has a time during the day when she's not holding at least one child, so she can't waste even a minute of time when she has BOTH hands free!
21. Don't stick around after she hints that the baby is hungry. I'm sure I'm not the only mom who doesn't love feeding her baby in front of others… so when her baby is screaming and she's bouncing him saying, "he must be hungry" that's your cue to leave (or at least ask if she wants you to leave), not plop down on the couch for a peep show.
22. Don't be offended if she doesn't send a traditional thank-you note. I actually enjoy writing thank you notes, so that's my preferred method of "thanks". However, many of my friends said they felt pressured into writing long thank-you notes — and it was just one more thing todo. I definitely think it's important to show gratitude; however, mailing an actual thank you note for the plate of cookies you brought might not happen. Maybe she'll send you an email or a Facebook message raving about your food or thanking you for a visit. That's totally fine in my book.
23. Do not talk about how much you love the newborn phase. To be perfectly honest, you probably just THINK you love the newborn phase because you're forgetting about how awful the sleepless nights and endless crying were. After several nights of little to no sleep, she's probably not loving the newborn phase and it doesn't make her feel any better to have you gushing on and on about it.
24. Do not answer your phone or check your emails on her time. No explanation needed.
25. Don't overstay your welcome. In general, "short and sweet" is good for new moms. We're tired, we're busy, we have screaming children that need us to feed them every 2 hours. Although we would love to sit down and chat, we just can't. Please don't make us feel like we're shooing you out the door — just leave politely on your own terms… approximately 15 minutes after you arrive. And if you'd like to visit longer, maybe come back after those crazy few weeks are past.
26. Don't not ask. Sorry for the double negative — I'm trying to stick with my "don't" theme here. Basically what I'm trying to say is "you won't know what she wants unless you ask." Maybe she needs a gallon of milk or a prescription from the drug store. Maybe she would really love someone to make her bed and clean out the dishwasher. You won't know until you ask — and often times, these little gestures can totally make a new mom's day (seriously… not needing to get out for milk was a lifesaver for me on 2 separate occasions). Whenever I visit a new mom, I almost always email a couple days in advance to see if there is anything specifically she'd like me to bring or anything she'd like me to do when I get there (like cleaning or taking her older kids for a walk). I give them a day or so to think about it and consider that a part of my gift. So many people are shocked when I ask, but then admit that it was SO nice to have the offer on the table in advance for them to consider. A few people have done this for me too and it was amazing!
27. Don't take no for an answer. New moms aren't always thinking clearing… so when she says "no" or "I'm fine" or "it's no big deal", she might really mean "yes, please, that would be amazing!" and "I'm really not fine but I don't want to drag you into this" and "it IS a big deal to me". So just keep asking when she tells you no. Make it very apparent that this is your gift to her and she is not inconveniencing you. However, at the same time, if you can tell she really just isn't up for company, don't push back too hard. Offer your non-intrusive help (milk or diaper drop-off) and leave it at that.
28. Don't stay and watch TV. Unless you're her best friend coming over to watch your favorite weeknight TV program, don't just sit around and watch TV (especially if any or all of her children are sleeping).
29. Don't judge or state the obvious. She knows she is still a little (or a lot) chubby and bloated. She knows her house is messier than normal. She knows she doesn't have make up on and that her hair is a mess. She knows she is still waddling. She probably doesn't feel great about it, but she also doesn't need you to make obvious comments like, "wow, you look exhausted". And I'm sure she doesn't appreciate passive-aggressive comments about her house-keeping or parenting skills.
30. Don't be offended if she asks for a rain-check on your visit. Under normal circumstances she would most likely welcome a visit from you any time of the day… but right now, she's tired, she doesn't feel presentable, and even though she knows you're trying to be helpful, she just might not feel like entertaining one more person. Not even for 15 minutes. Maybe you caught her on a bad day… try not to be offended. She's just not thinking clearly!
.
I know everyone's situation is different, but for me, the MOST helpful thing was when people brought food and then entertained Nora for an hour without bugging me (or better yet, took Nora with them to do something fun). I was so tired and sore those first few weeks that all I wanted to do was lay down, but that was almost impossible with Nora around. I didn't want to chit-chat, I didn't want to entertain anyone, I didn't want to play with Nora.
I just wanted to sleep with Simon zonked out on my chest for as long as someone could keep Nora occupied… and then eat the food they brought me 🙂
Ok, so I'd love to know, what would YOU add to my list?