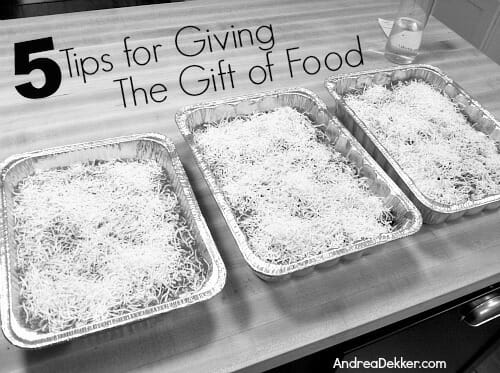 Over the past 5 weeks, Dave and I have been BEYOND BLESSED with many, many gifts of food. If I counted correctly, I think we had 15 or 16 different meals delivered on various days. Plus we were overwhelmed with goodies, snacks, food for the freezer, gift baskets, and even a few Culver's gift cards!
Add all of that to the stash of meals and snacks I already had in the freezer, plus the fact that we've been invited to both of our parents' homes for dinner a couple times… and I've spent little to no time in the kitchen since Simon was born.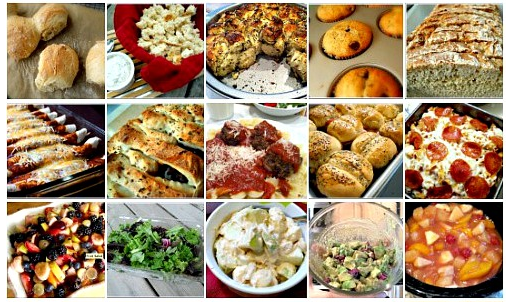 Since I've shared my love of giving and receiving food gifts before (and since it really is such a fabulous clutter-free gift) I thought I'd do another post about little tips and tricks you might consider the next time you're giving the gift of food — because I just don't know anyone who wouldn't appreciate the gift of food.
1. Use disposable containers.
I've been doing this for years already — and although it is a little more wasteful, I can't tell you how wonderful it is not to have any kitchen clean-up after a meal (especially with a new baby and toddler around). Not to mention, then I don't need to worry about breaking or ruining someone else's dishes or figuring out how/when to get those dishes back to them.
I was actually surprised that almost all our delivered meals came is disposable containers — nothing fancy or photo-worthy, but oh so practical and appreciated!
2. Ask about food allergies or preferences.
This didn't really apply to us as Dave and I will eat pretty much anything you put in front of us, but I assume that MANY other families could not say the same. I'd say at least half of the people who delivered meals to us called or emailed first to ask about allergies or food preferences… which was definitely super thoughtful.
Another idea — if you forget to ask — is to include the recipe (or at least the ingredients) with the food you deliver. This way, if anyone in the family is allergic to something, they'll know what foods they need to stay away from.
3. Set a specific time and date to deliver the meal.
We did have a few people just casually stop by to drop off a freezer meal — and since they were freezer meals, it was totally fine. However, if you're bringing a hot meal over to someone's house, you'll definitely want to at least try to coordinate with their "normal" dinner hour.
Pretty much everyone who brought us a hot meal inquired about an appropriate day and time to bring it. This was SO nice because then I knew what nights to plan on food and I could be on the look out for the delivery and quickly open the door before they rang the doorbell and potentially woke up my kids!
4. Communicate about what you are bringing.
No, I don't think you need to go over every single detail of the meal, but there were several times when people emailed or called and said, "I'm not bringing a full meal, but I am bringing ___________." And often they would ask, "Do you want me to bring it cooked or do you want to cook it?"
We're really easy-going when it comes to accepting free food 🙂 So for us, it really didn't matter if they were bringing a full meal or just the main dish — and as long as I knew ahead of time, I was fine cooking the food in my own oven if that's what worked best.
The reason I say "communicate" is because when I knew we were not getting a full meal, I make sure to have some veggies, fruit, salad, rolls, or other side dishes ready to go along with the meal. And also, if I knew I would have to be cooking the food in my own oven, I made sure we were home on time and that they delivered the meal before 6:00pm.
5. Don't be afraid to give non-traditional food gifts.
We seriously have great family and friends… because along with the more traditional "full meals" we got a variety of snack foods, homemade cinnamon rolls, yummy goodie baskets, sparkling juices (my favorite), and gift cards to some of our favorite restaurants.
None of these gifts were "traditional" but I can assure you, they were all VERY MUCH appreciated by our family!
We even got a note with one of the gift cards that said, "I don't want to subject you to my cooking, so we're giving a gift card instead!"
Maybe Dave and I get a little too excited over food gifts, but I think we both agree that food items rank pretty high up there on our list of favorite gifts (it's a hypothetical list, we really don't rank our gifts!)
If you know someone with a new baby, someone who is sick, someone who has experienced a tragedy, someone who is in a difficult situation, etc. please consider giving them the gift of food. You don't need to be a fabulous chef and it doesn't need to be a time-consuming gift (here are a few "out of the box" ideas for food gifts) but it can really make their day.
Even for someone like me who loves to meal plan and spend time in the kitchen, I can't tell you how awesome it was to have several meals lined up… and one less thing to stress about these past 5 weeks!
What are your best tips for giving the gift of food?