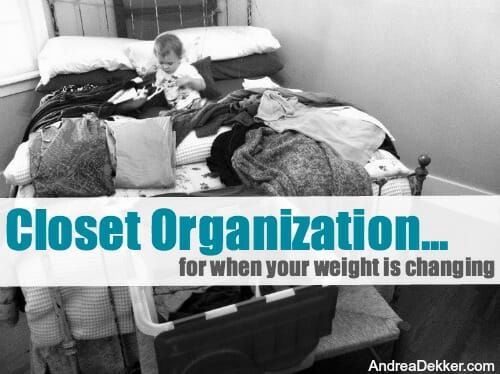 Up until I was pregnant with Nora (exactly 3 years ago) my weight had rarely fluctuated more than 3 to 5 pounds since my junior year in high school. So for approximately 10 years, my body shape, size, and weight basically stayed the same. And since I hate shopping for clothes more than almost anyone I know, I was still regularly wearing a few items of clothing from high school.
I've been blessed with a pretty good metabolism — so my weight has never been an issue for me. I've never really cared what size the label on my clothing said as long as the clothes were comfortable, fit properly, and made me feel good about myself.
So when I found out I was pregnant, I wasn't surprised that it took a REALLY long time for me to need maternity clothes. In fact, I was still wearing my regular jeans at 32 weeks pregnant. I gained exactly 23 pounds when I was pregnant with Nora and by my 6 week post-partum doctors appointment, I had already lost 30. I was also back in ALL my normal pre-pregnancy clothes about 10 days after she was born.
As the weeks went on, I continued to lose weight and after about 6 months of Nora literally "sucking the life out of me" I weighed almost 20 pounds less than what I did BEFORE I was pregnant — less than I did in high school.
Ironically, I really didn't look that much thinner — but none of my pants fit at all.
Since I hate shopping for clothes and hate spending money, I was very hesitant to buy anything new as I assumed I would gain the weight right back after I stopped nursing. Thankfully Dave talked me into buying 1 new pair of pants and 2 new pairs of shorts (it was summer)… because as many of you know, I wasn't done nursing for a LONG LONG time 🙂
I wore those "skinny clothes" for about 18 months — until last summer when I found out I was pregnant again. Then I switched back to my "normal clothes" (the clothes that fit me for years before I had Nora) and then VERY QUICKLY transitioned into maternity clothes around 16-18 weeks. No more normal jeans at 32 weeks pregnant with Simon!
I gained a whopping 43 pounds with Simon thanks to being pregnant over the holidays and hibernating inside over the longest, coldest, snowiest winter ever!
After Simon was born, I figured the weight would take a little bit longer to come off — after all, I gained almost twice as much weight and this was my second baby. However, that didn't stop me from feeling very disappointed when I had to wear my maternity jeans for Simon's newborn photo shoot 4 days after he was born.
I wasn't expecting my skinny clothes to fit, but I certainly figured I'd be able to squeeze into my normal jeans at least for the pictures. Unfortunately, after expending a decent amount of effort to pull them up my thighs, I realized they were about 4 inches shy of buttoning around my hips. Not only that, but many of my shirts didn't fit either — they were SO tight around my ribs and shoulders.
Seriously, what the heck happened to me!
Interestingly enough, at my 6-week doctor's appointment, I had lost 30 pounds again — but since I gained so much more with Simon, that meant I still had at least 13 pounds to lose to get back to normal again.
After 6-7 weeks post-partum, my maternity pants were finally getting too big, but I still couldn't squeeze into my normal pants — and Lord knows those skinny jeans were just out of the question. So I finally broke down and bought one pair of "big jeans".
It felt good to be out of maternity jeans, but I HATED the fact that I was continually adding to my closet without removing anything else.
Every time I looked in my closet, I had an intense urge to purge. Even at 10 weeks post-partum, there were still a handful of maternity items in my closet along with all my normal clothes. Plus, I now had my "big jeans"… and of course, my skinny clothes continued to tease me every time I opened the doors.
My closet was the fullest it had been in a very very long time, but since I was still losing weight at a pretty steady pace, I knew I would regret purging too much too soon (especially since I hate shopping!)
Can anyone relate?
Over the past couple of weeks I've taken a few steps to take control of my closet — even as my body size, shape, and weight continue to fluctuate.
I'm hoping that these steps will prevent me from hastily purging (and then needing to buy something I already had) while still allowing me to enjoy a clutter-free closet as I get back down to my "normal size".
1. I pulled EVERYTHING out.
I realize this might sound like overkill, but it's how I process clutter — I have to see it all there in front of me. I can clearly visualize my clutter-free closet and I'm forced to physically handle each item and consciously decide to move the items back in.
Keep in mind that the closet pictured above is shared with Dave so I was only pulling MY stuff out — so not too bad!
2. I got rid of the maternity items.
Most of my maternity clothes were borrowed, so I simply bagged them up and returned them to their rightful owners. Man did it feel good to get those out of here!
The few maternity items that actually are mine were folded up and put in the previously empty bottom drawer of my dresser.
3. I tried everything on.
I know this might sounds like a long process — and I suppose it would be if I had a bunch of clothes — but it honestly didn't take me too long.
It was still pretty discouraging to have so many items that were still quite snug (or that didn't fit at all) but I tried to keep an open mind since I know I'm in the middle of losing weight. I figure it took me 9 months to gain it all, I can't expect to lose it all in 9 weeks.
So even though there were many articles of clothing that still didn't fit me, I didn't purge anything I liked and hoped to wear again some day.
4. I purged anything I didn't love or need.
Regardless of if it fit me or not, I purged anything in my closet that I didn't love or need. Maybe it wasn't my style any more, maybe it wasn't a great color for me. Maybe it was stained, ripped, too worn, faded, etc. Maybe I didn't have anything to coordinate with it, or maybe I just didn't feel great when I was wearing it.
There is no sense in keeping anything I don't absolutely love or need in my closet — especially since I'm very content to wear the same things over and over again as Nora and Simon are often the only people who see me all day 🙂
5. I removed anything that didn't fit right now.
At about 9 weeks post-partum, pretty much all my shirts fit, but there were still a decent number of pants, shorts, skirts, and dresses that didn't fit. So instead of cluttering up my closet with clothes that didn't fit, I put them all in our guest bedroom closet upstairs. They are all neatly folded and hung — ready and waiting for whenever they fit me again, but not in our bedroom closet "mocking" me every time I look for something to wear.
I do want to note that we have plenty of room to easily store these items in our own closet, but I just wanted to keep this stuff separate for now. If it doesn't fit in the next couple of months, I'll most likely purge it.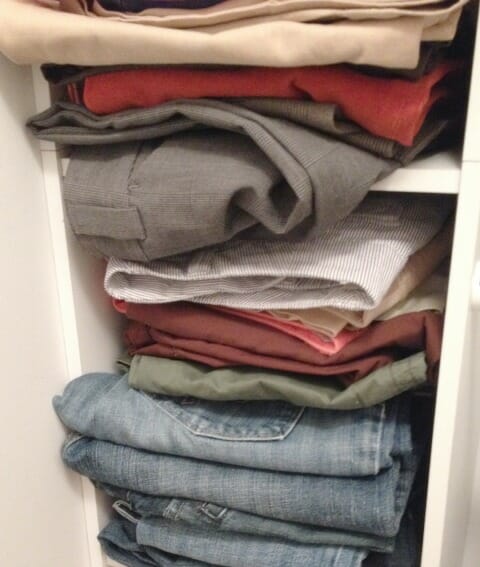 Now that I'm just over 12 weeks post-partum, I've been pleasantly surprised to have already pulled a few items from the "still too small" piles in the upstairs closet. At the same time, if I notice anything is now too big for me, I tuck that away in my dresser drawer with my maternity items.
6. I'm continually re-evaluating my clothing needs.
Besides my one pair of "big jeans" I bought around 7 weeks post-partum, I haven't purchased anything new since Simon was born– and I'm honestly hoping I don't need to buy anything else.
I'm planning to continually re-evaluate my clothing needs on a weekly basis; taking note of anything that no longer fits, no longer flatters me, or is no longer my style.
I have a small purge pile going and I'm continuing to move my clothes around as I get back down to my normal size again (I still have about 8 pounds to go… and it seems my hips are being a little more stubborn this time around.)
If any clothes I still love feel too big, I will move them to the drawer with my maternity items. As I continue to lose those last few pounds, and as my hips and ribs (hopefully) squeeze back together, I'll try on the few items that are still lingering in the upstairs closet to see if they fit (if not, they'll get purged in a couple months).
.
I'm pretty happy with this system right now, and although I still feel like I have WAY more clothes than I did a couple years ago, I think this is just the stage of life I'm in right now. Unless I want to spend a whole bunch of time and money shopping, I'll need to keep a few different sizes on hand until we're officially done having kids — at which point I'm doing a major closet purge!
And to be perfectly honest, I was happy for an opportunity to reorganize our closet — it needed it, and I feel much better when I open our closet doors!
Our closet has room to breathe now (you can't see it, but the top shelf is almost completely empty). It's filled with clothes I actually wear and that actually fit me — and I have a system in place for rotating in/out clothes as my weight (hopefully) continues to drop 🙂
As with all organizational systems, I'm positive this system will need tweaking over time — but for now, it's working well for me and for my stage of life.
However, since I've never implemented a system for multiple sizes of clothing before, I am interested in any other systems you might be using (or used in the past).