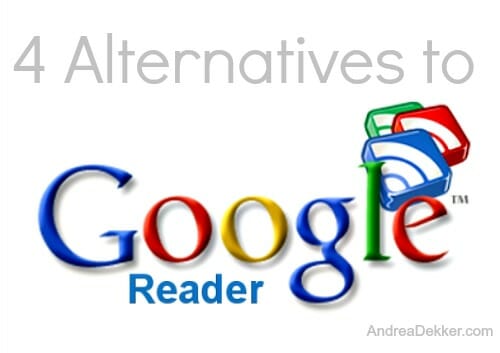 In less than 3 weeks, Google Reader will be gone — for good.
This might not mean anything to some of you — but for many of you who use Google Reader to subscribe to my blog (and to so many other blogs) this means that after July 1, 2013, you will no longer see any of my new blog posts.
No more recipes, no more simple tips, no more yard work or home renovations, no more Nora pictures.
You're already feeling sad, aren't you?
Nora is also quite upset.
Well, don't worry, I have good news…
There are still plenty of other ways you can follow along with all the new content and blog posts I have planned here at AndreaDekker.com.
This is an extremely simple solution — one that only requires you to enter your email address here, enter the verification code, and then follow the instructions in the confirmation email you will receive within minutes.
By subscribing via email, you will receive one email each day I post new content on my blog (roughly 5 emails per week) and it would assure that you never, ever miss any of my content ever again (unless you aren't in the habit of opening or reading your emails!)
.
Although Facebook is not the most reliable source of content delivery, I do post every single blog post update on the AndreaDekker.com Facebook page. So if you click the "LIKE" button on my Facebook page, there's a pretty good chance you'll see links to my blog posts coming through your own Facebook feed.
Of course, you are welcome to LIKE my Facebook wall even if you choose to subscribe in another way too. I share a whole bunch of EXTRA tips, ideas, photos, and inspiration on Facebook, so it's a nice compliment to the content that's already on my blog.
.
This option will require the most work on your part — but it's still pretty simple 🙂
If you don't use Facebook, you don't want 5 extra emails per week, and you don't want to use a blog subscription service (I talk about this in #4 below), the only way you can make sure you don't miss out on the daily new blog posts is by visiting AndreaDekker.com directly each day (or at least a couple times a week!)
The newest blog posts show up at the top… making it pretty convenient for you to quickly scan through to see what content might interest you the most.
.
From what I'm hearing around the blog world, Feedly is an awesome alternative for anyone interested in transferring their Google Reader subscriptions.
I have personally transferred my Google Reader subscriptions to Feedly (along with over 3,000,000 others!) It seems to be working well for me — however, I personally prefer to subscribe via email to most of the blogs I follow.
If you are currently using Google Reader or just looking for a relatively simple and organized way to follow along with your favorite blogs, I'd encourage you to give Feedly a try (it's totally free, by the way, and I don't get anything for promoting them).
Some of you might be thinking, "That's great, but how do I go about switching to Feedly?"
Don't worry, I've got you covered!
Since there are a whole bunch of other bloggers who have explained the process of switching from Google Reader to Feedly, I figure it's a much better use of my time to direct you to that information than to re-write everything myself — especially since I should probably be planting flowers and spreading wood chips right about now.
If you're looking for good Google Reader alternatives as well as simple instructions on how to make the switch, click through to one or more of the posts below for lots more information.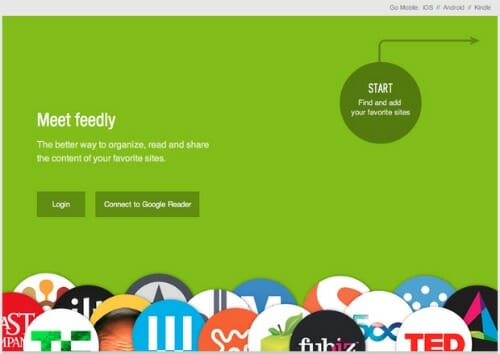 More Info About Feedly
The Feedly blog has lots more information about transitioning from Google Reader here and here. If you don't find what you're looking for in one of those posts, try searching the Feedly blog (the search bar is kind of hidden in the left side bar).
No surprise that Blogging With Amy has some good alternatives to Google Reader. Amy also assures us that although Feedly can sync up with Google Reader for easy transfer of information Feedly will NOT disappear once Google Reader disappears on July 1.
Simple Mom shares tons of helpful tips and advice for how make the switch to Feedly. She walks you through the installation and set-up process step-by-step, shows tons of pictures, and even explains a bit about the Feedly smart phone App.
Life Your Way discusses the Google Reader – Feedly transition process, as well as how simple it is to use Feedly on Chrome, Safari, Firefox, and as an App on any of your tablets and smart phones.
I don't love change — and I assume many of you are in the same boat. However, if you're currently using Google Reader to follow your favorite blogs, you must make a change before July 1, 2013.
From my experience, it should't be a painful change!
How do you follow my blog (or other blogs)?
Email, facebook, by visiting the blog directly, or via a feed reader?
If you currently use Google Reader, have you made the switch yet?
If you made the switch, did you switch to Feedly or another option?