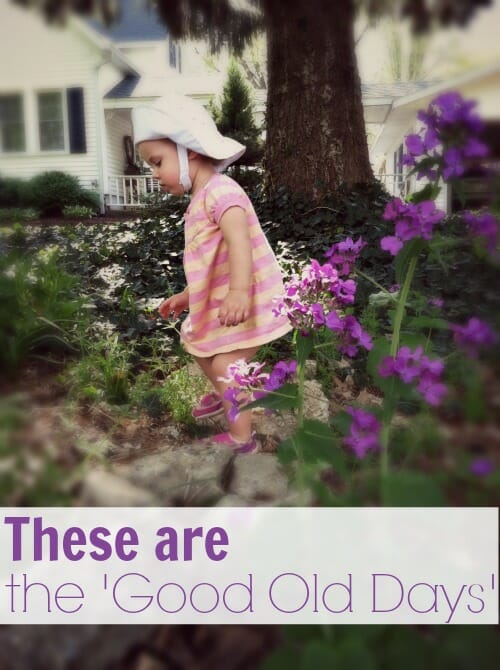 As I prepare to celebrate my birthday this weekend (28 for those of you who might be wondering) I find myself thinking more about past birthdays… and remembering all those Good Old Days from when I was a kid, when I was in college, and when Dave and I were first married.
I know, I'm too young to think about that… right?
Well, believe it or not, I've actually been thinking about the Good Old Days for a long time.
I can vividly remember being stressed out in 4th grade because I had a really big test to study for. I recall thinking about the Good Old Days before I was in school and how much simpler things were before I had to study.
I can also remember my very first week of college, and although I was really excited, I couldn't help but wish for the Good Old Days of high school. I was a big senior, I had my group of friends, so many familiar faces, and not nearly as much work!
More recently, after Nora was born and we realized how much work parenting actually is, Dave and I frequently joked about the Good Old Days when we were first married and could do whatever we wanted whenever we wanted to.
I think that no matter how old we are, we tend to look back on the past as the Good Old Days, remembering things as better and simpler "back then".
So if you think about it, this means that in 1, 2, 5, or 10 years, we'll be looking back on today, this week, and this year, and remembering these moments as the Good Old Days.
Dave and I will look back and say, "remember how simple life was when Nora was little", "remember how fun it was working on all those house projects", "remember when ____________"… those were the Good Old Days"
.
Right now, we are living and experiencing tomorrow's Good Old Days.
Did you catch that?
The mundane moments of today will someday be remembered as the Good Old Days of the past.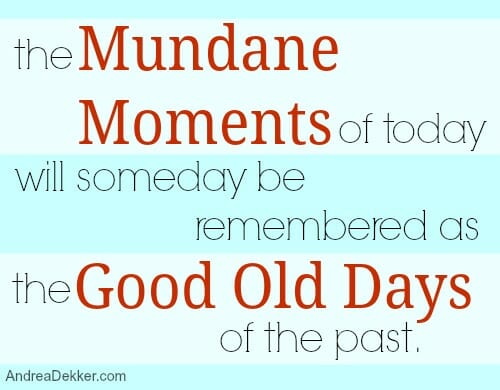 This is a really good reminder for me, because I'm the type of person who's always looking towards the future —
What should I do now?
What's the next item on my to-do list?
What goals should I be working towards?
It's SO easy to get sucked into the illusion that the best is still out there, waiting for use to find it… when in reality, the "best" could be right now, simply waiting for us to enjoy it!
.
Last week, I shared our attempts to slow down summer — to find that healthy balance between "getting stuff done" and just "relaxing and enjoying the present".
This sounds like a good plan doesn't it — but let me tell you, it's really hard!
We have so much we want to do, it's hard to just sit back, relax, and relish in the present moments — the moments that we will someday refer to as the Good Old Days.
So while I DON'T think we should necessarily stop pushing forward, setting goals, making to-do lists, and planning ahead; I do think it's important for all of us to realize and remember that the moments of today, right now, are equally as important as whatever we're planning for tomorrow.
Enjoy today my friends.
These ARE the Good Old Days!