I recently read in a popular parenting magazine that 75% of adults say it's important to educate children about finances, but only 36% of those same parents actually do so. While the difference in those two statistics is somewhat humorous, I find it quite disturbing that 25% of adults DON'T feel it's important to educate children about finances.
After all, if we as parents don't do it… who will?
Obviously, I'm not an expert (we haven't started teaching Nora about money management just yet!) However, Dave taught a personal finance class at his high school for the past 3 years and he sure had a bunch of crazy stories about kids who knew nothing about finances when they started his class.
I hope that as Nora (and any future children) get a bit older, we'll be able to instill sound financial advice that they can take with them throughout their lives.
There are so many things I want to teach my children about saving, spending, investing, money management, etc. but in an effort to keep things simple, here are 5 financial lessons I want my children to learn.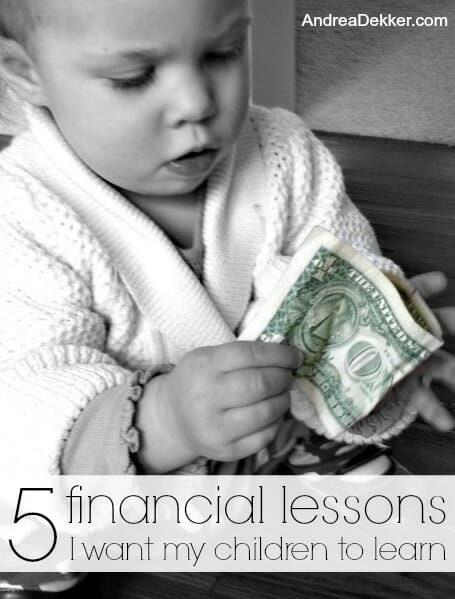 1. It's OK to make mistakes.
I read many emails from parents who explain that they aren't great at money management so they don't know how they can teach their children. I completely understand… and think it's totally awesome that these parents are trying to be proactive so their children will grow up with a greater knowledge of money management.
I always respond by telling them that it's OK if you sometimes feel like you're learning along with your kids — and it's definitely OK if you make mistakes.
Personally, I think it would speak volumes to your children if you explained that you have made an unwise financial choice, and then outline the steps you are taking to dig yourself out of that debt. Most children, especially young children, won't know if you are or are not the best money manager — the point is you're starting the conversation at a young age.
That said, if you ARE already a very good money manager, remember that your children are not — and they will most likely make a mistake at some point or another. Don't get all bent out of shape, don't shame them, and don't take away their financial independence (at least not after one mishap).
Kids NEED to know it's OK if they mess up… and wouldn't you rather have them mess up with a $10 allowance now than a $1000 paycheck later on?
2. Saving is good, but so is spending.
Often times, I think we get too caught up preaching "save, save, save" that we forget to talk about appropriate ways to actually spend the money we've worked so hard to save. And what's the point of continually saving if you never, ever get to spend anything?
If we don't teach our children HOW to spend, there's a pretty good chance they will make costly mistakes down the road — yes, I know I just said mistakes are OK (and they are) but it's still good to try and prevent as many mistakes as we can. 🙂
Teach them how to hunt for a good deal, how to weigh the pros and cons of a purchase, how to set goals for saving and spending, how to wait 24 hours to avoid impulse purchases, etc. etc. Teach them that it really is OK to spend their money on something if they need it (and sometimes if they just want it) as long as they have the money to spend.
Teach them to calculate the cost of an item in terms of how long it would take them to save up the money. For example, if they have a babysitting job and make $5 an hour, it would take them 5 hours to make enough to buy a $25 shirt. Is it worth 5 hours of their time, or would they rather shop around and look for a less expensive option?
.
3. Giving is fun.
Giving often gets a bad reputation as something we SHOULD do and something we feel obligated or guilted into doing. I get it, I've received my share of pledge-drive phone calls, door-to-door fundraisers, and non-profit donation requests.
I don't think we need to give to every single charity and organization… but I absolutely think we must teach our children that giving is good, AND it can also be fun.
Teach them that along with financial giving, they can also give their stuff (toys, clothing, games), their time (volunteer work, helping an elderly relative or neighbor, helping around the house), and their actions (a kind word, a friendly smile, a nice gesture, a polite conversation).
Even if they don't have any money to give, we should still encourage our children to give back in any way they see fit.
Encourage them to donate used toys and clothing before birthdays and other holidays. Spend time together volunteering for church, school, or community events. Suggest ways they might help out a neighbor, family member, or friend.
Children are never too young to give and there really is no lack of giving opportunities (at least not in our area).
.
4. We trust them, but we are also the "final say".
At the beginning, I suppose we might not trust them… but we don't necessarily need to tell them that. If we start teaching them about money management when they are young, the idea is that as they get older and acquire more financial freedom, they will also have more knowledge and experience to (hopefully) make the right choices.
I realize this will not always work (don't worry, I'm not that naive) BUT, I think it's good for kids to know that their parents trust them to make some of their own (age-appropriate) financial decisions.
If they mess up, refer back to #1, take a deep breath, and prepare to do a little more teaching.
If they continue to mess up or make bad financial choices, we as the parents can then step in and say no or take away financial privileges as we see fit (at least while they're young).
.
5. We are here to help.
I want our kids to feel comfortable coming to us with questions about anything — including financial questions. I don't want them to feel stupid, silly, or shameful about any questions they have (or admitting any mistakes they've made).
While I don't think we would flippantly give our children money, I'm not opposed to paying them a weekly or monthly allowance. I also think I would be open to the idea of loaning them money as long as they have a plan as to how and when they would pay it back. If they have something I feel they want or need badly enough to take out a "loan" from mom and dad, I'd at least hear them out and consider it.
That said, we're still the "final say" (see #4 above) and if I feel a certain financial choice is completely wrong, I will voice my opinion. Depending on how old the child is, I will either put my foot down and say "no", or share my point of view and then let them make their own choice.
I know there are so many other financial lessons to teach our children, but I think these 5 lessons are a really good place to start. Not too overwhelming but still a bunch of basic principles and ground rules.
In fact, lessons 1-3 could apply to adults too 🙂
I feel that both Dave and my parents did a pretty good job of teaching (and showing) us how to manage our money… and I'm certain their efforts have only benefited us as we moved out on our own, went to college, got married, purchased a house, started a business, etc. I hope our children can say the same thing in 25 years 🙂
Of course, there is no one "right way" to teach our children about finances… so I'd love to hear from some more experienced parents out there.
Do you have any tips, tricks, ideas, or lessons you used to teach your children about money management?