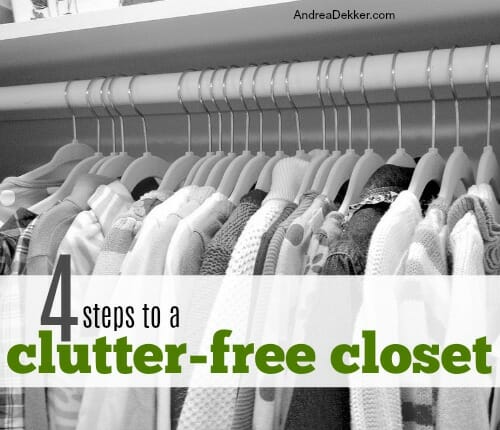 Are you the type of person who is easily attached to clothing and finds it very difficult to purge?

Do you constantly stress about tossing something you "might need someday"?

Do you have a closet and dresser stuffed to the gills with things you rarely ever wear?
If any of these sound like you — I hope today's post will be enlightening for you, maybe even just the motivation you need to finally clear the clutter from your closet, lighten your load, and speed up your morning routine (doesn't that all sound amazing!)
Step 1. PULL OUT (anything you don't love)
As quickly as you possibly can, go through EVERY item of clothing you own and pull out everything you don't love, everything you don't feel great in, everything you don't currently have a use for, everything that doesn't fit or flatter you right now, everything that is stained or ruined in any way, and of course, anything you just don't want.
Don't worry, I'm not going to make you donate or purge anything yet — I just want you to get these items out of your closets and dressers for a while.
Since you won't technically be tossing anything to the curb just yet, I encourage you to be RUTHLESS with your decision making process. In my experience, it's better to remove MORE up-front so you're only left with pieces you really love and feel great wearing.
Also, make sure you go through EVERYTHING. I literally went through every item of clothing I own — from socks and underwear, to dress clothes and old bridesmaid dresses, to coats, hats, gloves, and of course, boots and shoes!
I put everything into a clothes basket and brought it to an unused closet upstairs.
This way, it would be completely out of my sight, and I could enjoy all the extra free space in my closet and dresser drawers. However, if I decide that I really do need or want one of the items I pulled from my closet, I can simply walk upstairs to get it again. Nothing is "final" yet!
.
Step 2. PICK OVER (anything you want to bring back into your closet)
Over the next few weeks and months see how long you can make do with the things left in your closet. If you need to go through your boxes and bins of "clothing in waiting", only pull out the items(s) you want and leave the rest alone!
.
Step 3. PAY ATTENTION (to anything you really love wearing)
As you get ready each day, really pay attention to what you're wearing and why you love it so much.
Is it the color? The soft fabric? The fit of the piece? Or the fact that the item goes with so many other things in your wardrobe?
For me, I love anything black, grey, white, navy, and anything in the color palate of pink, fuchsia, purple, etc. because I think those colors look best on me. I also have mostly v-neck shirts because I like that style… and I apparently love stripes! Finally, I almost only ever buy cotton and spandex materials because I cannot stand the feeling of wool, silk, or anything scratchy on my skin (yes, I know, Nora gets it from me!)
By knowing what I like and what I feel comfortable in, I can shop for clothing faster and easier and avoid impulse purchases that are just going to sit in my closet for the next year until I purge them.
.
4. PURGE (anything you didn't miss)
I won't make you purge right away… but I really can't have a post about clothes clutter without mentioning purging at some point 🙂
After a few months pass (maybe up to a full year), I would highly encourage you to muster up the courage to blindly donate everything left in your basket or box.
It might be very difficult (I know) but in my experience, if you haven't worn or missed an article of clothing for several months to a full year, you will not miss it in the future! On the flip side, you WILL enjoy all the extra space in your closet and dresser!
(p.s. here's the post where I talk about how and why I fold my t-shirts like this)
.
Although I'm currently not at a point where it pays for me to purge my own closet right now, I did remove a bunch of non-maternity items from my closet right after I found out I was pregnant again. I might decide to keep the items after the baby is born and I lose some of my baby weight, but for now, they are OUT OF MY CLOSET and I don't have to stare at all the things that currently don't fit or flatter me!
I'm certain I'll make the time to go through everything a couple months after the baby is born (this might be a good Christmas break project for me) and I might just muster up the courage to purge all my maternity items by that point too!!
I'm a firm advocate for purging all clothing that is:
unflattering
uncomfortable
unloved
not the right size or style for my personal preference
stained, ripped, or otherwise defective
doesn't coordinate with other items I already have
And like I mentioned above, even if you don't fully purge it all right now, by simply REMOVING it from your closet and dresser, your morning routine will be faster, easier, simpler, and less stressful because you'll only be choosing clothing from items you know you love and feel great wearing.
If you feel like your closet could use a makeover, I hope today's quick tips will help!
Stop making excuses to hang onto your clothes clutter… instead, start making positive choices that will help you clear clutter from your closet, your home, and your life!