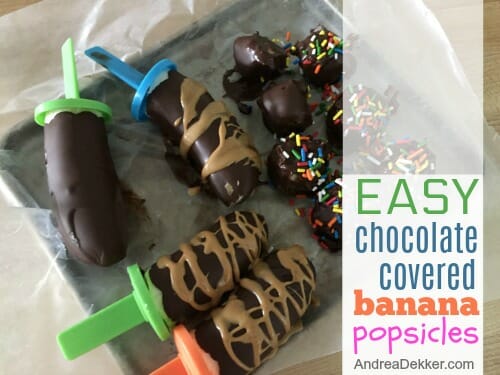 During the warmer months, my kids ask for "popsicles" (a.k.a. any sort of frozen treat) multiple times a day… they especially love eating anything frozen outside 🙂
And even though I'm not a health nut, I AM somewhat frugal and can't see spending so much of my grocery budget on sugary popsicles every single week.
So while we do have some popsicles, ice cream sandwiches, and freeze pops, I also freeze gogurts, we make our own juice and pudding pops, AND I've started making chocolate covered banana pops (and bites) — which the kids think are so fantastic.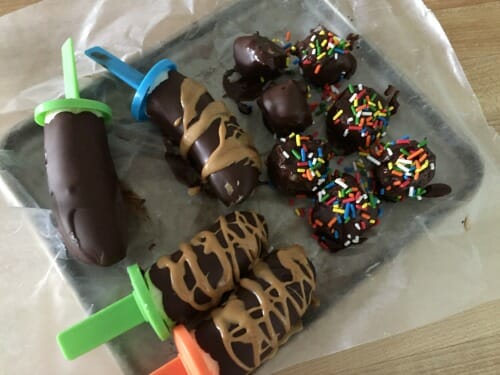 I'm not sure if these popsicles would necessarily qualify as "healthy", but I figure if they're eating half a banana with some chocolate and peanut butter, it has to have some nutritional value!
Plus, they're very quick and easy to make, fairly frugal, and an excellent way to use up bananas that are starting to get just a little bit too ripe to eat fresh.
NOTE: Did you know covering the stems with plastic wrap keeps bananas fresh longer?
.
I used to be intimidated by making chocolate-covered anything — I thought it was too time-consuming, too messy, and too much work.
However, I'm glad I gave it another shot this summer because besides getting one bowl and spoon dirty, there really is hardly any clean up, and I can easily whip up a small batch of these chocolate covered banana popsicles in about 10 minute (not including freezing time).
If you're looking for a somewhat nutritious, really delicious summertime treat, give these a try!
Recipe for Chocolate Covered Banana Popsicles:
INGREDIENTS:
Bananas (I used 3 for the pictures in this post)
Chocolate (I used 4 oz. of semi-sweet chocolate)
Oil (I used 1 T. Crisco — coconut oil works well too)
Optional Toppings (I used peanut butter and sprinkles — nuts, coconut, white chocolate, or candy pieces would work too)
DIRECTIONS:
Peel bananas, cut in half, and insert a popsicle stick into one end (or cut into bite-size chunks).
Lay on wax paper and freeze for 15-20 minutes.
While bananas freeze, melt chocolate and oil in a microwave safe bowl — I do 30-45 second intervals, stirring between.
Remove bananas from the freezer and spoon chocolate over them (hold the bananas over the bowl of chocolate while doing this)
Place the bananas back onto the wax paper and sprinkle with candies, nuts, or drizzle with white chocolate or peanut butter.
Freeze again for at least 1 hour.
Eat, or put in an airtight container for longer storage.
Like I mentioned above, this recipe is so quick and easy, and our whole family LOVES them! These chocolate covered banana popsicles are such a refreshing treat on a hot summer day!
What are your favorite frozen treats for summer?
Visit my virtual recipe box for more simple, delicious, family friendly recipes!