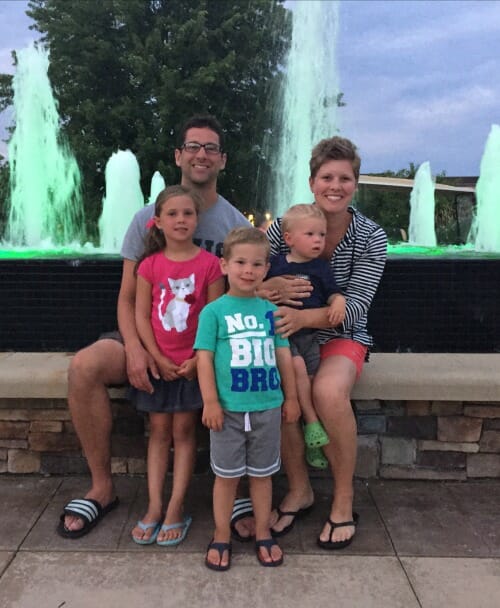 We're nearing the end of July already… but that still means a full month of summer vacation left for Dave!
Here's a look back at what I shared this week in previous years… and as always, you can follow along with all my Week In Review posts here.
2010: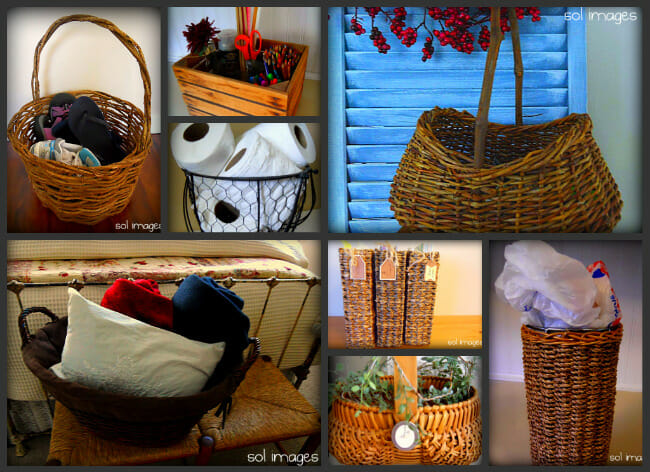 I shared a fun post about ALLLLL the different ways I use baskets to organize various spaces in our home.
I still use baskets to organize A LOT — and they don't have to be expensive or "matchy-matchy". I've had great luck finding baskets at our local thrift store and always keep a few extras on-hand for my next organizing project!
Baskets and shoe boxes — that's all you really need to organize anything. Right!?
I also shared 1o Simple Tips to Spend Less — many of which I still practice today!
And finally, I shared my recipe for Mini Fruit Pies — and ironically, this recipe is one of my most-popular posts EVER on my blog! It's been shared thousands and thousands of times on Facebook and Pinterest!
They are really fun to make (and serve). Everyone is always wowed by how cute they are!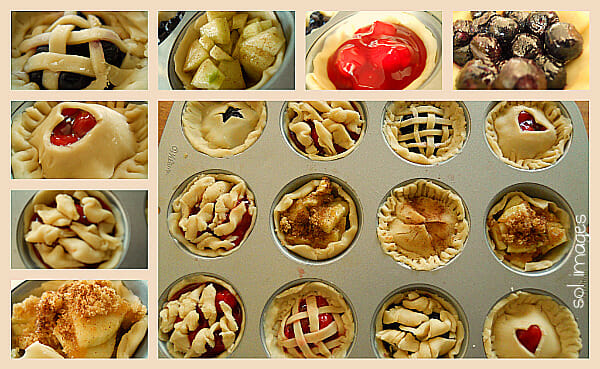 .
2011:
We were in the middle of renovating our master bedroom, the nursery (for Nora), our home office, and our master bathroom during July of 2011, so I shared a few progress pictures as well as a few tips for how I organized our bathroom storage. I'm still using the same system today!
We were headed to IKEA at the time (to buy our white couch that didn't end up fitting properly in our uHaul!) so I shared some tips for anyone headed on an all-day shopping trip (something I don't make a practice of doing often anymore!)
And finally, I shared our favorite leftover foods (we LOVE leftovers!)
Here's a picture of the amazing bluish purple hydrangeas we had next to our back door. We eventually had to dig these up when we expanded our deck and built our mudroom — and unfortunately, they didn't transplant well 🙁
.
2012:
We really wanted to put a garden in this year, but just never got around to it… so I shared a few ways to enjoy local produce WITHOUT a garden.
Ironically, we are using many of these tips this year as we never got around to planting our vegetable garden with all our other house projects, yard projects, and vacations.
There's always next year… right!
Then I closed down my blog for a 2 week blogging break. Here are a few pictures from our break time.
.
2013:
I shared how I totally transformed my Great Grandmother's high chair with a simple can of spray paint… we still use this red chair regularly in our home and I LOVE the sentimentality of it (yes, you read that right, I'm sentimental about a few things!)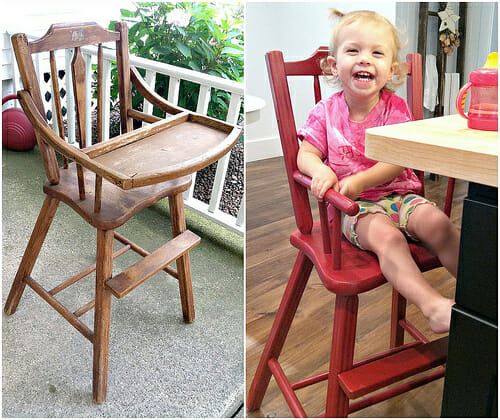 One of my more-popular (and more controversial) posts was about why I purge almost all our baby clothes once the baby grows out of them. At this point, I still purge all of Nora's things, I purge some of Simon's things I know won't work for James, I purge all of James things, and I'm assuming I will purge the new baby's clothing as well.
It's just not worth the space for me to store things I might never use again — especially when I can find free or almost free baby and kids clothing from friends, relatives, local thrift stores, etc. I know this won't work for every family and every home, but it sure seems like the best option for us at this point.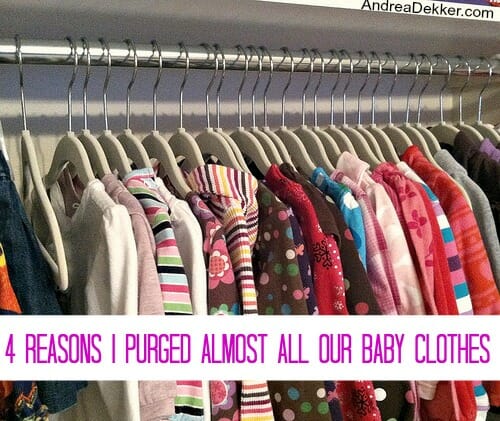 And if you've never tried grilling your corn on the cob, you do NOT know what you're missing! It's so quick, easy, and completely delicious. The perfect side dish for basically any warm weather meal!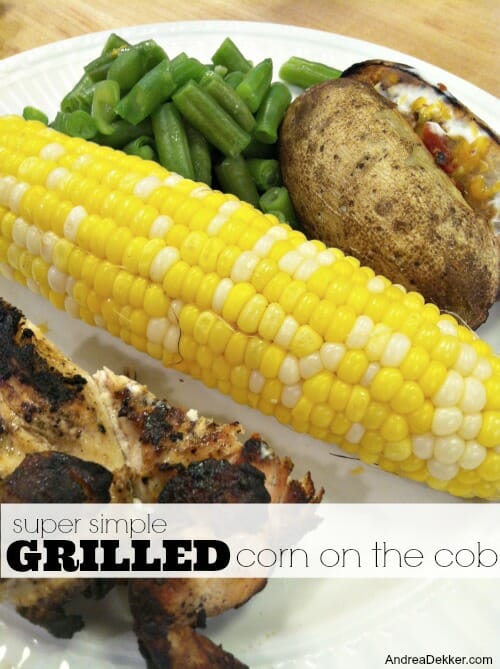 Here are a few of my favorite pictures from this week in 2013 (I had just found out I was unexpectedly pregnant with Simon and feeling so nauseous).
.
2014:
I had just come back from a 2-week blogging break and shared all the details about what we did and what we accomplished during my break.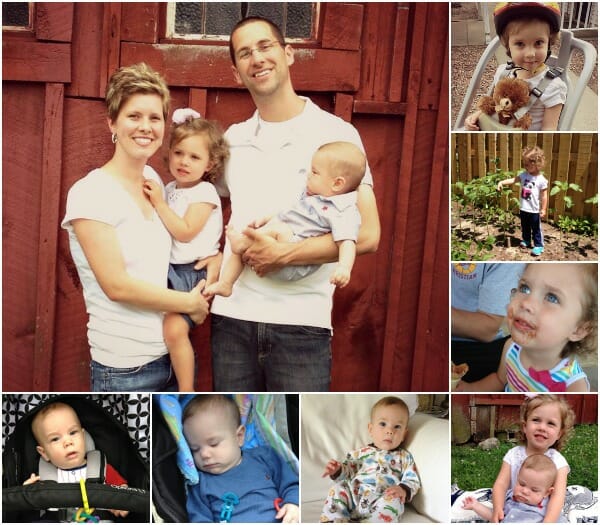 We finally fully potty trained Nora by bribing her with a new-to-her bike. Seriously, I love this picture!!
I also shared the details of our new Outhouse Garden Shed — which is still one of my favorite things in our landscaping.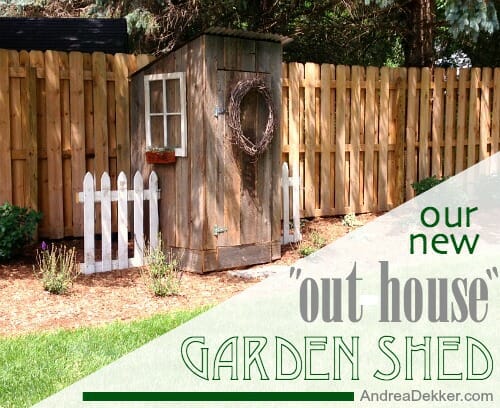 Here's a look at what that area looks like 3 years later — aren't the plants HUGE!!!
I love this picture of Simon as a baby — so far, he has been my only baby with even a little bit of chubbiness!
.
2015:
I think I will always remember this week in 2015, because it was the week right after James was born — and we were supposed to go on a family vacation with Dave's family that week. Since James was 2 weeks late however, we decided that Dave would take Nora and Simon on the vacation while I stayed home to rest with James (I also had a broken toe at the time!)
I cried so much when they all left — thinking my 2 little babies could never handle a few days away from me (or maybe I couldn't handle a few days away from them) but it was one of the most relaxing weeks of my life since having children.
Dave's whole family was gone on the vacation, my whole family was out of town for one reason or another (so no unexpected visitors)! I wasn't blogging much, I cleaned the house and did laundry the very first day, and then basically laid on the couch with my brand new baby and watched Netflix and read books all week long.
It was glorious — and probably something I won't have the opportunity to experience ever again!
On the blog, I shared Simon's Room Makeover — which, ironically is the exact same room we JUST renovated for Nora!
I also shared several of my QUANTITY over QUALITY Quick-Cleaning Tips — because when I had 3 kids 3 and under, I was all about quantity versus quality 🙂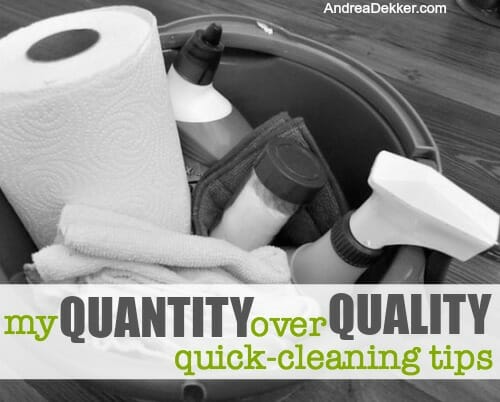 And finally, one of my favorite picture of Dave snoozing on the couch with Nora and James — oh the life of a teacher on Summer vacation!
.
2016:
I was taking a blogging break again this year — but here are a handful of my favorite pictures from this week!
.
2017:
We just arrived home last night from a short week of vacation — first celebrating Dave's Grandma's birthday with a big family reunion this past weekend, and then spending a few days at a resort with Dave's immediate family.
The kids had so much fun playing with their cousins (we don't see them very often as they live in a different state) and, believe-it-or-not, Nora and Simon are now BOTH willing to jump into the pool and get their faces completely wet!
Yes, they are 5.5 and 3.5, but these 2 have always been so skittish in the water, NEVER willing to get even a few drops of pool water on their faces. Then about a week before our trip, they both decided they could start jumping in (thanks to the encouragement of a little neighbor girl!)
It's so much more fun to play in the pool with them now — and we might actually be able to make some solid progress with swimming lessons now that they are willing to put their faces in the water!
James can only handle the water (and the sun) for so long before he just wants to sit on the sidelines. That's probably for the best though — considering his skin is very sensitive to sunscreen. We were shade buddies all week 🙂
Dave is starting to face reality again and has been doing several things to get ready for another school year. He also has a handful of outside projects he wants to finish in the next month before school meetings start. Yikes, only 1 month left!
I am starting to face reality and have a tentative plan to fill our freezer for when this baby arrives (I'm assuming people don't bring meals to families after a 4th baby!) Also, I've purged a ton over the summer, and even though I donated most of it, I have a pile of things I want to sell on Craigslist. They are all compiled and ready for me to list now that we're back from our vacation!
.
Now that Nora's bedroom is completely finished, and James has successfully transitioned to sharing a bedroom with Simon (pictures of their new "boy bedroom" coming soon!), I'm almost ready to tackle our nursery!!
I've given the nursery a "mini makeover" for each baby so far — nothing crazy, extravagant, or expensive — just something to add a few personal touches and freshen things up for each new babe.
I'm excited to get the blue out of there and add a little pink this time around — and yes, I'll be sure to share the finished room once we get a little closer to this little lady's arrival.
Oh, and here's one more picture of the drive home from vacation… I think the kiddos were worn out!