For those of you who don't know me that well, I have a crazy obsession with old homes — specifically old farmhouses. Ever since I was very young (8 or 9 years old) I've dreamed of buying an old farmhouse, gutting it, renovating it, raising a family in it, and growing old in it.
Yes, I realize that's a very weird thing for a little girl to dream about — but it was my dream.
Then, almost exactly 3 years ago, I found a potential "diamond in the rough" 120 year-old farmhouse for sale on Craigslist — only about 7 miles from our current house. Besides the fact that the entire inside of the house needed to be renovated, it was exactly what we were looking for 🙂
The location was perfect, the layout was perfect, the extra building and garages were perfect. It was set back off the road just like we wanted, on a 1-acre lot, smack in the middle of town, close to restaurants, highways, parks, school, etc.
This was our dream house!
To make a long story short, we moved in 6 months later and have been renovating it ever since.
(You can read the longer version of that story here… and lots more about our farmhouse here)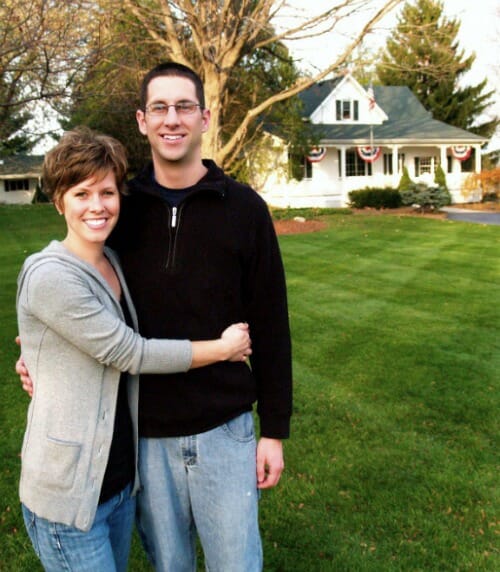 We only have a couple blurry pictures of the original farmhouse (I should really share those with you sometime!) so almost every time we tear down another wall, rip up another floor, or roll on another coat of paint, Dave and I think:
If only these walls could talk!
What would they say?
What were the families like who lived in our house over 100 years ago?
What were the rooms used for and how were they decorated?
What changes were made in the 120 years before we purchased this house?
What did the surrounding area look like at the time? And what did the original farm look like? (I'd love to have one of those aerial shots of the original farm)
We've uncovered quite a bit of history in the walls of our house so far, and it's really cool — at least for me.
However, what I'm most excited about is what the walls of our house will say many years down the road, after we move out (we're not planning to move any time soon, don't worry!)
What will they say?
My hope is that our walls will also be full of stories and memories.
New babies, first steps, potty training, lost teeth, broken bones.
Birthdays, anniversaries, Christmases, and so many other holidays.
First days of school, craft projects, baking experiments, living room forts.
Summer BBQ's, camping in the backyard, running through sprinklers, sidewalk chalk.
Learning to read, playing catch, practicing the piano.
Graduation parties, wedding showers, baby showers, and more!
Even though we've only been living in our house for 2.5 years, we already have so many memories inside these walls. It's finally starting to feel like OUR HOME and I like that!
Last week, the previous owners of our house came back for a visit and to see all the updates we have done. They lived in this house for 25+ years and raised their family here.
Naturally, I wondered what it would be like for them to come back and see everything so different — I was thrilled that they seemed quite happy with everything we've done to the house. They had their phones out and were taking all sorts of pictures to show their kids.
As they walked from room to room, they shared some really neat stories and memories.
The husband (who also worked from home some of the time) explained that when his daughter was in middle school, she would file papers for him and they kept a tally on the back of the office door. Each tally mark meant he owed his daughter $0.25. He paid her monthly and said they repainted the back of that door so many time and just kept adding more tally marks. If I would have known, I would have given them the door when we renovated 🙂
The wife (who absolutely LOVED the new kitchen) was thrilled that we kept the big old floor grates (we did this on purpose). She said that the kids would always race downstairs on cold winter mornings and fight over who got to stand on the big grates in the kitchen to warm their feet.
Can't you just picture Nora clamoring down the stairs in a few years!
These are the types of stories and the memories I can't wait to make! We're already making memories and I know there will be many more to come — especially since we hope to stay here for a long, long time.
In a few years, we'll look back and laugh about how we lived upstairs in our "one bedroom apartment" for 8 months while we were renovating the main floor, we'll have a story for every dent and ding in our old wood floors, we'll wonder how on earth we managed for 5 whole months without a kitchen, and I bet we'll even smile as we remember all the nights we paced up and down our hallway and slept on the floor in Nora's nursery 🙂
Lots of memories to make, and hopefully lots more years to make them!
If the walls of your house could talk, what stories would they share?