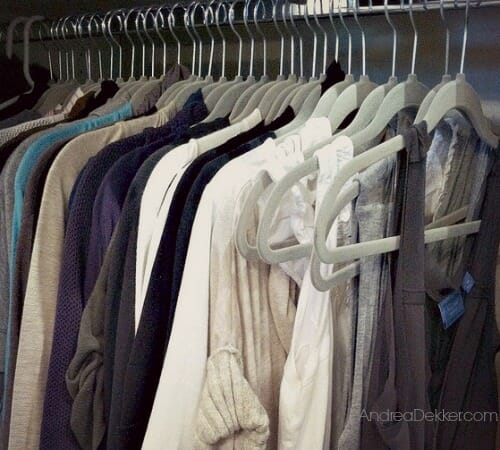 In honor of my week-long clothes clutter series and my ridiculously frugal nature, I couldn't pass up the opportunity to talk about the many ways I've managed to get completely FREE clothing for both me and my kids.
Yesterday, I shared my new mix 'n match wardrobe and noted that many of the items were "purchased" for free. I got several shirts for free using ThredUp and Twice (see #6 below for more information) and thanks to a consignment opportunity and selling a couple items on Craigslist, I made about $100 to put towards my new wardrobe (see #2 below).

After the receipts were tabulated, I was able to get ALL my new clothing (including 2 brand new pairs of shoes) for less than $50 out of pocket! Yup, you read that right — about 8-10 shirts, 2 pairs of pants, 1 skirt, 2 scarves, and 2 pairs of shoes for less than $50 out of pocket! And all of the clothing was quality brand names like Ann Taylor, Gap, J.Crew, Banana Republic, Naturalizer, etc.
It's actually crazy to think about how much free (or almost free) clothing I've accumulated over the years… and I'm so excited to do one LONG blog post to share some of my ideas with you.
If you've ever hesitated to update your wardrobe because you felt it wasn't in your budget (yes, I can relate), this post is definitely for you!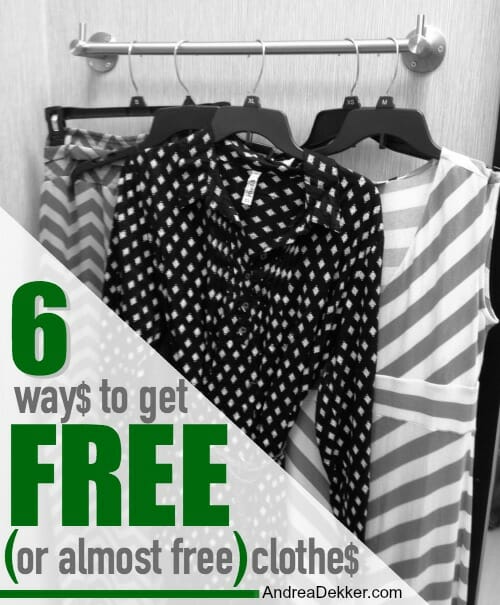 1. Borrow (and lend).
OK, I realize this is ridiculously obvious… but it had to be mentioned because borrowing is a great way to get free clothing that you also won't have to store after you've used it.
After 2 babies (both completely different seasons of clothing) I have only actually purchased 4-6 items of maternity clothing with my own money. I've been graciously given a handful of basic items (like a pair of nice jeans, a skirt, a dress, and a few basic shirts) from a friend who was finished having children. Beyond that, I've either worn regular clothing (like open cardigans that still work with a growing belly) or borrowed almost everything I've needed from 2 or 3 friends and relatives who are a similar size.
I've also freely lent out my maternity items to friends and family members whenever they ask (provided I'm not using them at the time).
I have borrowed and lent SO many kids clothes over the past 3 years… it's just crazy how much money I've saved. I'm sure some of my things have not been returned and I know I've mistakenly kept a few items that weren't mine — but it all evens out in the end, and it all saves hundreds of dollars on rarely-worn baby clothes.
One other thing I've had success borrowing and lending is special occasion outfits like costumes and fancy dresses. We started doing this way back in high school already. My friends and I would each purchase a dress one year and then we'd swap for the next couple of years. I had one dress that I paid $35 for my sophomore year and it was worn almost 10 times by various other friends, cousins, sisters, and even a couple of my sister's friends. Talk about a HUGE savings!
2. Consign for store credit.
I realize this isn't for everyone… but if you (or your kids) have clothing that is still in good condition but just doesn't fit or isn't your style, I would highly suggest bringing it to a consignment store to see what you can get.
Often times, consignment shops will give you 10% to 15% more for your items if you opt for store credit versus cash back — and if you don't have any qualms about buying used clothing, this could be a great opportunity for free (or almost free) clothes. Plus, you have the added bonus of decluttering your closet in the process.
3. Shop thrift store sales.
We have a local thrift store that is associated with Dave's school (proceeds go to the school) and a few times a year, they have a Buy-One-Get-THREE-Free clothing sale. Since most of their clothing is only $1 or $2 an item, I can easily walk out of the store with 8-12 items of clothing for less than $5 total!
I've honestly never purchased clothing for myself in this store, but I have scored major deals on kids clothing here!
If you have a quality local thrift store you enjoy shopping at, you should definitely check for when they have big clothing sales (and most stores do).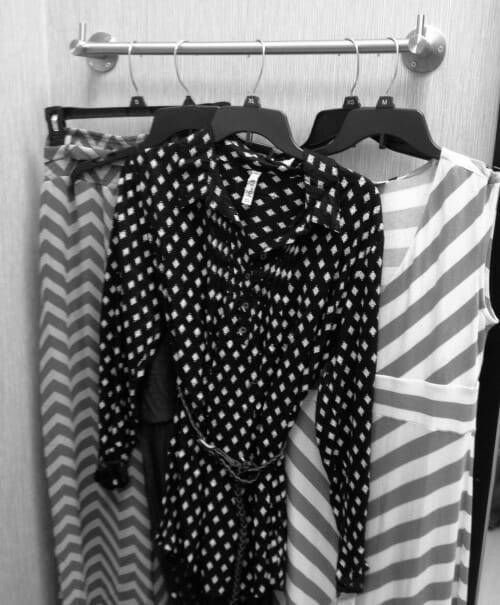 4. Host a clothing swap party with friends.
Have you ever heard of a clothing swap party? I've been to one clothing swap party and it was actually REALLY fun. I was able to declutter my own closet, get a few new pieces for free, and have a great time socializing with friends for the evening.
It does take a good amount of organization to pull off this type of swap, but it's another great way to get free clothes!
If you have no idea what I'm talking about, you can read more about how to plan a clothes swap here on Organizing Made Fun (but make sure you come back and finish the rest of this post!)
5. Utilize high-value store coupons.
Most of the ideas in this post are for used clothing — which I realize isn't for everyone. However, I have gotten a fair amount of completely free BRAND NEW clothing for myself and my children simply by being smart with my high-value store coupons.
Usually 3-5 times a year, I'll get a $10 off any purchase coupon from Kohl's. I also get 2 or 3 of these same coupons for JCPenny's. Whenever I get these coupons, I quickly review the "rules" and exemptions and then make a point of finding something for as close to $10 as possible.
If I know I won't have time to shop or just don't feel like getting to the mall (you know how much I hate the mall) I will give the coupon to my mom and have her get something for the kids or just buy Dave more dress socks (which are always crazy expensive!)
It's amazing how many times I've left a clothing store with my goods and paid nothing out of pocket — now that's fun!
Oh, and for the record, you don't need to have a credit card to get these coupons. Sometimes I just get them for taking email surveys or for signing up on their email newsletter. Yes, I'll take a few junk emails for free clothing throughout the year.
6. Sign up for online affiliate programs.
This is my favorite part of the post — and yes, I did purposely save it for last 🙂
I'm sure many of you have seen that mass amounts of online companies selling inexpensive new and used clothing — there are so many, I can't even begin to name them all.
Instead, I'm going to focus on two affiliate programs I have been using for over 2 years — ThredUp and Twice — and have been getting free (or nearly free) high-quality clothing on a very regular basis from the comfort of my own home!
The gist of the "deal" is that you get $10 in FREE clothing just for signing up — and then an additional $10 for anyone else who signs up via your affiliate link.

However, it's SO easy to get people to sign up, because everyone who signs up gets $10 in totally FREE clothing with no obligation to purchase anything else or even enter their credit card information.

It's literally a big WIN-WIN for everyone involved!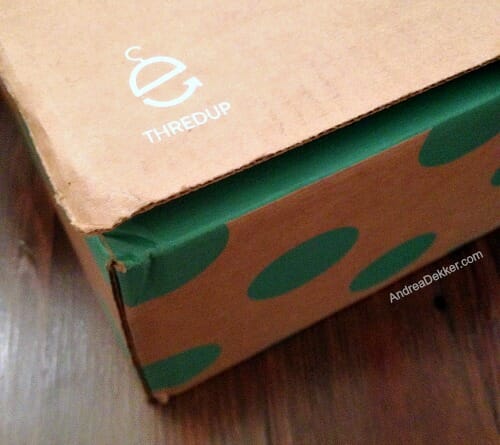 Bear with me here, there is A LOT of information below — but it's because I've learned the ins and outs of both of these affiliate programs and have figured out the best ways to get freebie offers, free shipping, discount coupons, free return shipping and more!
#1 = ThredUp:
I know many of you have heard me talk about ThredUp on my blog before — and that's because I've been using it for over 2 years to get free or almost free clothes for Nora, for myself, and now for Simon.
ThredUp sells new and used children's clothing, shoes, and accessories from size 12 months up to size 20.

They also sell a massive amount of women's clothing, shoes, and accessories from size 0 – 16 (with additional categories for petites, plus-size, maternity, and designer collections).
#2 = Twice:
I've been using Twice a bunch the past couple of weeks as I've ordered several items for my brand new mix 'n match wardrobe that I shared with you yesterday. I had the stylist log onto the Twice website and pick out items she thought would work for me, and then I just added them to my cart, found a few coupon codes, and placed my order.
Twice is basically the same as ThredUp except it ONLY sells new and used women's clothing (no kids clothing) — so there's no excuse not to get at least $10 of free clothes for yourself!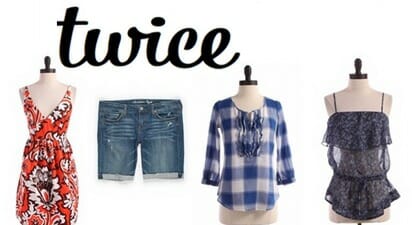 Here's how to get FREE clothing from these online shops.
STEP 1: Create an account for Thred Up and create an account for Twice. (I'd love it if you'd use my affiliate links so we can BOTH get $10 off our next orders!)
STEP 2: Find your affiliate link (under your account information) and send it out to your friends explaining how they can get $10 of free clothing from EACH shop just by signing up. (I usually just post it to Facebook or Twitter)
STEP 3: Search for online coupon codes. I ALWAYS do a quick Google search for coupon codes before I place an online order for anything because there are thousands of coupons out there.
Just Google "coupon codes for ThredUp" or "coupon codes for Twice" and you'll find a bunch. There are often 40% off coupons for anyone placing their first order — which you can use in addition to your $10 off. There are also free shipping codes, 15% off codes, etc. etc. This means you could actually get more than $10 of free clothing from BOTH ThredUP and Twice because the percentage off coupons come off the total before the $10 credit!
STEP 4: Read the fine print: You'd be amazed how many extra deals and freebies you can get if you simply read some of the fine print.
For example, I found that if I place my order from the ThredUp App on my phone, I would automatically get free return shipping on anything I didn't want. So now, I shop from my computer and get everything ready to go in my "shopping cart", then I sign into my ThredUp App to make the final purchase. This way, I can return anything I don't want for free!
Also, if you download the Twice App, you'll either get another $10 off credit applied to your cart or a 50% off coupon code that you can combine with your previous $10 credit. That means you can get at least $10 of free clothing from ThredUp and potentially $20 or more of free clothing from Twice!
STEP 5: Sell your current unwanted clothing back to ThredUp or Twice and earn more credit to buy other items. This is especially a great option if your clothing is in very good condition but you don't feel like taking the time to sell it on your own. I sent in a bag to ThredUp and got about $50 that I could either cash in or put towards future purchases! The bags are totally free and the shipping is free too.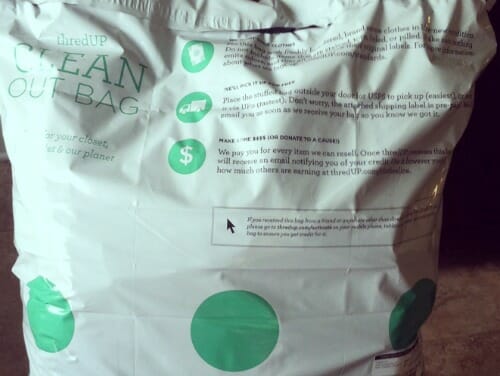 WHEW… I think that's everything!
Did you stick with me?
I know this was a longer post — but I also know that many of you might like to update your wardrobe (or even start Christmas shopping for your kids) but feel like you can't afford it right now. However, with a little creativity and the willingness to wear some used clothing you really can find so much stuff for free… or almost free.
Plus, what I really love about most of the ideas above is that along with keeping hundreds of dollars in our pockets, they keep millions of pounds of clothing out of landfills!
Do you have any other tips for getting free (or almost free) clothes?