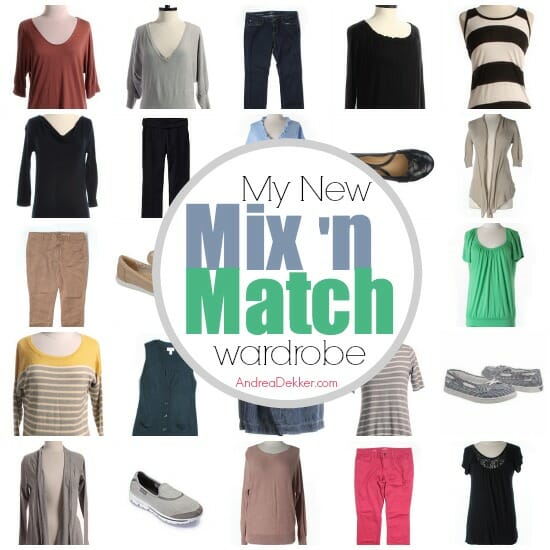 All I can say is… FINALLY!
I've been waiting for what seems like forever to share this post with you — but since I ordered many of my new clothing items online, I had to wait for the SLOW over-Labor-Day-holiday shipping to get the packages to my house.
Then, of course there were so many pictures to take — all of which were taken by Dave, via my iPhone, in about 2 hours, with children being shoveled around in strollers to keep them out of the way (seriously, I wish I had a picture of us taking these pictures!)
It was a crazy process, especially for someone like me who doesn't necessarily love trying on clothes or getting my picture taken, but I am beyond thrilled with how this post turned out — not to mention how happy I am with my new clothes!!!!!!!!!!!!!!!!!!!
P.S. This post took me HOURS upon HOURS to put together so I'm really hoping it is inspirational and helpful to those of you trying to put together a mix 'n match wardrobe!

Also, I realize the photography (and the model) are not top-notch, but I do think that the purpose of this post is clearly conveyed. For me, that's more important than how great my hair looks!
First things first. Let's talk about the stylist I worked with.
About a month ago, I had Jessica of JessMichelleStyle.com come to my house to do a wardrobe analysis (UPDATE: apparently this website no longer works and I have not been able to get in contact with Jess since writing this post.)
I was totally fed up with my clothes and needed some motivation to lose my baby weight. So Jess said to contact her when I lost the weight and we could work together to update my wardrobe.
She charges $150 for the initial wardrobe analysis — which was a crucial step for me. She actually comes to your house and weeds through everything in your closet, asking you a bunch of questions to figure out your style and what clothes you love (read more about that in this post).
She never once made me feel bad about my unstylish clothing choices (or the fact that I had 7 of the exact same t-shirt just in different colors). In fact, she said we could actually work with many of the clothes in my closet and just add in a few updated pieces to change the entire look!
Those few hours spent with Jess in my bedroom closet were probably some of the most eye-opening, why-didn't-I-think-of-that-before moments of my life (at least when it comes to clothes!)
After talking with her for one afternoon, I now think about clothing (and shopping for clothing) in a completely different way. I'm a much more confident shopper now that I actually know what to look for, what fits me, and what flatters me.
Side Note: I was apparently buying all my clothes WAY too big — like consistently 1 to 2 sizes too big! It's amazing how much better clothes look when they actually fit 🙂
If you had told me I would ever be working with a stylist to update my wardrobe, I would have laughed in your face. But now that I actually did it, I wish I would have done it years ago — although I didn't even know this service existed until earlier this year!
I would highly recommend this process for any of you who hate shopping, who feel "blah" in your current clothes, or who just don't know how to update your look. If you can't afford it, ask for it as a gift. It was SO worth it for me!
OK OK, Let's Get to the Clothes!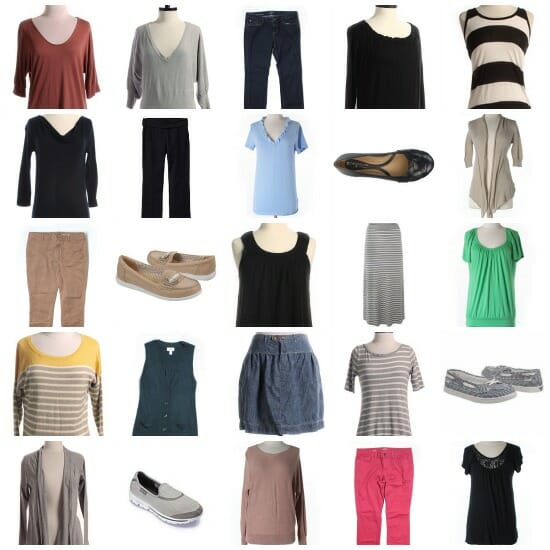 I told Jess that I was definitely a "jeans and t-shirt" kind of girl… and she said we could run with that. So since I already had a decent selection of pants and skirts, Jess's primary goal was to find me a few cute t-shirts and some cute COMFY shoes to go with the pants I already had.
I didn't think she could to it… but boy did she prove me wrong! She managed to create a super comfy, super low-maintenance wardrobe consisting almost entirely of jeans and cute t-shirts, using much of what I already had… so I hardly spent anything out of pocket!
It would be impossible to take pictures of all the different ways I could wear every item of clothing in my closet. However, I now have a mostly mix 'n match jeans and t-shirt wardrobe that consists of lots of black, grey, white, cream, navy… and a few pops of color to brighten things up.
Below, I'm sharing a few ways I've been able to mix 'm match. And since many of you have asked, I've listed out every item of clothing in my closet at the bottom of the post — you're welcome 🙂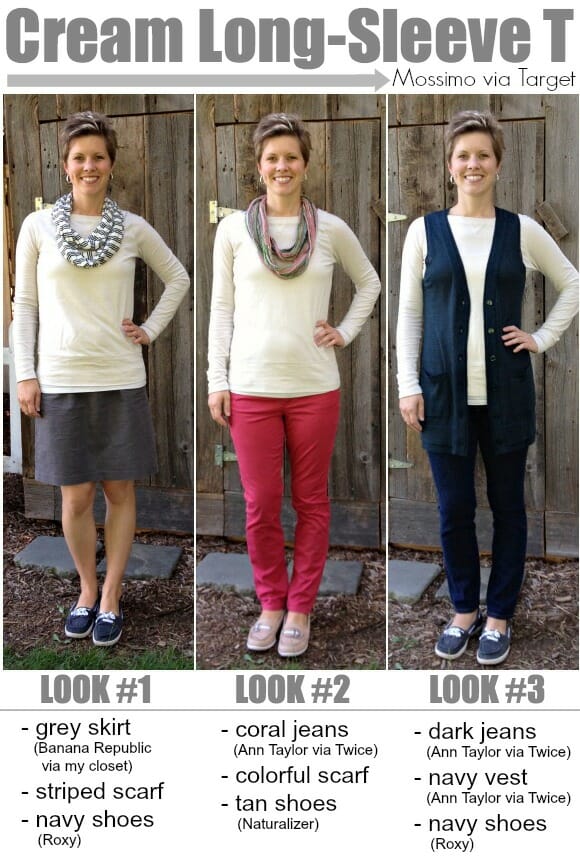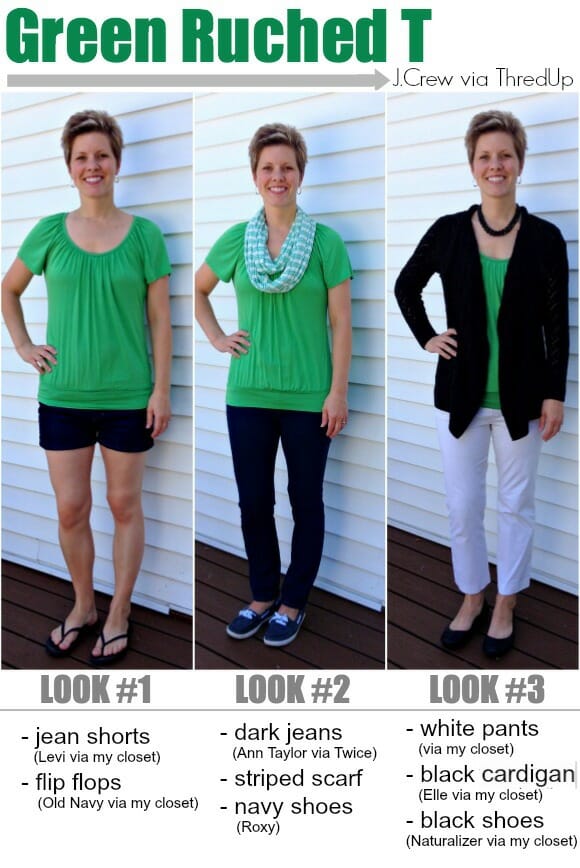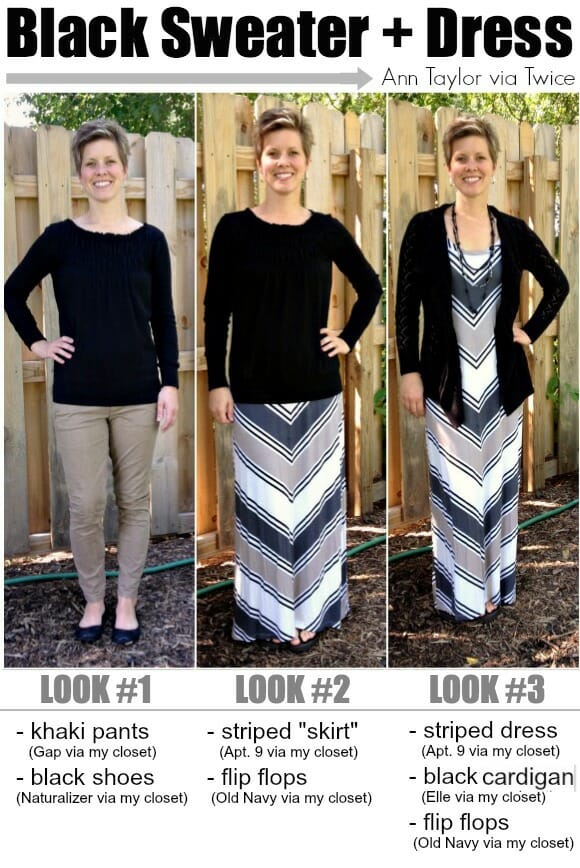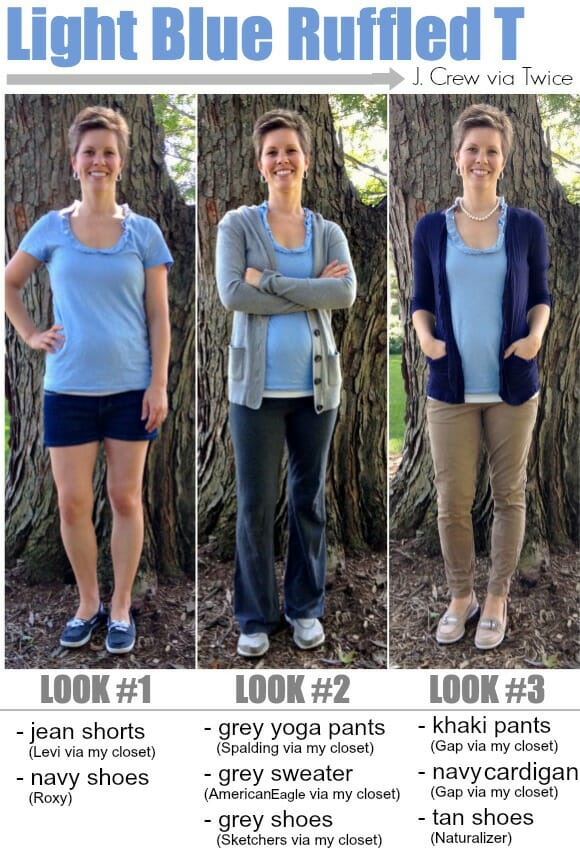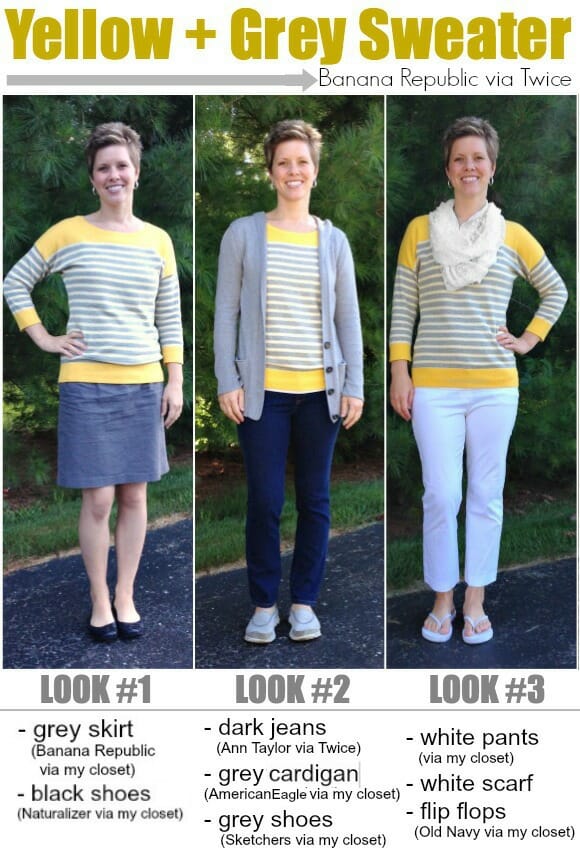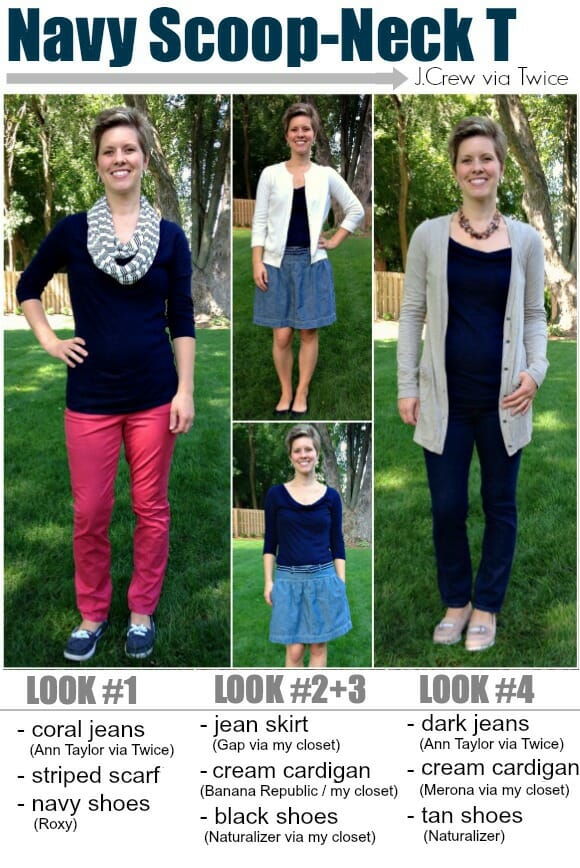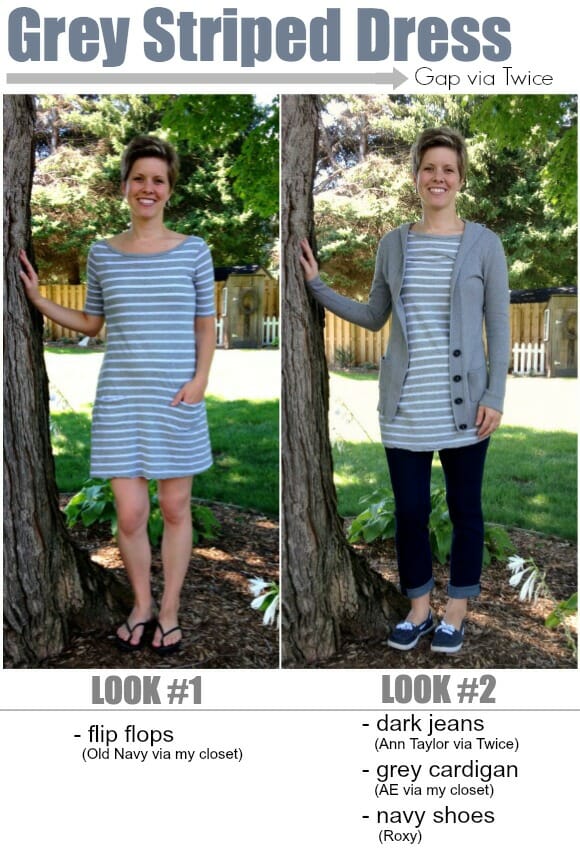 What do you think? Did I do OK?
I just love how I can go from super casual yoga pants and a sweatshirt around the house to cute and "put together" with the same shirt! Not to mention so many of the items pictured above can mix and match with so many of the other pieces in my closet.
Obviously, all of these outfits are geared more towards Spring, Summer, and Fall — but it was hot and sunny the day we took these pictures and I just can't bear the thought of dressing for winter yet!
Also, I do want to note that most of the items I purchased were via ThredUp and Twice (two used clothing sites I frequently shop). Tomorrow, I'll be sharing how I managed to get several of my "new" clothing purchases absolutely free (and how you can do the same!)
Finally, since I've already been asked why I'm spending money on new clothes now, even though we are hoping to have more children at some point, I think it's important to mention I DID keep that in mind when adding items to my wardrobe. I have many open cardigans that work well with maternity tanks, and many looser, ruched tops that should work well for the first and second trimesters, before the massive belly appears. 🙂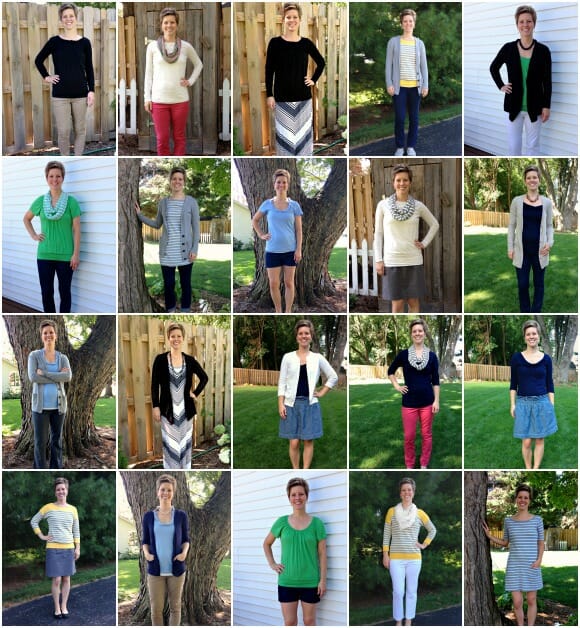 Now for that list of EVERY item of clothing I own:
I'm always asked, "how many of ______ do you have in your closet?" So I figured a quick listing would be in order — especially considering the nature of this post and the fact that I'll be talking about clothes clutter ALL week long.
PANTS:
Jeans = 6 (two pairs are colored)
Khaki pants = 1
Capris = 3
Shorts = 3
Dress Pants = 2
Yoga Pants = 3
Leggings = 2
Sweatpants = 2
Athletic shorts = 2
TOPS:
Tanks = 9
Plain short-sleeve casual t's = 7
Plain long-sleeve casual t's = 6
Stylish t's = 15 (many of these were new purchases)
Light-weight sweaters = 8
Heavier sweaters = 4
Sweatshirts = 4
Cardigans = 8
Athletic t's (long and short sleeve) = 15
DRESSES + SKIRTS:
Shorter skirts = 4
Maxi skirt = 1
Casual dresses = 3
Maxi dresses = 2
Formal"ish" dresses = 2
SHOES:
Flip Flops = 3
Casual Flats = 5
Tennis Shoes = 3
Wedges / Heals = 2
Boots = 3
ACCESSORIES:
Scarves = 6
Bags =4
Belts = 4
Various Necklaces
Obviously, I'm not hurting for clothing — however, my goal with this closet makeover has never been to purge my closet to an extreme minimalistic state. Rather, I was hoping to remove everything I didn't wear and love and add in a few pieces to tie everything together.
I've been successful at that so far and am very pleased with how my closet looks and functions. I'm certain I will continue to purge and add in new pieces over the next months and years, but I'm off to a good start — thanks in large part to Jess!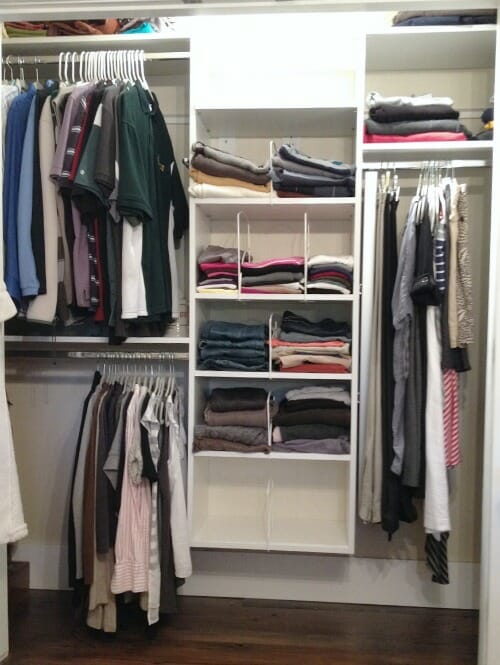 So that's everything… for today!
I really hope you enjoyed today's post and are excited to come back tomorrow for more "clothes clutter talk". I have a lot of fun clothes-clutter posts planned the rest of the week (click here to eventually read them all in one spot).
Now that I'm finished working with Jess, I'll direct all future wardrobe questions to my 2.5 year old fashionista (seriously, look at that pose!)