Posts Tagged 'clothes clutter week'
posted by Andrea | 10/13/2014 | 16 comments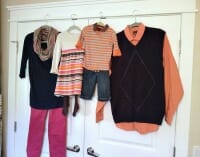 About 5 weeks ago, I shared a week-long series about clothes clutter here on my blog. I was thrilled that the overwhelming majority of response were extremely positive.
However, along with all the excitement came lots more questions. Not bad questions or rude questions — just questions. I'm answering many of those clothes clutter questions in today's post!
posted by Andrea | 09/12/2014 | 29 comments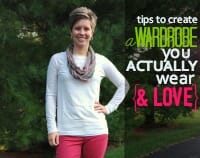 I know from personal experience that clothes clutter is hard! However, I can also share from personal experience that paring my wardrobe down to the items I actually wear (and love) has been extremely liberating.
So how can you finally 'bite the bullet' and purge the clothing you no longer need, use, wear, or love? Keep reading!
posted by Andrea | 09/11/2014 | 30 comments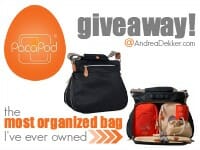 I'm so excited about today's giveaway — partially because I know how much this bag has helped me to simplify and organize getting out and about with 2 little kids (something that is otherwise VERY stressful for me). But also because the PacaPod bags are WAY more than "just" diaper bags.
They are stylish everyday bags that work for anyone in any season of life for almost any on-the-go destination!
posted by Andrea | 09/10/2014 | 19 comments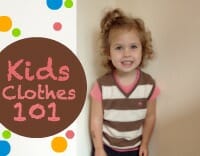 I can't do a full week of clothes clutter posts without dedicating one (LONG) post to kids clothes!
Yes, their clothes are small — but boy can they quickly get out of control and consume massive amounts of storage space in our homes if we don't have some sort of system in place.
Thankfully, I have lots to say on this topic as well 🙂
posted by Andrea | 09/9/2014 | 37 comments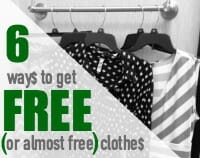 In honor of my week-long clothes clutter series and my ridiculously frugal nature, I couldn't pass up the opportunity to talk about the many ways I've managed to get completely free clothing for both me and my kids.
If you've ever hesitated to update your wardrobe because you felt it wasn't in your budget (yes, I can relate), this post is definitely for you!
posted by Andrea | 09/8/2014 | 83 comments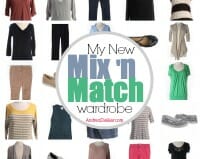 After countless hours of purging, and shopping, and trying on clothes, and buying, and ordering, and taking pictures, and writing, and editing, I am ecstatic to FINALLY be able to share this post with you…
My new super comfy, super cute, super low maintenance, mix 'n match wardrobe!!!!!!