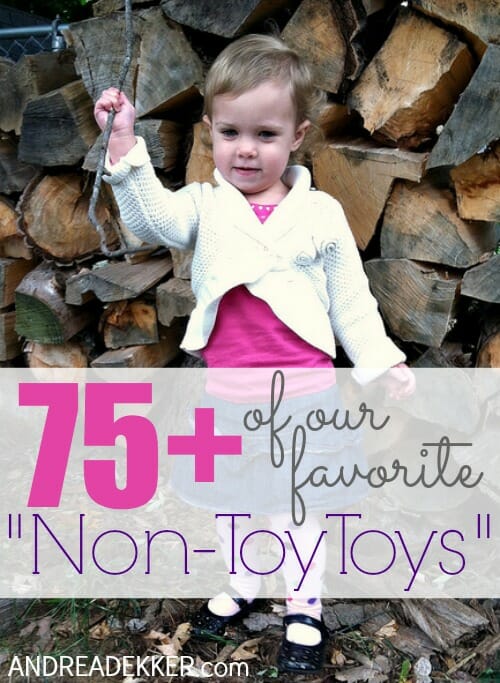 You all know how much I dislike clutter in and around our homes. And you probably also know how much I hate spending money on unnecessary things. So when I announced I was pregnant with Nora 2.5 years ago, you can probably imagine the type of feedback I got from people.
Although everyone was supportive and super excited for us, we did receive our fair share of semi-negative comments about how our house would be in shambles, our finances would be in ruins, and our lives would now be full of baby/kid clutter for the next 15-20 years.
Yes, I knew we would definitely acquire more stuff after kids; but I also felt confident that I would eventually be able to come up with a system for toy storage and organization that would keep our home relatively clutter-free.
At this point, with only one toddler in our home, we really have not amassed many traditional toys at all. We have a few larger toys out in the garage, 3 small shelves of toys / books in our living room, and then a few more toys and activities in Nora's play room under the stairs.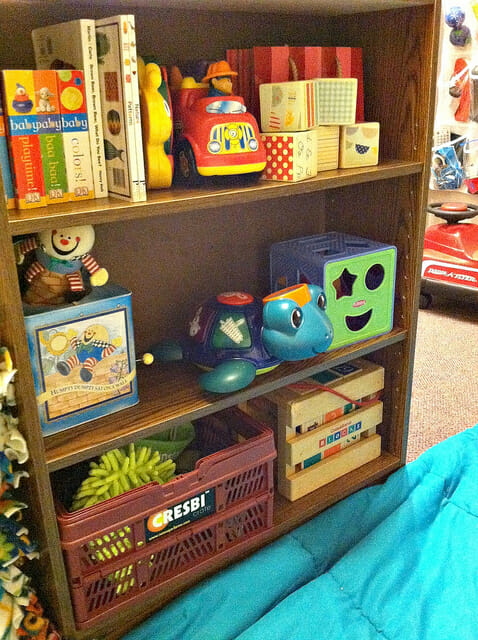 That's it.
Yes, Nora enjoys playing with her toys — and I'm certain she will get more for her birthday in a few weeks — but what she loves even more than most of her "real toys" are her "non-toy toys"!
Before I get too far ahead of myself, I should mention that at almost 2, Nora is past the stage of putting everything in her mouth — so that obviously opens up a whole new world of toys that wouldn't have been safe for her even 6 months ago.
Also, please remember that we only have ONE child so that really helps with the toy clutter issue. I fully realize that once Nora gets older and once more children are added to the mix, we WILL get more toys, books, games, etc. etc. I'm OK with that — as long as they are items we use and love on a regular basis.
But for now, I'm enjoying our relatively toy-free home and the fact that Nora can have so much fun with so many different non-toy toys!
Here are some of our favorites…
Kitchen Items:
1. Spoons, forks, bowls, and plates
2. Cupcake liners and muffin tins
3. Pots and pans — a.k.a. drums
4. Measuring cups and spoons (she has her own set so she doesn't hoard mine)
5. Food storage containers where she can match the lids to the containers
6. Empty dish soap bottles for squirting water into the sink
7. Empty egg cartons for sorting things and storing her plastic Easter eggs
Food:
8. Empty food containers (boxes of cereal, oatmeal containers, coffee canisters, etc)
9. Plastic water bottles or old spice containers to fill with stuff (especially outside treasures)
10. Snapping vegetables — beans are her favorite and we have to buy them EVERY time we're at the store
11. Watching me cook — she just sits in her chair by the counter or the stove and watches
12. Pretending to measure ingredients and eating pretend food — her favorite is making Dave and I pizza 🙂
13. Beans and rice to sort or shake in containers
14. Drawing with pudding on her highchair tray
Adult Clothing and Accessories:
15. Lugging around my purses and bags
16. Wearing her back pack
17. Carrying a wallet with used up gift cards or business cards inside
18. Wearing my shirts as dresses and walking in my shoes
19. Laundry — she loves to "help" fold the laundry or to just jump on the piles of clothes
20. Keys and key chains
21. Necklaces, bracelets, and belts
22. Watches… don't come to our house with a watch on unless you want to get mobbed by Nora
23. Lint rollers — this is Nora's newest favorite "toy" 🙂
24. Tags and the size stickers from new clothes — these keep her busy forever
Linens:
25. Blankets and towels for wrapping up her babies and hiding under
26. Bed pillows and throw pillows for making forts
27. Pillow cases for carrying animals and dolls
28. Sleeping bags — ours are silky and she likes that feeling
29. Rugs — she makes beds for her babies with our rugs
Boxes and Other Containers:
30. Boxes — all boxes (I cover larger boxes with butcher block paper so she can color it)
31. Laundry baskets –Dave gives her airplane rides in them or she pushes her dolls around the house in them
32. Any type of small basket or container with a handle she can carry and stuff things in
Things with Buttons:
33. Remote controls
34. Old cell phones
35. Calculators
36. Old tape/cd players
37. An old keyboard for typing with mommy
38. Alarm clocks (yes, we have to double check ours every night!)
39. Flashlights (this is her favorite in-the-car toy)
40. Clothing buttons — we have some containers of extra buttons for sorting and she LOVES them
Office Supplies:
41. Freebie address labels (a.k.a. stickers)
42. Junk mail and junk magazines for ripping pages out
43. Expired coupons
44. Extra envelopes and postcards (she calls postcards "baby mail")
45. Magnets
46. Rubberbands and paper clips
47. Scratch paper for ripping or coloring on
48. Bubble wrap, packing peanuts, or other packing materials
Outside Stuff:
49. Rocks — like boulders to stand on
50. Baby rocks for holding and treasuring for days and weeks at at time
51. Pine cones and pine needles (the long soft needles)
52. Water in buckets or in watering cans –or even sprinklers and hoses
53. Sticks
54. Puddles on the sidewalk or driveway (we make our own puddles if it doesn't rain)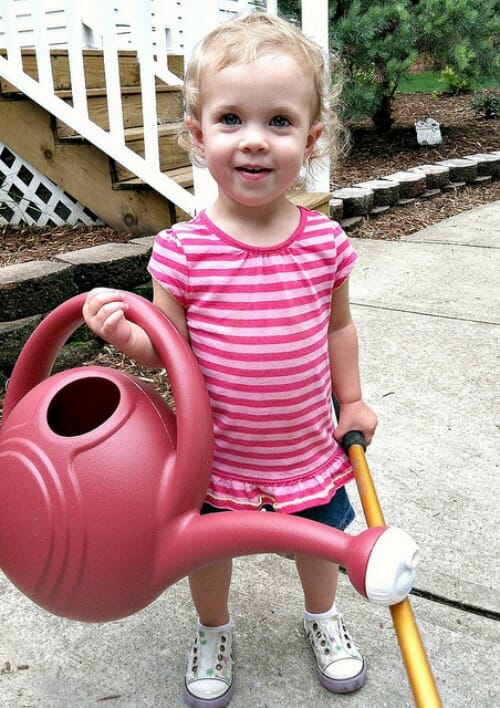 Cleaning Tools:
55. Sponges and rags
56. Dust cloths and mits
57. Swiffer — I make it smaller for Nora and she will honestly walk around the house "sweeping" for 10-15 minutes
58. Brooms to sweep outside
59. Anything else she can clean with — her dolls are apparently very messy so she needs to regularly clean up after them
60. Empty spray bottles
Carpentry Tools:
61. Tape measure
62. Plastic screw drivers
63. A very small hammer we got as a gag gift
64. Levels, rulers, and yardsticks
65. Blunt screws to sort
66. Scrap wood that we sanded down for blocks — a.k.a. roads for Nora's cars
Miscellaneous:
67. Headphones — no music required
68. Listening to music on her 'boom box' while snuggled up in a blanket
69. Exercise ball
70. Ping pong balls
71. Pretend friends and animals
72. Sitting in the car and pretending to drive
73. Baths — or anything involving water
74. Looking at photo books or photos on the computer/iPad
75. Travel-size toiletries and small bottles — these are also used for cleaning
76. Fish in fishtanks at the grocery store
77. Toilet paper!
I'm sure there are hundreds of other things I could add to this list — but these are some of Nora's favorite "non-toy toys" that we play with on a very regular basis. However, if these ideas aren't enough, here are the MANY responses you all gave on my Facebook page last week!
As you notice, almost all the items I've listed above are things we would most likely have in our house anyway (even if we didn't have kids) which keeps the kid clutter at bay and saves a TON of money.
Plus, many of the items are disposable after a couple days or weeks, which means we never have an overwhelming amount of toy clutter and there are always new things to try and play with.
Clearly, Nora is super upset that she is stuck playing with bubble wrap and balloons 🙂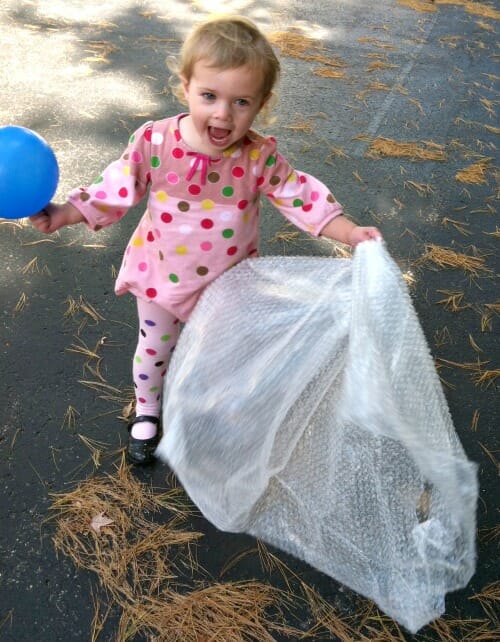 Also, I do want to point out that although we do A LOT of playing outside and we truly don't have that many toys, Nora does watch a good amount of TV every day. At this point, we've essentially given up on any sort of nap which means I never get a break. Ever!
Nora and I are together all day long which is pretty overwhelming, especially since I work from home, try to keep supper on the table, and clean laundry in our closets. So she usually watches two PBS shows in the morning from 8-9am and then another show or a Veggie Tales movie in the afternoon before Dave gets home from school. I can get a lot done during those time periods and she's happy as a clam.
So lest you think we're all creative crafts, outdoor adventures, fun, and games over here… I just wanted to make it very clear that there are days we just sit and watch TV for a while — and I'm 100% OK with that 🙂
What are your favorite non-toy toys?