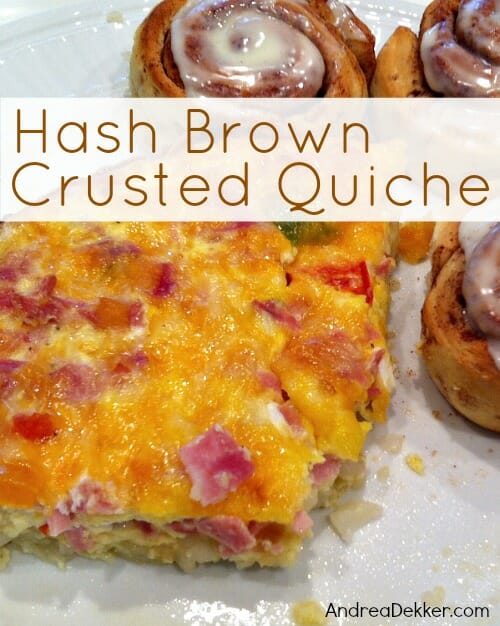 Dave and I both love breakfast for dinner — so I usually make it about once a week.
Often, it's something simple like blueberry pancakes or ham and cheese omelets. However, when the weather starts to cool off, I have a strong desire to start using my oven as much as possible and I'm always looking for new baked egg dish recipes to try.
I've been on a "quiche kick" lately and have tried out multiple different recipes. We both love quiche, but I've noticed that I don't love it as much when it has a pie crust. I don't know why — I love pie crust on pies, just apparently not with my eggs! Plus, I don't like making my own pie crusts and the store bought crusts are getting really expensive to buy.
In the past, I've made this quiche recipe (using crescent roll dough) and we really love it. However, last week, I tried something new — hash browns as the crust!
Dave and I are big hash brown lovers so I thought, I wonder if I could make a crust with hash browns. Since we almost always have shredded hash browns in our freezer, I gave it a try… and was pleasantly surprised with the results!
If you're looking for a new breakfast, brunch, or breakfast-for-dinner recipe, I'd highly recommend giving this one a try.
Recipe for Hash Brown Crusted Quiche:
Serves 4. Recipe can be doubled and made in a 9″ x 13″ baking dish
INGREDIENTS:
2 c. shredded potatoes (I use frozen hash brown potatoes and let them defrost a bit)
1/4 c. onion; minced (or 2 t. onion flakes)
salt and pepper to taste
1/4 c. butter; melted
1/2 lb. breakfast meat of choice (cooked and chopped or crumbled if applicable)
1/2 c.chopped peppers, mushrooms, or any other "add-in" you like (optional)
1 c. shredded cheese (divided)
4 eggs
1/2 c. milk
salt and paper to taste
DIRECTIONS:
Preheat oven to 425*F
Grease a 9″ glass pie pan
Press hash browns on the bottom and up the sides of the pie pan to form a crust
Sprinkle with onion, salt, and pepper and then pour melted butter over the top (this is to help the hash browns get crispier)
Bake uncovered for 20 minutes.
Remove "crust" from oven and reduce temperature to 350*F
Sprinkle breakfast meat, any other optional add-ins, and 1/2 c. shredded cheese over the hash browns
In a small bowl, mix eggs, milk, salt and pepper. Pour over meat, cheese, and hash browns
Sprinkle remaining 1/2 c. cheese over the top
Bake for about 30 minutes or until egg mixture is cooked through and the middle is set
I was so happy with the results of this meal — not only was it super easy and much faster than other traditional quiche recipes I've made in the past, it tasted fabulous (especially for someone like me who doesn't necessarily love the taste of pie crust with my eggs!)
Dave is traditionally a big "breakfast for dinner" kind of guy, so he was thrilled with the quiche and fresh fruit… but when I brought out the cinnamon rolls, his eyes lit up like a little boy who was allowed to eat ice-cream for dinner!
I will admit the the cinnamon rolls really rounded out the meal — especially since we rarely ever have traditional dessert when we eat breakfast for dinner. Although I did eat all 3 of those cinnamon rolls, I promise that we really did have a fruit salad and yogurt along with our meal too 🙂
I have already made this recipe again since trying it 2 weeks ago, and I'll definitely be adding it to my list of simple go-to meals.
What is your favorite egg recipe?
Visit my virtual recipe box for more simple, delicious, family friendly, recipes!