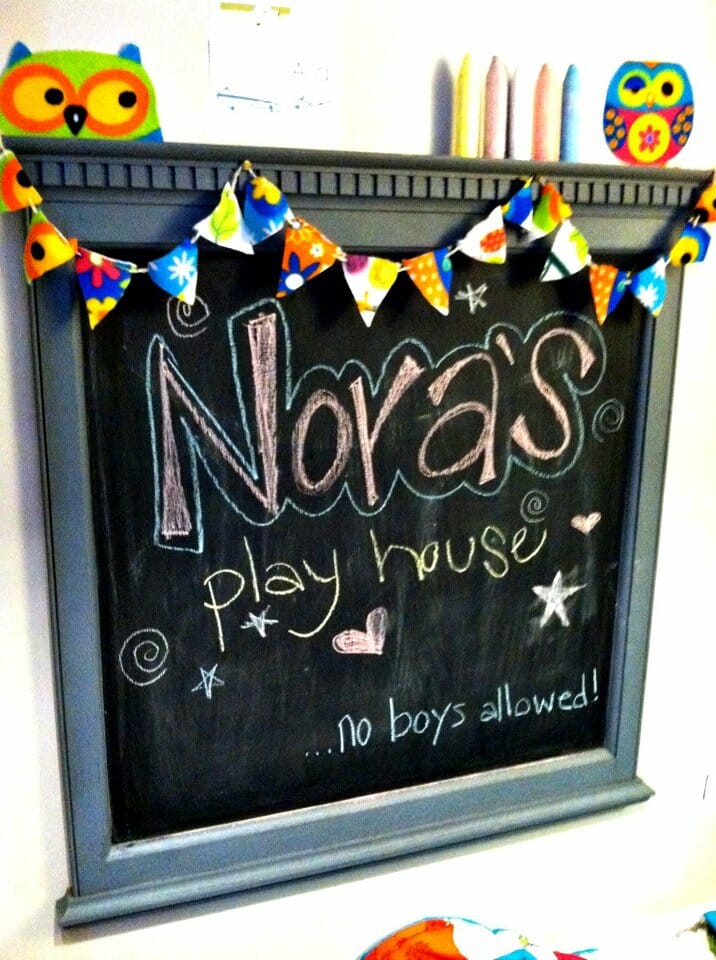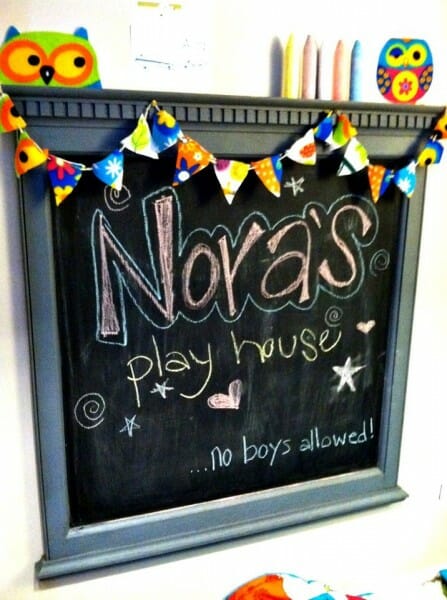 The very first time we toured our farmhouse (months before we actually purchased it), I vividly remember taking a mental note about the massive storage closet in the office. It's one of those cool (but not so practical) storage closets that goes under the stairs.
My first thought was sweet, tons of storage space for our filing cabinet, all my office supplies, and all of Dave's school stuff. But almost instantly, my brain shifted and I began envisioning how cool it would be to turn this closet into a play area for our future children.
Well, it's been just over 2 years since then — and now that Nora is old enough to actually play in a play area, we decided to tackle this mini-makeover project during our Christmas break.
You can see what the closet used to look like here, and in case you can't picture where exactly the closet is located, it's right next to my desk in the back corner of our office.
Nora has always been fascinated by this closet — I suppose most kids would be — but now that it has all her toys inside, she just can't get enough! This works out really well for me since she can play and I can work — all within 5 feet of each other.
Come take a look!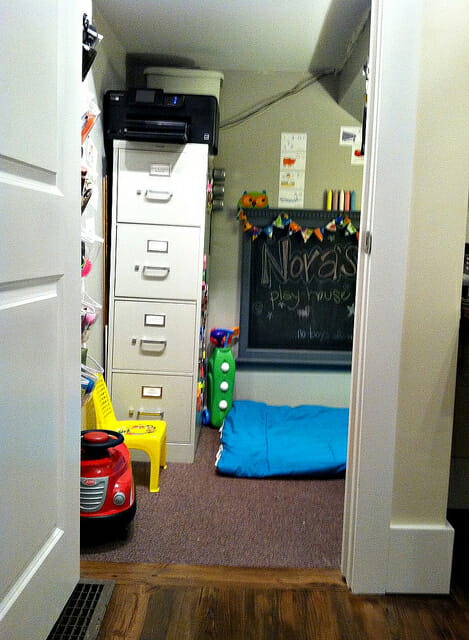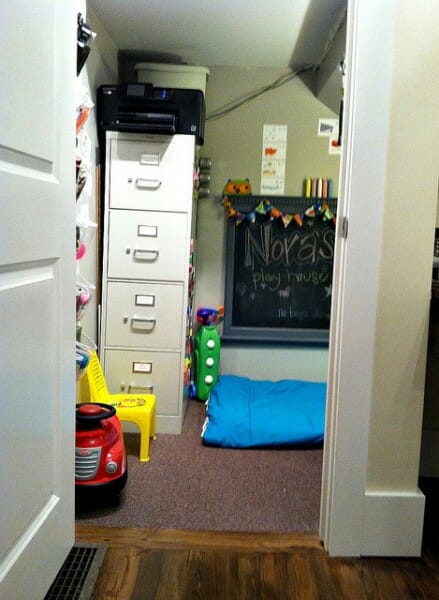 When you first walk in, I have a plastic shoe organizer on the left wall. We use the top 3 rows for office supplie items and the bottom 3 rows for toys. Nora can only reach the bottom 2 rows but we can hand her things from the 3rd row when necessary.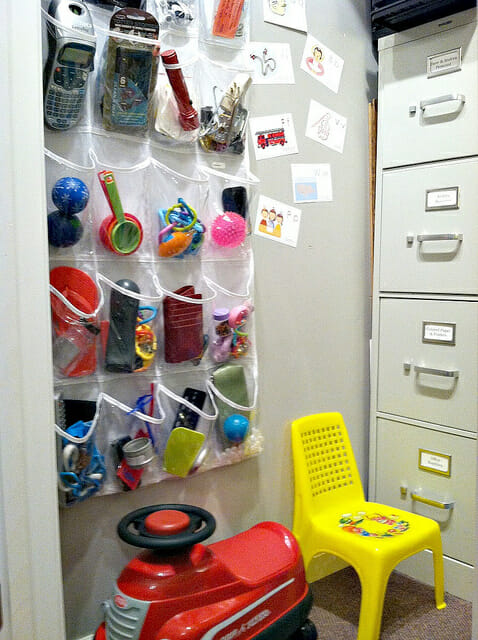 I love how easy it is to throw the toys into the organizer, and she loves that she can easily see and grab whatever toys she wants!
As you can see, we still have our filing cabinet in this closet (I couldn't part with it!) However, it serves as a magnetic board for all Nora's magnets — and she LOVES magnets!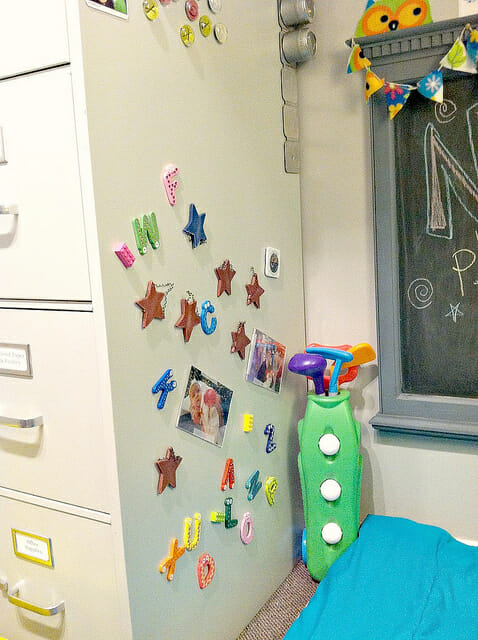 Nora got a bunch of chalk for her birthday so I hung a chalkboard I made a couple years ago next to the filing cabinet. Then I taped some dry-erase paper to the wall next to the chalkboard.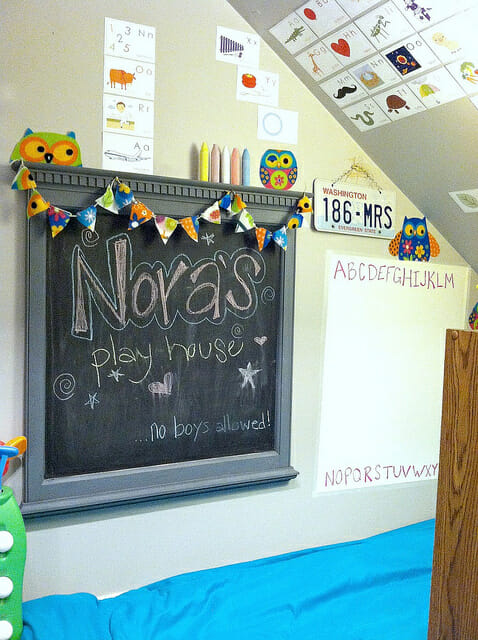 I had 2 sets of alphabet flashcards, so I used those to line the ceiling and then to spell words on the walls. Obviously she can't use them yet — but soon enough!
At the very back of the closet, I put our old toaster oven (this is probably one of her favorite "toys"), a basket of her stuffed animals, and 2 huge pillows that I covered with a fun owl fleece fabric.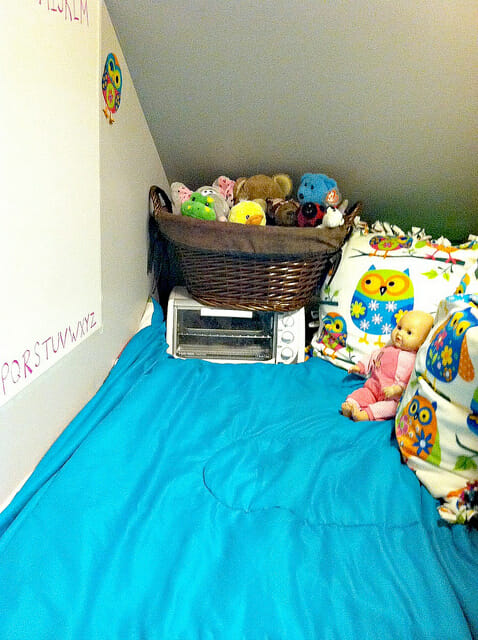 The owl fabric was the ONLY thing I had to purchase for this entire project… and it was on sale! I also cut out the owls from my scrap fabric and used those to decorate the walls.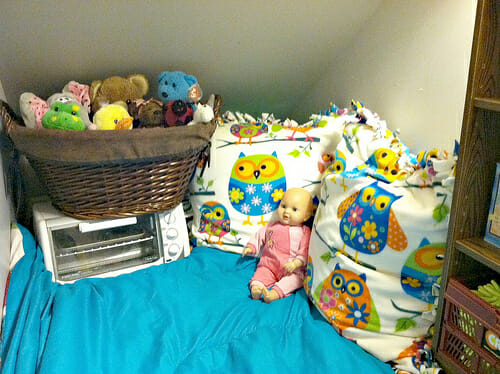 Nora loves her pillows 🙂
On the wall opposite the chalkboard, I put a tiny little shelving unit we had in one of our closets upstairs. It's the perfect size for a few toys and books.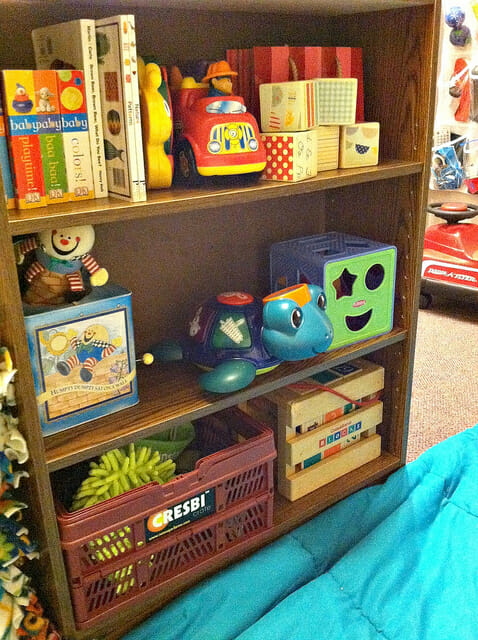 Here's a look back at the filing cabinet and shoe organizer.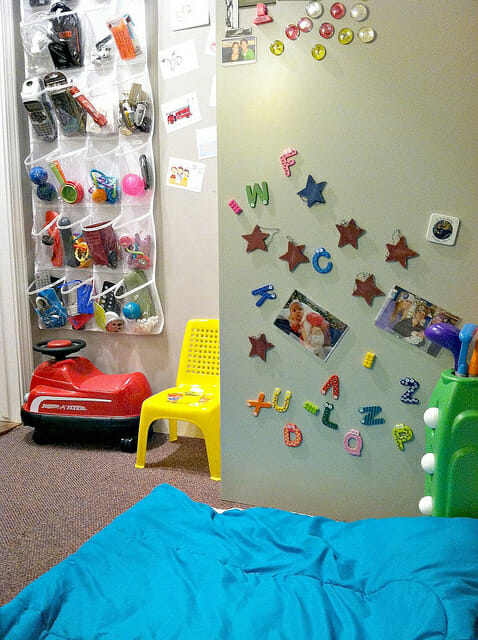 That's it!
It's definitely not huge, but plenty big enough for Nora… and she absolutely loves hanging out in her new place.
I love that she stays busy playing on her own, that she's super close by while I'm working on my computer, and that we can shut the door if we don't want her going inside and pulling all her toys out!
So for less than $15 and about 2 hours of work, I'd say this project was definitely worth it… don't you think?