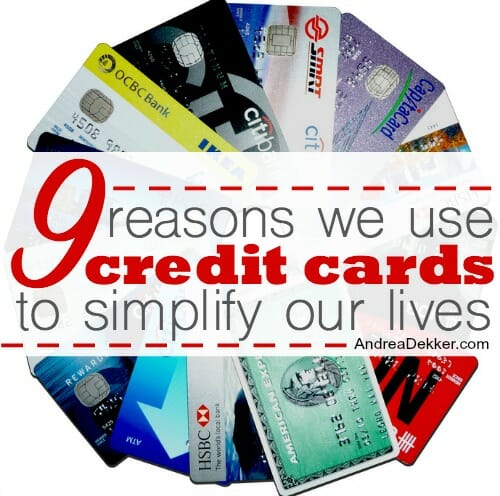 I got my first credit card when I was 16 years old… yes, 16.
It was my parent's idea, and of course, since I was only 16, they had to put their names on the card too.
The card was for emergencies, or for purchases that were approved by them ahead of time — however, in the mean time, I was building my credit score from a VERY early age (which was extremely helpful later on in life).
I got my own credit card at 18 (when I went off to college) and although my parent's names were not on the card anymore, I had 2 years of credit card experience under my belt, so it really wasn't anything new or "tempting" for me. I understood how to use a credit card, I didn't buy anything I couldn't afford, my bills were usually less than $30 a month, and I paid them off in full at the end of each month.
Fast-forward 14+ years and I'm still using credit cards for almost every single thing I buy. I still don't buy anything we can't afford, I still pay the bill in full at the end of the month, but unfortunately, the bills are more than $30 a month 🙂
I know, I know…there are lots of people who are anti-credit cards (I do honestly understand why).
It's not popular to talk about using credit cards these days; it's more popular to pay cash for everything, use the envelope method, follow Dave Ramsey, be financially responsible, and be debt-free… and YES, those are all good things!
However, from my own personal experience, I know for a fact it's also possible to be financially responsible and debt-free using credit cards.
Credit cards are not "good" or "bad"; they are just a tool that can be used to do good or do bad.
I definitely don't think credit cards are the best financial decision for everyone — nor do I think using a cash-only budget is the best financial decision for everyone either.
That said, here are just a few of the ways credit cards majorly simplify Dave and my life.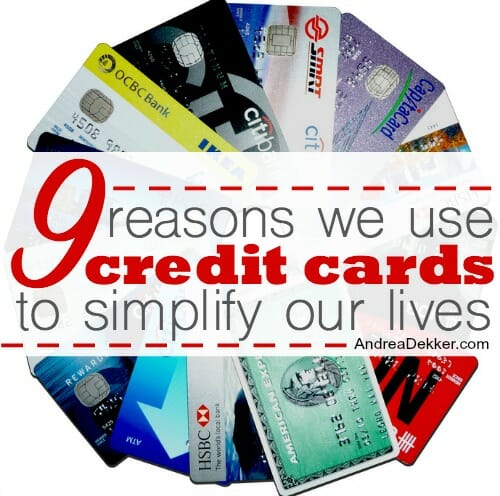 1. We don't need to record every payment right away.
I realize many of you who use cash, debit cards, and/or checks probably don't record your payments right away either — but I couldn't do that! Specifically, if I was writing a check or using a debit card, I would feel like I needed to record that payment immediately in my bank register and my Finance-Tracking Workbook to ensure my account was balanced at all times.
Maybe that's my own craziness, but it's one HUGE reason we choose to use credit cards for almost everything. All I need to do is scan over my eStatement at the end of the month and I can instantly record all my transactions at one time.
2. We don't need to carry cash.
I hate carrying cash. I'm really not sure why — but I do! I don't like the bulkiness in my wallet, I don't like to risk losing it, I don't like jingling change, etc. etc. etc.
Besides Craigslist purchases, I use credit card or PayPal for almost everything!
3. We don't need to go into gas stations.
With as many as 4 children in the car, there is no way I'm going into the gas station.
Yes, I realize I could pay at the pump with a debit card… but you know how I feel about debit cards (see #1 above!)
4. We can pounce on a great deal when we see one.
There have been times when we have been on the look-out for a particular item and all of a sudden, we find it for an amazing deal. Sometimes that item is pricy — and since we don't usually keep tons of excess cash in our checking account (thanks to basically 0% interest), we might not be able to buy it if we only shopped with cash, check, or debit card.
With a credit card, we can capitalize on that great deal immediately, and then make sure the money is in our checking account before it's time to pay the credit card bill at the end of the month.
Oh, and in case this sounds like Dave and I are crazy impulse shoppers, let me just assure you WE ARE NOT!!
If you were to hack into our credit card account and look at our monthly bills, you most likely won't find many other transactions besides gas, groceries, and home utility bills. If/when we go out to eat, we almost always use gift cards, and if we buy clothes, it's usually from a place like Swap.com, ThredUp.com or with gift cards we've gotten for Christmas or birthdays.
5. We only need to pay one bill at the end of the month.
This point kind of ties in with #1 — but I can't tell you how much simpler our finances feel when we know we only have ONE bill to pay every month.
We currently only have one credit card for personal use (I have another one for my business) and every single monthly expense we have goes to that personal credit card. Then our credit card balance is deducted, in full, from our checking account at the end of the month.
We never need to worry about missing a payment, forgetting to write a check, forgetting to authorize a debit card transaction, forgetting to balance our bank account and ending up over-drawn, etc. etc.
For me, this is one of the top reasons we stick with credit cards — because it's just SO simple!
6. We don't have money tied up until it's actually time to pay the bill.
Have you ever tried to rent a car, make a hotel reservation, or reserve any type of tickets with a debit card? If so, you've probably noticed that the full amount for the rental or reservation is withdrawn from your bank account immediately. That means, if you book a hotel and rental car 6 months in advance, you are out that cash for the full 6 months before you even take your vacation.
For some people, I can TOTALLY see why this would be a positive thing (your vacation is paid for before you go!). However, for me, I know I would never take any sort of vacation I couldn't afford to pay cash for — so I'd personally rather put all those reservations on my credit card, and wait to pay for the trip until a full month after we get back. Meanwhile, the money is mine to use as I please — or get get a whopping 1% interest sitting in our savings account 🙂
7. We get rewards, special discounts, cash back, etc.
I suppose this is kind of a given — it's one of the main perks of using a credit card these days. Of course, the reason companies can afford to give cash back is because of ALLLLLLLLLL the people who pay interest on their credit card balances every year.
However, if you pay off your bills in full every month, these rewards and cash back really are "free money".
Not only do we get a percentage back on everything we buy, we also get special coupons and discount rates all year long — which definitely add up over time.
8. We have amazing credit scores.
Since both Dave and I have been using credit cards responsibly for many years, we both have excellent (almost perfect) credit scores. And although we hope to never need to borrow money again, our really good credit scores came in handy when it was time for us to get our mortgage.
Not only did these scores help us to get a loan in one of the worst economic times our area had seen in a LONG time, it also helped us to qualify for an insanely low interest rate (2. 4%) which saved us thousands of dollars on interest, and was one of the biggest reasons we were able to pay off our mortgage so quickly.
9. We don't need to carry cash!
Did I mention this already?? 🙂
In case you can't tell, I HATE carrying cash around. Even though I do a lot of Craigslist shopping, I usually just keep the cash at home or quickly swing by the bank on my way to make a purchase. I don't like carrying it in my wallet.
Now again, I want to reiterate that I have absolutely NOTHING against anyone who doesn't feel comfortable using credit cards and would rather use cash or debit cards to pay for everything.
And I don't have anything against Dave Ramsey either. In fact, Dave (Dekker) used the Dave Ramsey curriculum to teach a Personal Finance class for a couple years… and we both know several people who have completely transformed their finances and their lives thanks to the Dave Ramsey classes and cash-only system. So obviously, cash-only systems work too!
I just think it's important to see both sides.
There is nothing evil or bad or sinful or irresponsible about using credit cards IF you use them wisely and only buy things you have the money to pay for.
I realize that Dave and I were both brought up in families who gravitate more towards the conservative side of the spectrum — and I'm thankful we were both taught sound financial lessons from a very young age. Without those early money-management lessons, we might not be in the same situation we are today.
What are YOUR thoughts on using credit cards versus cash?