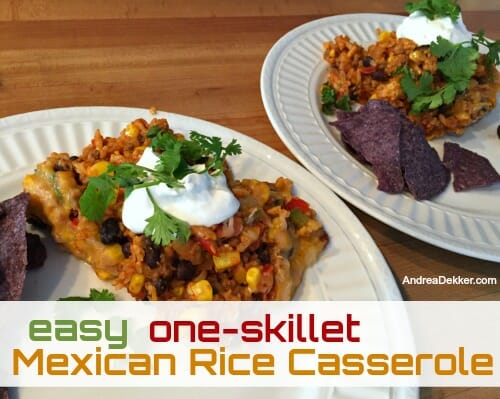 I'm back with another yummy Mexican meal our whole family loves.
I can have this frugal, family-friendly meal on the table in roughly 15-20 minutes since I almost always have the ground beef and rice pre-cooked in my freezer, and the leftovers are a fantastic hot dip for tortilla chips!
If you're looking for a vegetarian meal or more of a side dish, simply leave out the ground beef. Or, spread the filling between two tortillas and grill it on a George Foreman or panini maker for a quesadilla.
And, like most of my recipes, it freezes well too!
Recipe for Easy One-Skillet Mexican Rice Casserole
serves 6
INGREDIENTS:
olive oil
1 small onion, diced
1 T. minced garlic
1 c. peppers, diced
1 c. corn (fresh, frozen, canned)
1 can (15 oz) black beans, drained and rinsed
1 can (15 oz) diced tomatoes,
1 can (15 oz) refried beans
1 can (12 oz) red enchilada sauce (mild or hot – depending on your preference)
1 packet (1.2 oz) taco seasoning
2 c. cooked rice (you'll need to cook it ahead of time — so 1 c. dry rice)
2 c. cooked ground beef
salt and pepper to taste
1 to 2 c. shredded cheese
fresh cilantro, sour cream, green onions, avocado, etc. (optional garnishes)
DIRECTIONS:
In a large covered frying pan, heat oil over medium heat.
Add in garlic, diced onions, and peppers. Sauté until veggies are tender.
Add in all the rest of the ingredients (except the cheese). Cook over medium low heat, stirring regularly until everything is combined and heated through.
Add cheese, cover, and let melt (about 3-5 minutes).
Add garnishes and serve!
If you have precooked ingredients in your freezer like I do, you'll easily be able to get this meal on the table in 15-20 minutes.
However, even if you have to cook up the ground beef and the rice, it's still a really quick, easy, frugal, and filling meal that would work well for busy week nights or lazy weekends.
We enjoy this meal quite regularly, as a casserole, as a hot dip for chips, as quesadilla filling, and as a side dish with another Mexican main dish.
If you give it a try, I hope your family loves it too!
What are your favorite one-dish meals?
Visit my virtual recipe box for more simple, delicious, family friendly recipes!