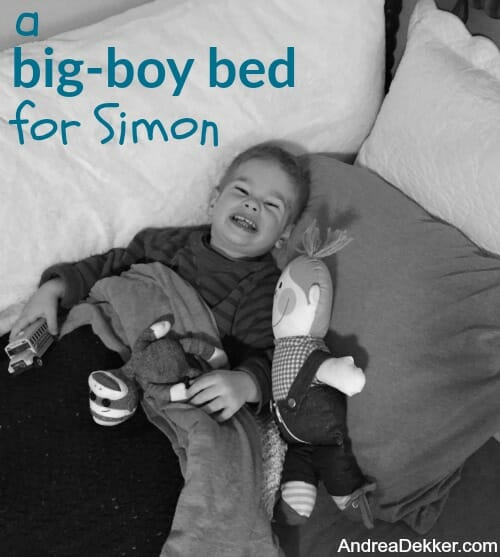 Now that Simon is officially 2 years old, Dave and I have started to think more about transitioning him out of his beloved crib and into a "big boy bed". We're not planning to rush into anything (he really does LOVE his crib), but it will be nice to only have 1 child in a crib again, especially for traveling purposes, so we at least want to get the process started.
The first step for us was getting new twin mattresses for the big-boy bed in his bedroom.
Since we were previously just using the bed for "fun" — putting dolls to sleep, snuggling under the covers, jumping on, etc. — we were happy to have used mattresses from my parent's house. However, we knew that whenever it was time for one of our kids to actually sleep on the bed, we would buy new mattresses and get rid of the old ones (anyone know of the best way to dispose of old mattresses?)
.
I was dreading the process of mattress shopping, and I jokingly told Dave, "Wouldn't it be nice if we could just order a mattress online and have it delivered?" Little did I know, that was actually possible!!
Thankfully I found Leesa, an innovative online mattresses company… and a few days later, our mattresses were on our front porch, courtesy of our favorite UPS delivery man!
Yes, we do have a big front porch… but since the Leesa mattresses are made from three layers of high-quality foam, they can be compressed and rolled up into a pretty small package!
Would you believe that the kids are sitting on the new mattress!!
Once we had the mattress inside, all we had to do was unroll it and let it expand!
The mattress took less than 5 seconds to expand — so it was really fun for the kids to be able to watch it immediately go from a flat roll to a nice puffy mattress right before their eyes.
After about 15 minutes, we could get a sense for how firm the mattress would be, and I have to say I was impressed by how incredibly comfortable the memory foam layer makes this mattress!
Yes, both kids had a lot of fun playing on the mattress in the middle of our living room. In fact, Nora had it all set up with blankets, pillows, dolls, and stuffed animals within 10 minutes!
We've decided to have both the crib and the twin bed set up in Simon's room for the time being — mainly because we don't know exactly when we'll make the switch.
Eventually we'll take the crib down once he's settled into his big bed.
Since Simon and James will eventually be sharing a room, we just went ahead and ordered 2 twin mattresses so we will be ready when that time comes.
The other twin mattress is set up in James' nursery right now — and unfortunately, I've been sleeping on it more than I'd like to as James hasn't been sleeping well at night for the past month or so.
At least I can attest to the fact that it is a very comfy mattress!
Oh, in case you can't tell, the Leesa mattresses do not require a box spring. They CAN sit on your existing box spring if you prefer, but they can also just rest on any solid, flat surface.
Why I'm Loving Leesa
I'll admit that I was slightly skeptical about ordering a rolled up mattress online; however, all Leesa mattresses have FREE shipping (they even ship to Canada!!) and come with a 100-night, risk-free trial. So, I figured we would have plenty of time to try them out before making a final decision. We really had nothing to lose!
Plus, for every 10 mattresses Leesa sells, they donate one mattress to a shelter — pretty cool, huh!
These mattresses are also extremely reasonably priced (starting at $525) — and the first 75 readers to buy a Leesa mattress can get an extra $75 off with the code ANDREA75 at checkout!
Finally, there's the fact that I didn't need to GO anywhere to buy a Leesa mattress… I simply ordered them from my computer and waited for them to arrive in just a few days. That means no pushy sales reps rushing to greet you at the door so they can earn a commission, and no awkwardly laying on showroom mattresses to figure out which over-priced mattress you want to buy!
Although we haven't quite hit our 100-day mark with these new mattresses, I'm positive we'll be keeping them 🙂
I will keep you posted as we transition Simon into a big-boy bed (hopefully it's a smooth transition!)
In the meantime, if you're in the market for a new mattress, I would highly encourage you to check out a Leesa mattress.
A big thank you to Leesa.com for sponsoring this post and making it possible for me to provide all of the content on my blog free of charge! My opinions are 100% my own! Please see my full disclosure policy and contact me with any questions you have.