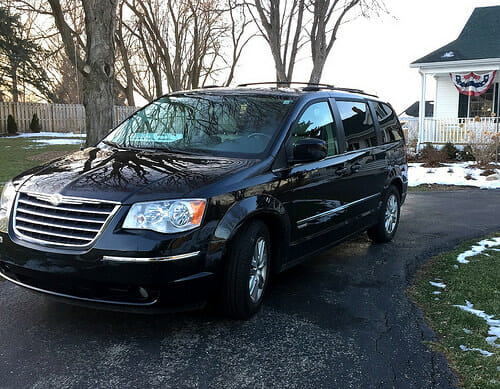 Before we had kids, Dave and I joked about the day when we would eventually drive a minivan… and now, almost 10 years later, that day has finally arrived!
I honestly didn't think I'd be so excited to drive a minivan, but 3 kids (and a lot of kid gear) later, it definitely seems like the most practical vehicle for this stage of my life.
Back when Nora was born, we easily got by with 2 smaller cars; but when we totaled our car in 2012, we decided to purchase a Chrysler Pacifica as a "transition" vehicle — bigger than a car, smaller than a minivan, and not as gas-guzzling as an SUV.
We LOVED the Pacifica!
It had everything we were looking for in a vehicle — low miles, lots of storage space, leather seats (a.k.a. easy to clean), DVD player, lots of extras… and of course, it was black 🙂
We planned to drive it as long as we could make it work for our family. Everything was fine and dandy until James was born…
We soon realized that trying to buckle one kid in the back by leaning over the kids in the front wasn't the easiest. And since we were using more of the seats, there was much less storage space for groceries, strollers, etc.
In fact, when we went on a vacation this past fall, we couldn't even fit both pack 'n plays along with everything else we needed to take. Thankfully, my parents were coming with us, so they took the 2nd pack 'n play.
Anyway, over the past 8 months, it has become more and more apparent that a bigger vehicle was in our near future.
We decided to wait until summer to make the switch, simply because we knew we'd have more time to devote to buying and selling a car in the summer. I was fine with waiting. HOWEVER, the most perfect minivan popped up in my Facebook feed back in January… you can probably assume what happened next!
The Craigslist ad wasn't very descriptive, but based on the few pictures I saw (and the friend who posted it for her friend) I knew it was probably worth looking at. After all, it was black — and we LOVE black vehicles!
The next day (Friday), I went to check it out. We test drove it on Saturday and we purchased it on Monday!
That might seem a little hasty for someone who had committed to waiting until summer to buy a new vehicle — but Dave and I knew exactly what we were looking for in a minivan. We had a rough budget in mind, I had done a fair amount of "research" to figure out what features we might want, and I had regularly searched Craigslist just in case I found something we might like.
So when I went to go look at this van, I immediately noticed that it had everything we were looking for… and much more!
Although we had quite a long list of "wants", there were 3 main things Dave and I decided we were not willing to compromise on.
1. Stow 'n Go Seats
Stow 'n go seats were my #1 requirement because I wanted the ease of being able to quickly change the seating arrangements based on who I was driving around.
Right now, we have the bucket seat behind the driver's seat completely folded down to make it really easy for Nora and Simon to climb into the van and into their car seats all on their own.
I can also actually climb right in through this side and clip James' car seat into the base as well (or I can just walk around to the other door).
So far, this seating arrangement has been FABULOUS!
.
2. Power Sliding Doors
This was also one of my "requirements" as I am almost always carrying one or more children, plus a bag, plus my keys, etc. etc. Putting any of those things down to open or close a door is not ideal.
Now, I can simply push a few buttons and both doors and the trunk "magically" open as we're walking out to the car and "magically" shut as we're walking away.
As an added bonus, our van also has automatic start — perfect for cold winter days (and probably nice for hot summer days too!)
.
3. DVD Player
I'm sure some of you are rolling your eyes right now — but I was 100% adamant that whatever vehicle we bought would have a DVD player built in.
Our Pacifica had a 6-disc DVD player and it was so handy for longer car trips or if I wanted to run several errands all at the same time. Just let the kids watch a movie while I pull through the bank drive through, get gas, pick up my groceries (curbside service), drop something off at church, etc. etc.
No one is fighting, no one is crying, James falls asleep to the music, and mom can actually focus on driving.
Wouldn't you know, our minivan has a double DVD player (2 pop down screens) as well as a 3rd screen up by the driver that only shows the movie when the vehicle is in park!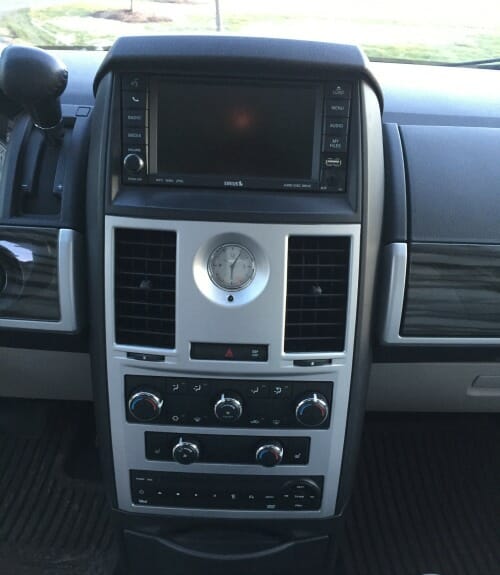 The kids think it's totally awesome (it IS totally awesome)!
.
Oh, and we sold the Pacifica in less than 48 hours on Craigslist! 🙂

(If you're interested in selling a car on Craigslist, check out my tips in this post)
.
Of course, I'm LOVING the massive amount of storage space in the trunk — probably 3 times more than our Pacifica when all the seats were folded up!
We're also enjoying some of the additional features like heated seats, rear back-up camera, dual temperature control, separate rear temperature controls, Satellite radio (not sure how long we'll keep getting this as we never paid for it) and the Uconnect feature that works with our phones.
Needless to say, our minivan was a fabulous purchase that we will hopefully be able to enjoy for many years to come!
Do you (or did you) drive a minivan?
What are your favorite features?
.