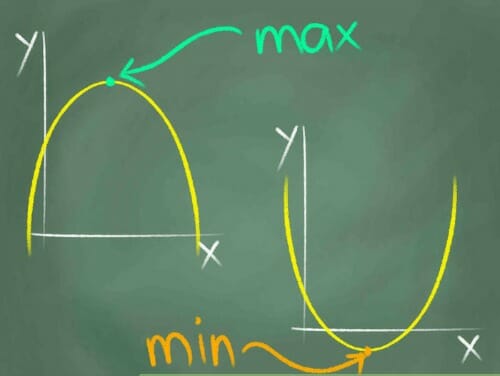 The other day, as I was quickly wiping down the bathroom counters and swishing some bleach around in the toilets, I realized that I have yet to share one of my MOST time-saving, sanity-saving tips here on the blog!
Don't worry, it really has nothing to do with math (much to Dave's disappointment!)

The photo above just seemed to fit the title of this post!
You see, as I rushed to finish a very "quick clean" of my bathrooms, I thought about how helpful it is for me to have a mental checklist of "bare minimums" for various aspects of my life — whether it's cleaning my home, running my business, taking care of my family, or even caring for my own personal hygiene. These bare minimums provide somewhat of a "standard" for me to follow — a "line in the sand" that I just won't let myself cross, no matter how tired or busy I might be.
Of course, I try to do MORE than the bare minimum whenever possible… but when push comes to shove and other people, tasks, or obligations require more of my time, I know that if I can just do my bare minimum, my home, business, family, and personal lives will continue to run quite smoothly.
Let me explain a bit more…
Bare Minimum for Myself:
I take a shower every day (I always do it at night after the kids are all sleeping)
I brush my teeth at least 2 times every day
I get dressed, do my hair, and put mascara on every day
Doing the things I mentioned above only take a few minutes to accomplish and I KNOW that they make me feel better about myself. So unless I am gravely ill, or there is some sort of crisis at home, I will do everything listed above every day — even when I'm extremely tired or not feeling 100%.
As I've shared before, I can easily get dressed, do my hair, apply mascara, and brush my teeth in 15 minutes total… and even on very bad days, I can spare 15 minutes for myself.
Of course, many days I'm able to more than this — the helpful aspect for me though is just to have this invisible "line" or standard that I won't cross. Even if I'm busy, all 3 kids are sick, Dave is working longer hours, and I'm trying to meet a deadline, I won't let myself go days and days without showering or sit around in my pajamas all day.
I'm fairly confident that once I move past the baby/toddler phase of life, I will have more time to devote to myself; but right now, I believe that my time is better spent elsewhere. As long as I can have that 15 minutes in the morning to get ready, and another 10 minutes to shower at night, I'm satisfied!
.
Bare Minimum for My Family:
All the kids get dressed every day
We eat 3 meals a day (preferably all together at the table)
The kids get a bath at least every other day (we usually do baths every night as our kids love baths)
My kids will know that they are safe and loved no matter what
Again, we usually accomplish a lot more than this — but at the very least, my standards for our family are to be fed, to be clean, to be clothed, and to be loved. I will not compromise on any of those things unless something very drastic happens.
I might not necessarily care what they wear or what they eat (and we certainly have had fun "pajama days" before) but I won't let my tiredness or busyness or other distractions prevent me from being able to take care of these basic necessities for my family.
.
Bare Minimum for My Home:
We make all the beds every day
I change out the kitchen towels, washcloths, and sponge every day
I change out the bathroom hand towels every other day
We stay on top of dishes and laundry throughout the week (Dave helps with this)
I clean the bathroom toilets and sinks at least once a week
I vacuum the carpeted areas at least once a week
I sweep / Swiffer the hard floors at least twice a week
We stay on top of clutter and do a general pick up every single night
I know for a fact that my bare minimum for my home is more than what many people would consider "bare minimum"… but please keep in mind that this is MY bare minimum. There are no rules as to what a bare minimum must include, there is no right or wrong way to set your own bare minimum.
It's probably somewhat obvious by now, but I enjoy doing housework and I have a husband who helps me out a lot! Dave and I both enjoy being in our home significantly more if it's neat and tidy… and we are both happier and less stressed if our home is in order. Doing these bare minimum tasks each week allows us to feel comfortable in our home — which is very important for both of us.
I would much rather stay up 10 minutes later or give up 10 minutes of free time to quickly start a load of laundry or load the dishwasher if it means I'll achieve my bare minimum. I realize not everyone feels the same way about their home… and that's fine!
.
Bare Minimum for My Business:
I publish one blog post every weekday (unless I have a planned blogging break)
I post each blog post to social media after it is published
I weed through my emails and get my inbox as close as I can to ZERO every day (I can do a lot of this from my phone)
I complete my VA work each week
I prepare invoices and record all income and expenses every month
This might not seem like much for someone who essentially works full-time… but again, this is my bare minimum.
This workload rarely presents a problem for me (even on my most exhausted days) and I know that if I can consistently keep up with the short list of tasks above, my business will continue to run smoothly.
I really enjoy the work I do, so I certainly try to do more whenever possible; however, having a bare minimum list is a great way for me to feel like I've done "enough" and don't need to keep pushing to always do more when there are other things (and people) that require more of my attention.
.
Like I mentioned above, I don't actually have these lists typed out and pasted on my kitchen wall or my bathroom mirror — they are just unspoken mental thoughts that I have in the back of my brain.
I know what my bare minimums are and I know what I need to do to meet those minimums each day and each week.
.
But what if you don't even have time to do the bare minimum?
I know some of you are probably thinking this question… so I'll address it now versus typing up countless emails and comments 🙂
Basically, I always, always, always make the time to do my bare minimum. ALWAYS!
As its name implies, a "bare minimum" is the absolute lowest point… and I will not let myself go below it. I set my own bare minimums according to what I feel I can reasonably manage, and I don't cross them, no matter what.
I don't have a huge number of things on my bare minimum list because I know that on really bad, stressful, busy, and tiring days, I honestly won't be able to do much more than my absolute bare minimum. However, I WILL always make time to get dressed, make my bed, feed my children, keep the house relatively picked up, do my necessary blog and VA work, etc. etc.
That said, I'm certain my bare minimum list would quickly fall by the wayside in the middle of a crisis situation (I'm not exactly sure what that would be, but I hope I don't have to find out)… and that's OK. The important thing for me is that I can currently complete all my bare minimums without a huge amount of effort each day.
If I get to the point where I'm constantly struggling to find a way to meet my own bare minimums, I know I need to take a step back and evaluate what is going on. Do I need to scale back on my workload? Do I need to hire someone to do something for me? Do I need to work more efficiently? Or do I just need to remove something from my list? Whatever the case may be, I want my bare minimum list to be very "doable" on an everyday basis.
In fact, I honestly can't even remember the last time I failed to complete anything on my bare minimum list.
.
I want to reiterate once more that this is MY bare minimum list!
YOUR list will most likely be very different from mine! The point is not WHAT you set as your bare minimum, but rather that you know what your bare minimums are and that you are committed to not crossing that line.
Once you realize what your bare minimum is for various aspects of your life, I think you will feel a huge sense of freedom and relief knowing that you no longer have to do "everything" all the time. Yes, there will be days when you have lots of extra energy and you can plow through a bunch of to-do's… but there will also be days when you feel like you can hardly crawl out of bed. On those days, just striving to achieve your bare minimum will be all you can accomplish, but it will also be enough!
.
So I'd love to know…
What are some of YOUR bare minimums?