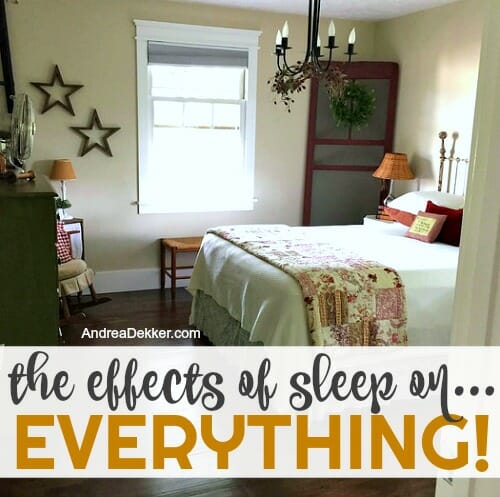 For as long as I can remember, I have valued a good night of sleep — even back in high school and college (yes, my parents will attest to this!)
I was the child who never had a curfew because my parents knew I would be home by 10:00 in order to get to bed on time and wake up on time.
I never even came close to pulling an all-nighter in college as I was usually soundly sleeping by 11:00. I also had a relatively easy time scheduling my classes because I eagerly snatched up all the early morning classes to leave my afternoons free for sports and homework.
Then, after getting married, I realized Dave was also a morning person — which made it really easy to get to bed on time and wake up on time. We even had a period of time when we both woke up extra early to exercise (yes, I exercised!)
For the first 26 years of my life, there was rarely a night when I got fewer than 7 hours of GOOD quality sleep… and then I had Nora!
I can vividly remember when she was 5 days old — a.k.a. I basically hadn't slept for 5 straight days after a lifetime of 7+ hours of blissful sleep every night. My body was in total shock, I could hardly function, and my sister said she would stay overnight and stay up with Nora.
When I woke up the next morning, I felt better than I had felt in longer than I could remember. In fact, I remember nothing from about 5 seconds after I closed my eyes that night until I opened them again the next morning… it was glorious.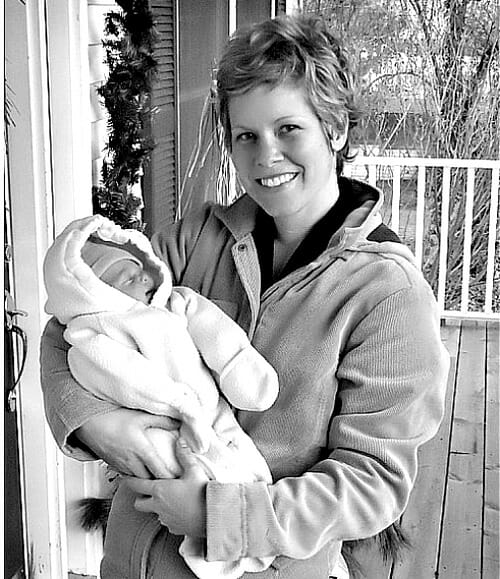 Unfortunately, my body had to quickly learn to deal with extreme sleep deprivation as Nora hardly slept for the first 3 years of her life. There were so many days (from the time she was 10 months old through 2 years old) when I would lock both of us in her small bedroom and let her play with toys or look at books while I slept on the floor.
I am NOT a nap person, but I truly don't think I would have made it through the first couple years of her life without those daily naps to compensate for the seemingly never-ending string of sleepless nights.
I remember Dave taking the picture below on the morning of Nora's first birthday and thinking… "I am so tired, I'm sure this picture will look horrible… we cannot have any more children!"
Well, the picture definitely isn't my best, but I'm sort of glad I have it as a reminder of how far we've come!
By the time Nora was sleeping through the night (roughly 3.5 YEARS old) James was a newborn and the sleepless nights continued.
At that point, I was so accustomed to surviving on very few hours of broken sleep at night, so it wasn't nearly as shocking or life-altering as it was when Nora was born.
Thankfully, Simon has always been an amazing sleeper!
James, on the other hand, was NOT a great sleeper.
He took decent naps during the day, but woke up ALL. THE. TIME at night. It got so bad that we actually hired a sleep consultant to help us.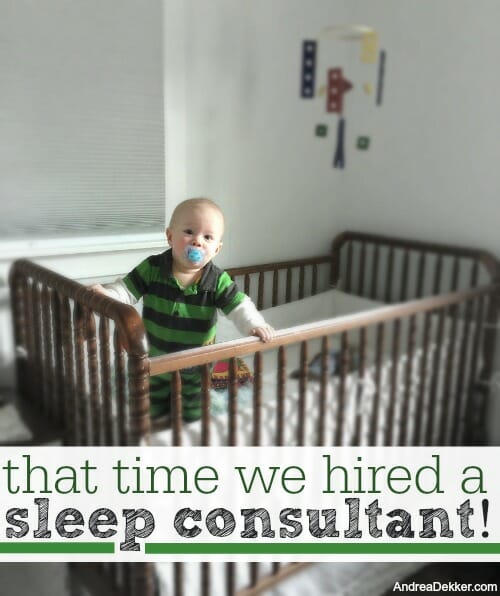 James turned a corner around 18 months old and has been sleeping really well since then — of course, I was already pregnant with Clara by then, and I slept horribly for her entire pregnancy.
After 9 sleep-deprived months of pregnancy and 2 fairly sleepless newborn months, miss Clara morphed into a dream sleeper — right around 2 months old!
So for the past 5 months, I've been sleeping relatively well again… and I truly can't explain how much my entire life is affected by the simple fact that I get a decent amount of sleep every night again.
.
I have so much more energy to play with my kids, keep up with house work, and even work on extra "hobbies".
I'm more excited to try different activities with my kids, go new places, and have fun outings.
I have more willpower to eat healthier and make better nutritional choices.
I'm more productive, which means I accomplish more in less time, which means I can get to bed earlier most nights, which means I get even more sleep, which means I'm even more rested and feel more productive the next day.
It's a crazy vicious cycle!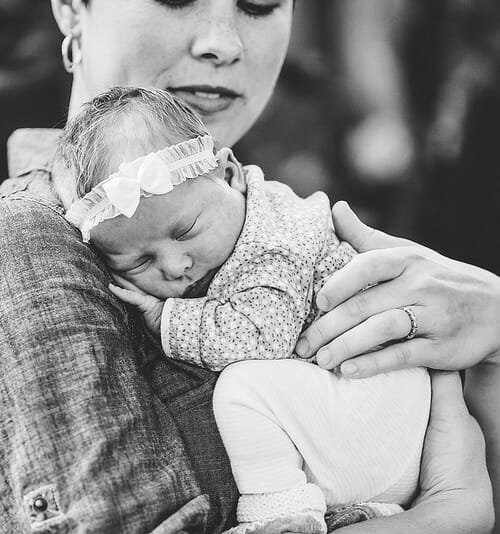 A few months ago, I was joking with Dave about how my whole quality of life feels exponentially better now that I'm sleeping so much more.
Soon after that conversation, I started reading Unwind!: 7 Principles for a Stress-Free Life (free on Kindle). Although the book is about stress, the author spends a significant amount of time talking about sleep — and the importance of sleep on our everyday lives.
When we are tired, we are more irritable, we have a shorter temper, things bother us more easily, we are more likely to blow a small issue out of proportion and create bigger problems, etc. etc.
Less Sleep = More Stress
Around the same time I started reading that book, one of the Apps I've been using (Noom Coach) had an entire week of tips focused on the importance of sleep — specifically how it affects our health from a nutrition standpoint.
Without getting into too much scientific detail or using too much physiological jargon, it's been proven that even ONE night of poor sleep affects the normal rhythm of our hormones (especially our hunger hormones).
Studies showed that people who were deprived of sleep felt hungrier the next day, made poorer food choices, and actually ate more (roughly 550 calories more per day).
Less Sleep = Weight Gain and Poor Nutrition
Those same sleep deprived people were less active as a result of being so tired — which means they skipped their workouts and moved less throughout the day.
Less Sleep = Less Movement = Weight Gain
With less movement, we are less likely to trigger endorphin production in our brain… which means we are less happy and will feel stressed more easily.
Less Sleep = Less Movement = More Stress
And of course, when we're feeling stressed out, when we're living sedentary lives, and when we're eating poorly, we will have a much more challenging time falling asleep and enjoying quality sleep.
More Stress + Less Movement + Poor Nutrition = Less Sleep
.
Like I mentioned above, it's a crazy vicious cycle!
Unfortunately, I don't have the perfect solution or a way for everyone to magically get 8 hours of restful sleep every night.
However, I DO know first-hand how much better my own quality of life is now that I'm sleeping better again (after several years of very poor sleep).
I also know that I will continue to do whatever it takes to assure I get as much quality sleep as possible — even if that means quitting one of my Virtual Assistant jobs, saying 'no' to fun opportunities or another request for my time, taking a week off from blogging, letting the dishes sit in the sink for a night, or staying home for Spring Break when everyone else seems to be traveling!
If you're dealing with sleepless children, a chronic illness, or anything out of your own control that prevents you from getting more sleep, read this post for a few of the ways I handled the exhaustion… then read this post for a little encouragement during those very LONG tired days!
However, if you're just packing too much into your schedule, staying up too late watching Netflix, or trying to cross just one more thing off your to-do list, I urge you to get to bed a little earlier tonight!
I have witnessed a massive transformation in my own life and am more convinced than ever before how important and beneficial a good sleep routine can be for the rest of my life.
It sounds simple… because it IS simple.
Unless you have sleepless children of course!
Start making sleep a priority in your life and I can guarantee you will start seeing many positive changes as a result.
You could feel more rested, you could be more alert, you could accomplish more during the day, you could have more free time, you could make better/healthier choices, you could move more, you could be happier, you could enjoy your life more, you could have less stress, etc. etc. etc.
More Sleep = A Better Life!