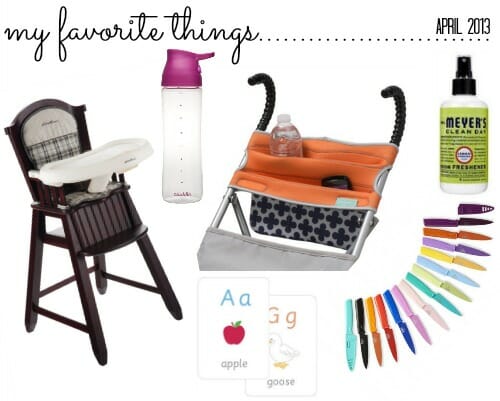 Last month, I started a new "Favorite Things" monthly post series and received a lot of positive feedback. So I'm back again with the 2nd installment… and a few more of my favorite things 🙂
DISCLOSURE: None of these products are sponsored in any way, however some of the links below are affiliate links — which means I may get a VERY small percentage of the sale if you make a purchase through my links. However, I hope you know that I'm only promoting the products below because I use them EVERY SINGLE DAY in my own home and life! Read my full disclosure policy for more information.
Umbrella Stroller Organizer
Now that Nora is older, we use our umbrella stroller a lot. It's so much easier to transport than a larger, bulkier travel system. We keep our umbrella stroller in the back of our car all the time and haul it out as needed.
The only thing I didn't like about using the umbrella stroller is that it didn't have any type of cup holder or organizing tray.
However, I came across the Infantino Umbrella Stroller Organizer and my "problems" were solved!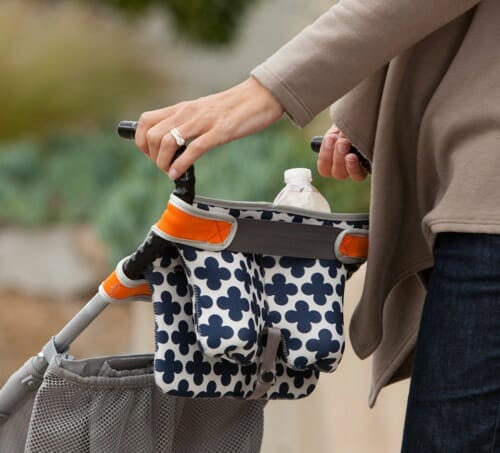 This adjustable organizer will supposedly fit any umbrella stroller and has compartments for 2 water bottles plus snacks, a cell phone, and more. It's really easy to install, and it looks fabulous with our bright orange Chicco umbrella stroller (we purchased our stroller for $20 via Craigslist!) Plus, you do NOT need to remove it when you fold up your stroller. The flexible fabric just folds right up with the stroller.
Kuhn Rikon Paring Knives
My Kuhn Rikon Paring Knives are some of my favorite knives — not only because they function really well, but also because they come in these fabulously bright colors.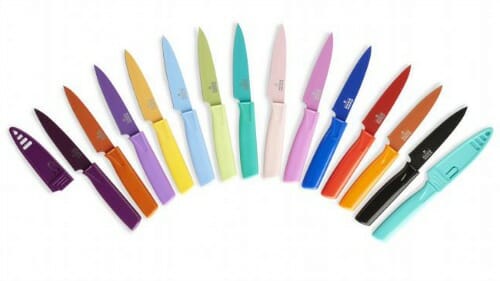 I've been using these paring knives on a daily basis (and washing them in the dishwasher ALL the time) for over 6 years and they are still super sharp. They are very light weight and have a comfortable grip, plus they all come with a matching blade cover for safety.
Kuhn Rikon has a huge selection of other knives as well — and they all come in these lovely colors! They have zebra printed knives, polka-dot knives, and even a watermelon knife that looks like a watermelon!
The Kuhn Rikon knives are a fabulous example of "form meets function" in the kitchen — and they are extremely affordable (2 knives for $18 on Amazon.com!)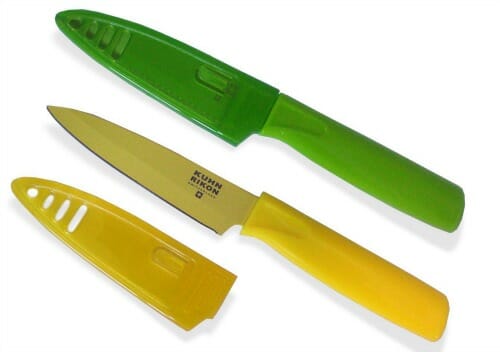 If you've never heard of Kuhn Rikon before, definitely check out their website — they have all sorts of cool kitchen tools and gadgets (and they are all really pretty too!)
Free Printable Alphabet Flash Cards
Even though Nora is not quite old enough to understand the alphabet, I'm ready whenever she is with these super cute (and totally free) flashcards.
I printed them on card stock several months ago and I think I'll laminate them before we actually start using them.
I don't see these exact flash cards available any more, but Mr. Printables has loads of other extremely cute flash cards available to download and print — all for free!
My Water Bottle
If you've seen any pictures of me here on my blog, you've probably noticed that my pink water bottle is ALWAYS right next to me. If you see me driving, it's ALWAYS in my cup holder. And if I'm out and about, it's ALWAYS in my bag.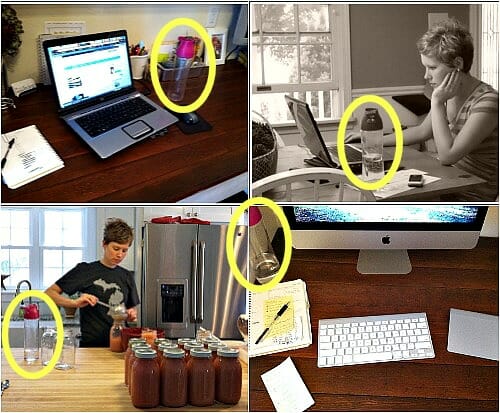 I love this water bottle!
It's the Aladdin One-Handed Water Bottle — the only water bottle I've ever had that is fully operational with one hand (which is really nice when you're carrying a baby with the other hand!) When you squeeze the button on the back of the top, it automatically opens the drinking spout and lets water out. When you release the button, the flap closes and it doesn't spill.
I've been using the exact same water bottle every single day for almost 3 years and it's still in perfect condition.
A few more things I love about this water bottle…
IT. DOES. NOT. SPILL…. ever!

It's basically indestructible despite being dropped over and over again

It's dishwasher safe
It holds a lot of water (24 fluid ounces)
The bottom is clear and the top comes in a variety of bright colors
It has a "loop" on the top that you can use to connect it to a back pack or carry it around with your finger
It easily fits into most vehicle cup holders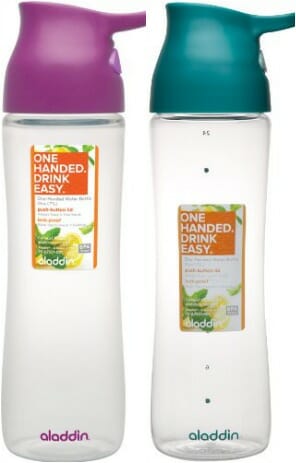 I've given this water bottle as gifts numerous times, and every single time the recipient always raves about how much they love it. The only negative quality I can even think of is that it's a bit heavy when it's totally full of water — but that's mostly because it holds so much water. The bottle itself is relatively light weight.
Nora's Highchair
We absolutely love, love, LOVE our Eddie Bauer Wooden Highchair — and so does Nora!
They are pretty expensive, but we found our's on Craigslist (of course we did) for only $25 and it's in fabulous condition. I almost always see these on Craigslist too, so definitely look there first!
Just a few things I love about this chair:
It looks REALLY nice with our other kitchen "furniture" and with our wood floors

It has a removable snack tray which makes cleaning really easy
It has a removable (and fully washable) fabric pad. We don't use this any more but we did when she was smaller
It has support between the legs so she can't slide through even if we don't fully strap her in (you'd be surprised how many highchairs don't have this)
It has a storage cubby on the back side for storing bibs and other baby kitchen items.
If we fully remove the tray (and unscrew the tray "glide"), the chair can pull all the way up to the table and function as a toddler chair
It's SUPER easy to clean!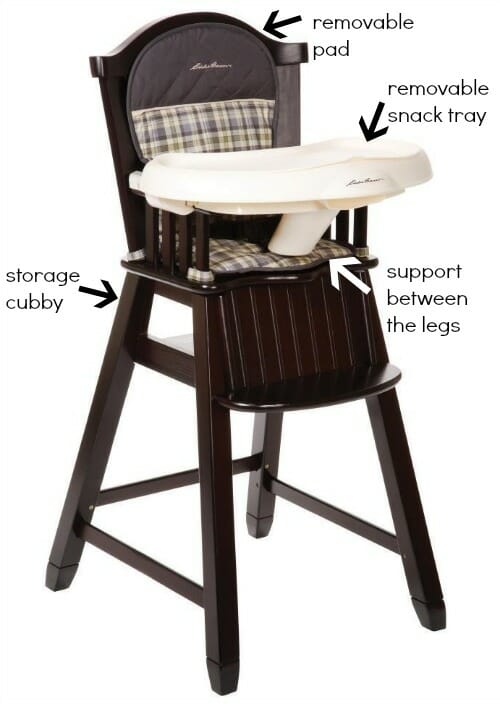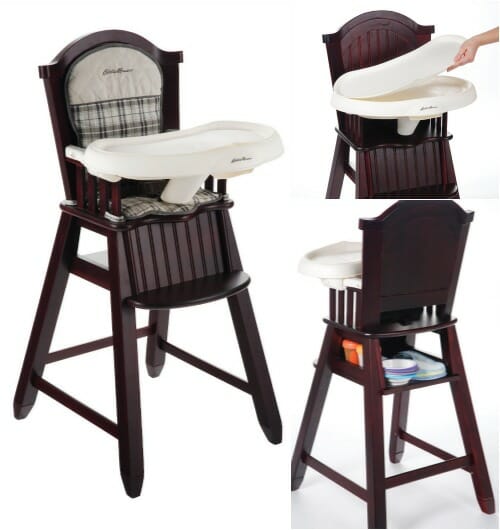 The only negative thing about this chair is that it doesn't recline or fold up for easy storage. However neither of those things matter to us at this point. Also, if you want a chair like this that DOES recline, Eddie Bauer makes one!
Mrs. Meyers Lemon Verbena Room Freshener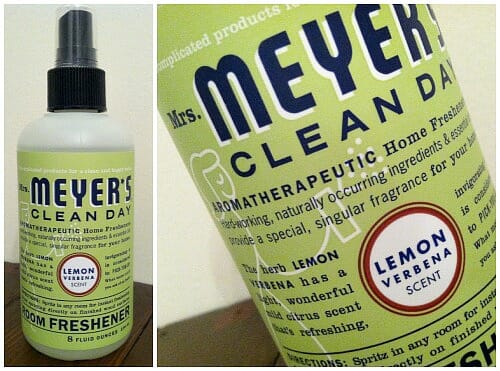 I love all things lemon — I also love all things "Mrs. Meyers".
I've tried many different room fresheners and Dave and I both agree that the Mrs. Meyers Lemon Verbena is our favorite. It just smells fresh — not like those stinky gas-station bathroom air fresheners or any of those other air fresheners that basically just make a bad smell worse.
We keep this in our bathrooms, but frequently use it in the kitchen, Nora's nursery, or anywhere else we need a fresh burst of lemon scent.
Obviously, if you don't share my enthusiastic love for lemons, this is not for you — but for everyone else, I'd highly recommend it 🙂
I have so many favorite things — but I'll save the rest for future months.
What are some of your current "favorite things"?