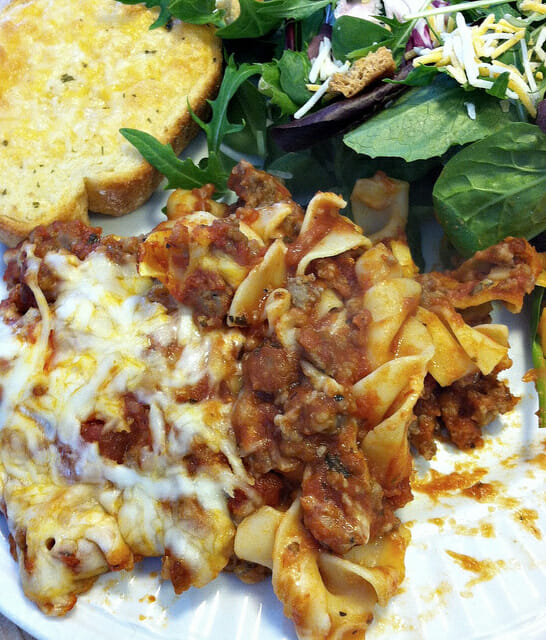 If you ask me what my "go-to" dinner recipes are for busy nights, I would either say pancakes or pasta.
I've posted a bunch of pasta recipes already — but was surprised I hadn't posted this recipe for Savory Sausage Pasta Bake. It was one of my all-time favorite recipes growing up — and although I've adapted it a bit from my mom's recipe, it's still one of our favorite weeknight meals.
If you're a big pasta lover (and don't like to spend all day preparing for dinner), you'll definitely want to save this recipe!
Savory Sausage Pasta Bake
INGREDIENTS:
one 12 oz. package egg noodles (I use the extra wide)

1 lb. ground sausage
1 qt. stewed tomatoes (or a 28 oz. can from the store)
1 24 oz. jar pasta sauce
1 t. garlic powder
1 t. oregano
1 t. basil
1 8 oz. package shredded Italian cheese
NOTE: pretty much any type of pasta, sauce, and cheese will work for this recipe — the main flavor changer is the sausage so feel free to mix and match everything else based on what you have in the house.
DIRECTIONS:
Preheat the oven to 350* F. Spray two 8″ x 8″ pans or one 9″ x 13″ pan with cooking spray; set aside.
In a large pot, boil water for noodles (according to directions on the bag/box of noodles you're planning to use).
While you wait for the water to boil, crumble and cook sausage in a medium saucepan until no longer pink. Drain any grease and return sausage to pan.
Once the water boils, add noodles and simmer until cooked. Drain (do not rinse)
While the noodles are simmering, add pasta sauce, tomatoes, and seasonings to the sausage. Stir and simmer over medium heat until noodles are finished.
Assemble pasta dish by layering noodles, sauce/meat, cheese — then repeat.
At this point, you can either cover it and put it in the fridge/freezer for later or… bake for 20-30 minutes in the preheated oven.
I did both — one for the freezer, one for the oven!
Done!
Dinner is served… maybe with some cheesy garlic bread on the side 🙂
You'll have about 15-20 minutes of "hands-on" time involved in this recipe (boiling the noodles, cooking the sausage, and assembling the dish). Then you simply pop it in the oven and wait.
The sausage adds such a fabulous "savory" flavor, and don't forget the cheese… the Dekkers love cheese!
This is the perfect make-ahead meal, take-it-to-a-potluck meal, or bring-it-to-a-friend meal… and of course, freezer meal.
There is almost no way you can mess this one up. I promise!
Visit my virtual recipe box for more simple, delicious, family friendly, recipes!