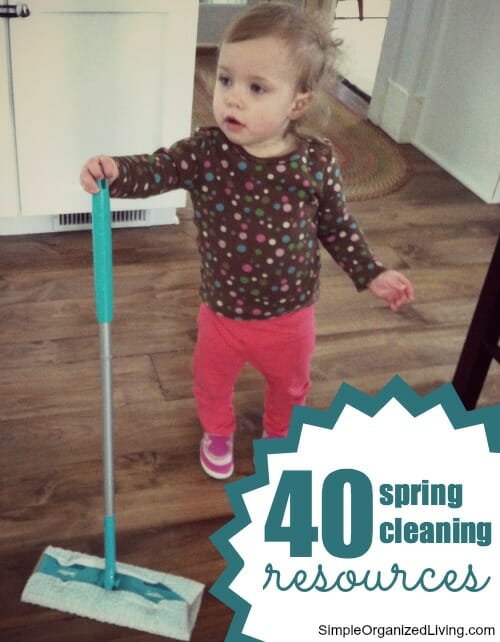 As I mentioned last month, I no longer have a super strict cleaning routine — and it's fabulous. It took a little while to get used to "no routine," but over-all I'm much happier and less stressed… and our house is still clean ENOUGH!
However, I'll be the first to admit that while our house is clean enough, there are still lots of little places that I know haven't been cleaned in a long time. They are silly things like the tops of picture frames, light switches, the floor behind the toilet, the molding on top of our doors and windows, etc. etc. etc.
These are places no one else notices, but I know the dust and dirt is there.
I've restrained myself from any unnecessary cleaning for months, but since I'm Type A and I actually enjoy cleaning, it was only a matter of time before I did a good deep-cleaning… and what better time than in the spring!
I specifically waited until spring break because Dave is home for the whole week and I can quickly plow through all the cleaning… without interruptions! My main objectives are to do a "once-over" clean of the entire house, purge our closets, and catch up on the "extra" laundry (pillows, comforters, winter gear, rugs, etc.)
Obviously, I won't spend the entire week cleaning — my plan is to do a couple loads of laundry every morning and then send Dave outside with Nora for about an hour every afternoon. It's amazing how much I can get done in one glorious hour in the middle of the day, all while they enjoy some father-daughter bonding. Win win!
So since I'll be doing lots of cleaning over the next few days, I figure this would be a great time to share some of my favorite cleaning posts from my archives.
If you're sticking around for spring break and have the opportunity to do a little spring cleaning, hopefully this post will motivate and inspire you to get to work. If you're away on vacation — I hope you enjoy the sun!
Happy Spring Break and Spring Cleaning!
Getting Started:
Before you get knee-deep in dirt and dust, here are a few posts you might want to read…
LAUNDRY:
I have a love-hate relationship with laundry. I honestly don't mind doing the laundry — but I have yet to come up with the perfect system for our laundry needs. I'm currently doing about 2-3 loads of laundry a week (more on weeks when I wash bedding). I don't sort any of the colored items so I usually do one load of whites and then 1-2 loads of colors per week. I usually wash the sheets once a month.
During our spring break, I'm hoping to wash all our winter gear (optimistic, I know), rugs, sheets, blankets, comforters, and probably even the pillows.
Here's a list of my favorite laundry posts (you can also scroll through them all here)
KITCHEN:
I can't stand a dirty kitchen, so I do try to clean the kitchen every day — not obsessively, just enough so I feel good about eating and preparing food in a clean space. Dave often helps to wipe down the counters and table after dinner, wash the dishes, clean out the dishwasher, and keep the kitchen relatively decluttered, so I'm thankful for that.
And I will say that ever since we finished our kitchen renovation, it has been LOTS more fun to keep our kitchen clean 🙂
During Spring Break, I'm hoping to spend a few extra minutes in the kitchen wiping down the cabinet fronts, scrubbing the floor, and cleaning out the fridge/freezer.
Here are some of my favorite kitchen cleaning posts.
BATHROOM:
I used to clean all our bathrooms from top to bottom every week, but since Dave and I really only use one of our bathrooms and since I'm the only one home all day, I've scaled back a lot. Now I only clean the main floor bathrooms every 2 weeks and just keep them de-cluttered the rest of the time. I clean the showers every month or so, and I clean the toilets whenever company comes over 🙂
Over our Spring Break, I'm hoping to thoroughly clean the floors, the baseboards… and behind the toilets!
Here are some of my favorite bathroom cleaning posts.
OTHER:
There are so many other posts I have about cleaning — so here are a few more tips, tricks, and ideas!
OK, so I think that's enough for now!
Have you done any "spring cleaning" yet?