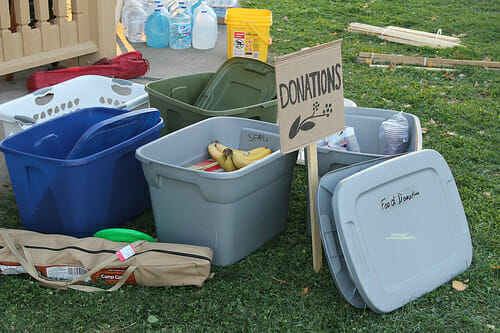 This post is updated and expanded on from one I published last year as I feel it's an important topic to bring up again this time of year.
Although the holiday season is often filled with consumerism and spending money, there is also a HUGE amount of charitable giving that takes place this time of year — and rightfully so.
I've been a volunteer and member of enough non-profit organizations over the years that I know just how crucial "holiday giving" is for these organizations to stay open for operation year-round. They are grateful for every donation (big and small), as well as volunteer labor and donated goods.
However… when it comes to donated goods, I've noticed that there are times when our donated goods end up being trashed because they are unusable, even for non-profit organizations and the poorest of the poor in our communities.
I realize that recycling, reusing, repurposing, and donating our unneeded items is usually preferable to dumping them in the trash… BUT that doesn't mean every donation place wants everything we don't.
Have you seen the massive dumpsters outside Goodwill, Salvation Army, Habitat Re-Stores, and other local donation centers? Those dumpsters are stuffed full of the stuff WE donate that is deemed as trash — broken, stained, ripped, gross, missing parts, expired, or unusable for some other reason.
Sometimes, the item is in perfectly good shape but just something that the specific organization doesn't accept (like TV's, computers, exercise equipment, building supplies, or other larger items). In these situations, the items are usually trashed — which requires large, expensive dumpsters as well as boatloads of volunteer (or paid staff) hours that could be better utilized in other ways.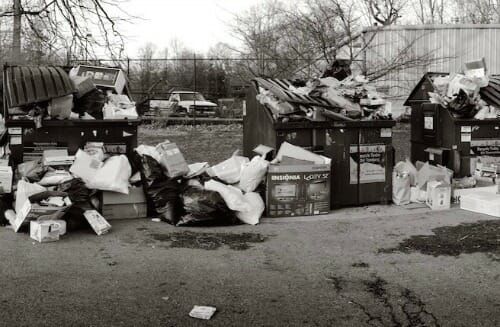 Thanks to so many of my former organizing clients (and that fact that I'm such a big fan of buying used) I've talked with many local non-profit organizations about what donations are most helpful and least helpful for them.
A manager of a local Habitat Re-Store explained that they are having issues with so many people dropping off furniture (couches, sectionals, mattresses, recliners) that are too gross to sell on Craigslist but too expensive to trash. They come at night and drop the items off in the "after hours drop-off" location, forcing the non-profit organization to pay to properly dispose of the items that can't be sold.
I chatted with a few employees at our local Goodwill, and they mentioned that they fill up their 2 huge dumpsters every week and usually have to haul truckloads of other trash items away on top of all the trash in the dumpsters.
We also have several donation 'drives' going on within our church congregation right now. One of them is for sturdy children's shoes and sandals. They are going to be donated to children in South Africa via one of our missionary families. And although I doubt anyone in our church would purposely give horribly worn shoes to these children, they did specify over and over again that these shoes will most likely be the ONLY pair of shoes this child owns, and they will get passed down to younger siblings, so to please donate sturdy shoes in excellent (or brand new) condition.
Finally, I recently read this very well written article about what not to put in those Christmas Shoeboxes for Operation Christmas Child (or whatever organization you're working with). It was not a rude article at all, but WOW was it eye-opening. So often, items we thinks might be fun or cute for little boys and girls on the other side of the world are actually extremely offensive and completely useless to them… meaning that all our good intentions fall flat.
And speaking of good intentions, when was the last time you donated food to a food pantry? Did you donate brand new food or the stuff that has been sitting in your pantry for longer than you can remember?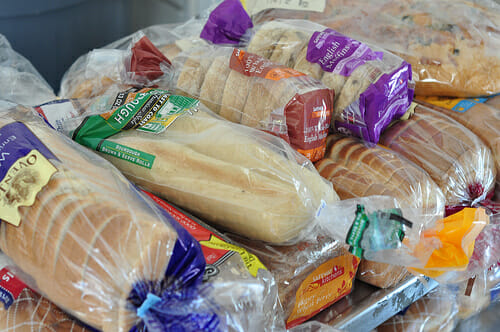 Although your intentions might be in the right place, I would highly encourage you to thoroughly check all expirations dates before donating any food items — or better yet, donate brand new food directly from the store. Otherwise, these non-profit organizations need to use valuable volunteer hours to meticulously sort through all the food donations to make sure nothing is expired.
The accounting firm my sister works for recently volunteered to help a food pantry sort through all their donated food. My sister's job was to sort out the expired food, opened food, and half-empty containers of food (yes, people really did donate half empty containers of food!) Although you might think it sounds ridiculous to donate expired or already-opened food items, it apparently happens more than we might think — meaning more volunteer hours are spent weeding through all the donated food.
.
I don't say this to discourage anyone from giving or to make anyone feel bad for donating something that might have been considered trash… and I certainly don't want to discourage you from donating unneeded items around your own house 🙂
My intention is simply to start a conversation that will encourage all of us to put a little more thought and consideration into what we're donating.
Yes, there are times when "one man's trash is another man's treasure" but for the most part, if you think it's trash, put it in your dumpster instead of burdening your local donation center with it.
And certainly, if you're giving something through missions, please keep in mind that your gifts are often the only time these people will ever get anything brand new. A new pair of shoes or a brand new t-shirt (without pictures or words) for a little boy or girl in a poverty stricken country will cost you less than $10 but it could quite possibly be the best gift they've ever received.
I know there are always exceptions to every rule, and I know there are places that are more capable of repurposing items others might trash… BUT the next time you're preparing to donate something, please remember that just because someone is poor or experiencing difficult times, doesn't mean they want our stained clothing, our broken electronics, or our expired food.
On a related (but different) topic, does anyone have tips or ideas to get a 4 year old little girl excited to give back?

She literally started crying the other day when we picked out a handful of canned goods to bring to a food drive at her school. She thought we were going to give all our food away and then be hungry! Sigh…
Do you have any other useful tips, thoughts, or advice to share?