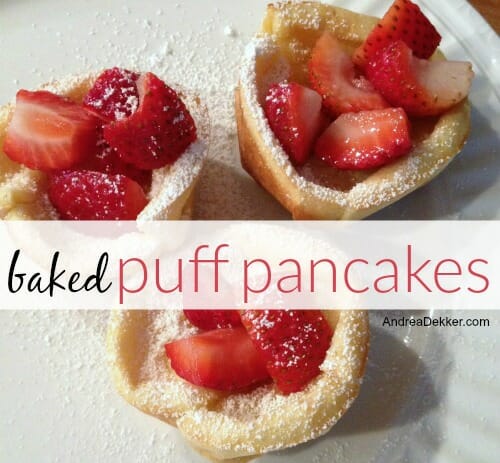 Now that Dave has been in school for 2 months, I'm finally finding my groove again in regards to "surviving" the crazy morning hours with 3 kids all requiring various amounts of help, attention, care, and most importantly FOOD!
As much as I'd love our children to be satisfied with cereal and milk for breakfast, I just can't get them to eat it. Nora and Simon both like the occasional bowl of dried FrootLoops or Cheerios as a snack, but that's about it. And to be perfectly honest, I don't love cereal either.
Instead, the kids request daily hot breakfasts like pancakes, cheesy eggs and toast, or my homemade Belgian waffles — which means we eat a hot breakfast almost every day.
I don't mind making breakfasts at all… however, it is usually a challenge for me to find the perfect moment to flip pancakes or watch over the eggs while everyone is waking up, getting dressed, going to the bathroom, and getting grouchy because they are hungry.
.
That's where this fabulously simple recipe for Baked Puff Pancakes comes into play…
Not only are they ridiculously simple to make, they also taste amazing, and (best of all) they are baked in the oven. This means I can pop them in the oven and do other things while they bake — like change diapers, dress children, do hair, and feed the baby. Then, when the timer goes off, we are ready to eat!
If I'm really running stuck, or if James is a bit fussy, I flip the oven light on and let Nora and Simon watch the pancakes puff up as they bake — built-in entertainment and breakfast all in one!
Although these Puff Pancakes have become a breakfast favorite around our house, I've also made them for dinner plenty of times — adding some breakfast meat, fried eggs, and smoothies to round out the meal.
If there are any left over for dinner, they are quickly gobbled up the next morning for breakfast!
Recipe for Baked Puff Pancakes
Makes 20-24 Pancakes
INGREDIENTS:
1 c. all-purpose flour (whole wheat doesn't work well)
1 c. milk
1/4 c. melted butter or oil
6 eggs
a pinch of salt
fruit, syrup, chocolate chips, powdered sugar, or other toppings (optional)
DIRECTIONS:
Preheat oven to 400*F
Grease two regular-size 12-cup muffin tins and set aside
In a 4 c. measuring cup (or medium size bowl) mix flour, milk, butter, eggs, and salt
Stir until well combined
Pour into muffin cups until they are about 1/2 full
Bake in preheated oven for 15 minutes
Remove from pan, top with optional toppings, eat, and enjoy!
A Few Tips:
To save myself even more time in the mornings, I will often mix up the batter the night before and just put it in the fridge. Then all I need to do is pour the batter into the muffin cups and pop it in the oven.
Sometimes, I'll only make a half batch (as is shown in the pictures) but the Puff Pancakes really do taste great as leftovers so even though our family isn't huge, we can easily eat 24 puff pancakes in 2 days 🙂
Also, I've found that it definitely works the best to make the batter in a pourable container. Otherwise transferring the batter into the muffin tins can make a bit of a mess (ask me how I figured that one out!)
Finally, depending on how closely your oven racks are located, you'll want to make sure to remove the rack above where the Puff Pancakes are baking — the really do puff up extremely high!
These baked Puff Pancakes have quickly become one of our favorite fast and easy breakfast foods — even for crazy weekday mornings with 3 little kids!
What are your favorite busy morning breakfasts?
Visit my virtual recipe box for more simple, delicious, family friendly recipes!