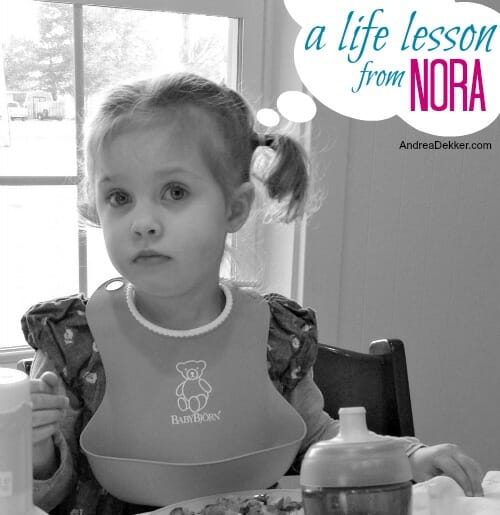 Now that the weather has warmed up a bit in West Michigan, Nora, Simon, and I have been taking lots and lots of walks to run our daily errands — which has been enjoyable for all of us (especially for me!)
On one of our recent walks, we stopped by the bank (where Nora got Smarties) and the grocery store (where she got popcorn and a sucker). As we were walking home, I could tell she was getting frustrated so I asked what was wrong.
She had ALL 3 snacks and her water bottle in her hands — which meant she couldn't eat or drink anything.
"I have no hands left!" she exclaimed.
It took a bit of convincing before she FINALLY decided to put 2 of the snacks down for a while so she could actually eat and enjoy the 3rd snack.
As we walked on, I was thinking about how so many people I know (including myself at times) act an awful lot like Nora with her snacks.
We have so much stuff in our homes that we don't even have a chance to enjoy it all — but we won't get rid of anything because we want it all.

We have so many activities, events, and obligations that we rush from one thing to another without really enjoying any of them.

We have so many to-do's on our list that we mindlessly go through the motions without stopping to enjoy life or relax and do something fun.
Obviously, this is a very basic lesson (after all, she is only 3!) but I do think it's something we can all think about as we strive to simplify and organize our homes and lives.
Are we really enjoying the things we have?
Are we really enjoying the activities and events we participate in?
Are we really enjoying the things we do each day?
Or are we too busy trying to "hold onto everything at the same time" that we can't enjoy what we have?
I've been talking a lot about being too busy lately — because I think it's a huge issue for so many people these days.
Sometimes, all we need to do to simplify and de-stress our lives is let go of a few things (and yes, they might be things we used to enjoy before something in our life changed). It doesn't mean we can't ever do or have those things ever again — it just means we are simply putting them down FOR NOW so we have the time and ability to enjoy other things.
Just like Nora was only able to enjoy her snacks when she gave in and put a couple of them down for part of our walk… there are times in our lives when we will not be able to enjoy all the goodness in our lives unless we're willing to put a few things down for a period of time.
This might be purging physical objects to help our home feel less cluttered. It might mean saying no to various commitments we have previously said yes to. It might mean (as I mentioned a couple weeks ago) finding a way to create change when we just feel too busy — either by streamlining our tasks, finding someone else to do those tasks for us, or dropping the tasks completely.
Either way, I have a feeling that by setting some of our busyness aside for a while, we will be able to enjoy the things we have and the things we do that much more.
I know it certainly worked for Nora 🙂
What might you be willing to set aside for a while?