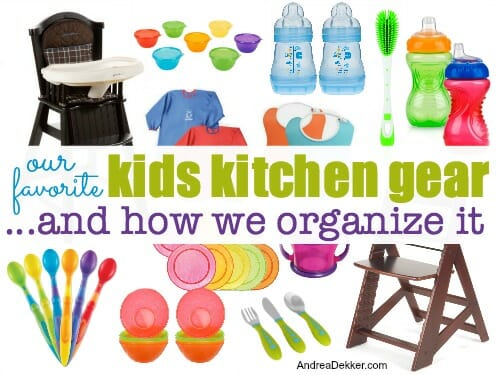 When I was pregnant with Nora, I never even thought about registering for any "kids kitchen gear". Yes, I registered for a high chair and a set of "starter bottles" but that was it. Ironically, we never needed any kids kitchen gear for Nora until she was almost 2 as she wouldn't eat anything outside of nursing until about 21 months 🙂
Fast-forward almost 4 years later (from when I registered for baby gifts) and our kitchen is now full of various "kids kitchen gear" as I call it.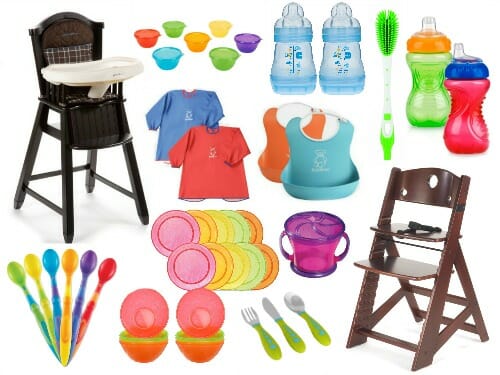 Much of what we have was given to us as gifts or sent to me to review by companies, but over the past couple of years, I have definitely pared things down to the items I love and the items we use every day. I've also nailed down a pretty good system for keeping things relatively organized.
I'm fully aware that our system will continue to change as our kids grow and as we add more kids to the picture…. but here's how we do it for now.
Oh, and I'm also sharing several links to some of OUR favorite kids kitchen items, but none of content in this post is sponsored in any way.
PLATES and BOWLS
For Simon, we just put the food right on his high chair tray, but for the past couple of years, Nora has been using the Munchkin plates and bowls (our set didn't come with cups as in the Amazon link). We were also given some of the BabyBjörn plates a while back.
Personally, I love how slim and stackable the Munchkin items are, but the BabyBjörn items are definitely higher quality and have held up better in the dishwasher and microwave.
One of my favorite (and most recent) kids kitchen gear purchase was the Babies R Us reusable bowls with lids. They are a little smaller than our other bowls, and SO nice for taking food along places or storing leftovers right in the bowl. They are microwave and dishwasher safe as well.
All our kids dishes are pictured above — and they are stored conveniently in our dish drawer with the rest of our dishes (yes, we LOVE LOVE LOVE having a drawer for our dishes!) And yes, Nora can easily open this drawer to get her own plate and bowl when necessary.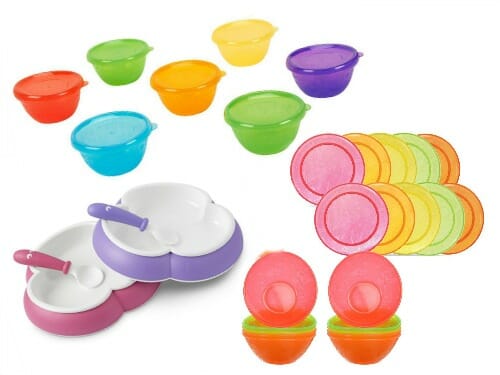 .
SILVERWARE
Again, we store our baby and toddler silverware with all the rest of our silverware and knives. We have one compartment for the infant spoons (with softer tips) and another compartment for Nora's toddler silverware (with metal tips).
We really like the Munchkin infant spoons and the Gerber Nuk toddler silverware. I will say we've never tried any other brand — but these have always worked well for us.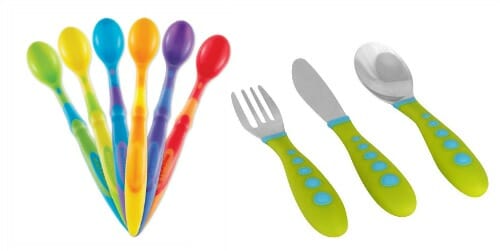 .
SIPPY CUPS
When we renovated our kitchen, I purposely left this drawer completely empty, with the thought that kid's stuff would fill it at some point…. and I was right 🙂
This bottom drawer is the perfect spot for ALL our sippy cups and lids (along with a couple overflow food storage containers from the drawer above). Nora can easily access her own cup and fill it up from the refrigerator spout which is right next to this bank of drawers, or she fills it up in the bathroom sink. Simon also enjoys "playing" in this drawer and I figure I'd rather have him playing with a few sippy cups than many other kitchen items.
We've gotten SO many different types of sippy cups (as gifts and ones I've purchased) and I like them all — so I can't say what brand or type is our favorite. We have some smaller ones with handles that are great for Simon's chubby fingers, and Nora prefers the taller, skinnier ones that hold more.
I will say that it seems like we have a lot of sippy cups (at least in my opinion) but Nora keeps one in her bedroom, we keep a couple in the car in case we forget, I keep a couple in the diaper bag, and each kid always has one by the table — so they are in constant rotation and being used regularly.
Eventually, as our kids get older, I picture this drawer for sports water bottles.
.
BOTTLES and FORMULA
This is something I never needed to make a space for with Nora, but I was HAPPY to rearrange a few shelves in our kitchen to give myself an amazing amount of freedom with Simon!
We have a narrow cabinet to the side of our sink, and it has been the perfect spot to store bottles, formula, baby oatmeal, and milk-storage bags. I also kept my pumping stuff in there when I was pumping.
I'm sure I'll talk more about how feeding Simon compared with feeding Nora — but I honestly can not even tell you how glad I was to use bottles this time around. I'm not sure what I'll do with baby #3 but I do know 100% for sure that pumping + bottles + formula was the best choice for Simon and for me.
As for bottles, I will NEVER use anything other than MAM bottles. They are amazing. Easy to clean, self-sanitizing, almost eliminate the possibility of gas for the baby, and have so many other cool features I can't even begin to list them all here. If you've ever had issues with bottles in the past, TRY THE MAM BOTTLES!!!
We also use the MAM Bottle Cleaning Brush and the Boon Grass Bottle Drying Rack — both of which we store under the sink with our dishwashing items. They have both been amazing for washing all our bottles!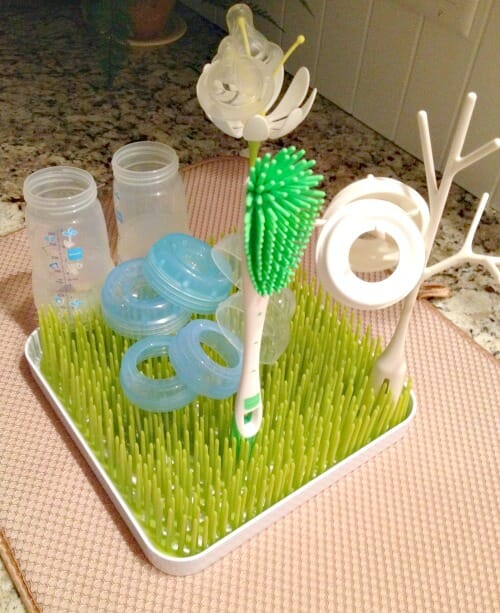 .
BIBS and TABLE ITEMS
One of the "smartest" things I've done, in terms of keeping kids stuff organized in our kitchen, is to use a little wooden caddy I've had for a few years to corral napkins, bibs, sippy cups, salt, pepper, and our children's Bible on the table.
This way, it can sit out all the time, be super easily accessible, but it doesn't look like a pile of clutter on our table all the time. Plus, if I need to move it, I just need to move the one caddy, not the 10 different items inside.
As I've mentioned many times before, we are in LOVE with the BabyBjörn Soft Bibs and have been using them since Day 1 with Nora and Simon. We are also loving the BabyBjörn Smock to keep Simon clean 🙂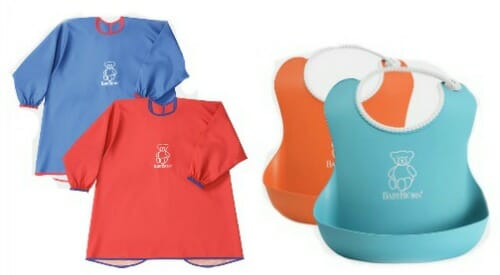 Dave's mom also made Simon a handful of cotton "shirt bibs", as I call them, that are perfect for when he's wearing short sleeves, eating non-liquidy foods, and taking on-the-go. They can easily be washed and dried and take up almost no space in the diaper bag.
And, in an effort to keep things as neat as possible around the table, we put an extra table cloth under Simon's highchair because he is SOOOOO messy. This saves me from feeling like I need to sweep, vacuum, and mop after every single meal!
.
HIGH CHAIRS and BOOSTER SEATS
I purchased an Eddie Bauer wooden high chair for $25 on Craigslist when Nora was about 7 months old. We absolutely LOVE this highchair — the only downside is it doesn't collapse for easy storage or recline for tiny babies.
We also got the Regalo clip-on high chair for on-the-go events. We haven't used it a ton, but whenever we do need to bring it along, I'm reminded how much we like it.
We "upgraded" Nora to a booster seat after Simon was born, and I've been THRILLED with the Keekaroo Right Height chair I purchased on Craigslist for only $75 (they are normally almost $300). It is an amazing chair, and I'm already on the lookout for another one for Simon!
As you can probably see by the pictures below, the Keekaroo seat and the footrest are both fully adjustable. Also, you can use it with or without the tray, and with or without the booster insert. Nora doesn't use the tray or the booster insert, but when we travel, we often take the booster insert so she can sit up a little higher than on a normal chair.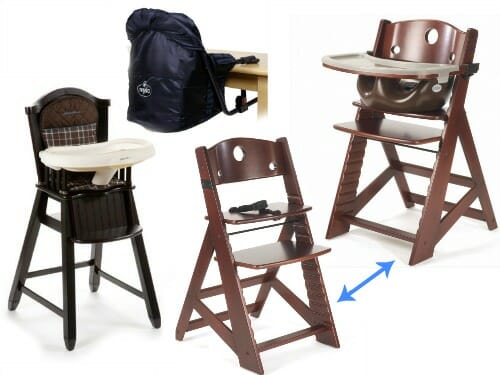 .
BABY FOOD and SNACKS
Again, this is something I never had to worry about with Nora because she never ate baby food (ever) and she didn't really eat any snacks until about 20 months — at which point, she only ate goldfish crackers.
Simon has been a pretty good eater (although I have nothing to compare it too) so we've had our fair share of baby food and snacks in the house. The top 2 shelves of our lower pantry cabinet have always been devoted to snack items — we've just shifted things around a bit to include more kid-friendly snacks as well as our favorite Munchkin snack cups.
We have another pantry cabinet above this and that contains all our chips, pretzels, cereal, goldfish, veggie straws, etc. — many of which we let our kids snack on as well.
I have also saved several of the small plastic baby food containers and regularly use those to take small amounts of snacks, yogurt, baby food, etc. with us in the diaper bag. They are the perfect size for kid-portions and can be tossed when I'm finished with them (great for on-the-go).
.
I think that sums up just about all our kids kitchen gear — and yes, I agree, it seems like A LOT of stuff 🙂
Thanks to gifts, hand-me-downs, Craigslist, and a few freebies from companies I've worked with, we thankfully haven't spent much out-of-pocket for all these items. Sometimes I wish we could just do away with everything (and we probably COULD if we had to); however, they do make life with little kids much more convenient — and that's often worth more than a little extra stuff in my house!
As I mentioned above, I'm positive we will continue to tweak our organizational and storage systems as our kids get older and their needs change. However, this is what's working for our family right now… and since I get quite a few questions regarding these items (especially sippy cup storage) I figured it might be helpful for some of you!
Do you have any cool, unique, or creative ways for storing kids kitchen gear?