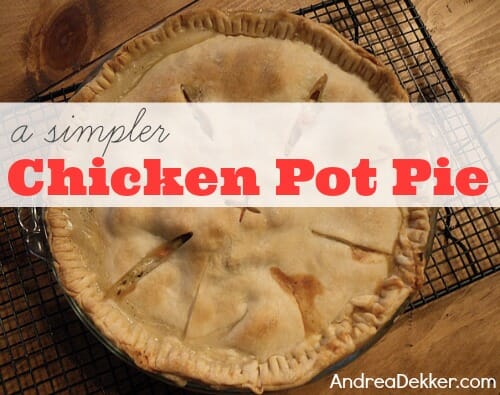 Over three years ago, I posted a recipe for Old Fashioned Chicken Pot Pie — and it's been a big traffic generator ever since.
I can't say I'm surprised as it's honestly one of our FAVORITE recipes, and although it's definitely more of a cold weather comfort food, I make it year round since we just love it so much.
There's something about having all your meat, veggies, and potatoes wrapped up in a flaky pastry crust that always sounds delicious — which is nice since this recipe is one of those that tastes amazing as leftovers.
However, while this recipe does get a lot of traffic, I've also gotten a bunch of emails, comments, and questions about this recipe, if there are any ways to simplify it, how I would freeze it, etc. And just last month, my sister told me she was making ANOTHER Pot Pie recipe because mine sounded too complicated for her… not cool!
So I've been pondering a few ideas to simplify this recipe (even though it honestly isn't that bad in my opinion) and I've come up with basically the same recipe — just a few less steps, a few less ingredients, and hopefully a little less intimidating!
Recipe for ONE Chicken Pot Pie:
INGREDIENTS:
1 T. oil or butter
1 small onion; diced
2 cloves garlic; minced (or 1 t. garlic powder)
3 c. broth or water
2 carrots; peeled & diced
1 large potato; peeled & diced
2 T. butter
3 T. flour
1/2 c. milk
2 c. additional veggies (frozen corn, peas, broccoli, canned mushrooms, etc)
1-2 c. cooked chicken; shredded
1 t. basil, thyme, and poultry seasoning (this is just what I use, it's not a huge deal if you don't have these exact spices in the house)
Salt and pepper to taste
1 15-oz. pkg. pie crust (2 crusts total)
DIRECTIONS:
In a medium stock pot, sauté onions and garlic in oil or butter.
Add broth/water, potatoes, and carrots. Simmer until veggies are tender (about 10 minutes).

Meanwhile, melt 2T. butter in a bowl in the microwave.

Add flour and milk to melted butter and whisk until well combined.
Add milk mixture to veggies AND broth and stir until thickened.
Add chicken, herbs, additional frozen or canned veggies, salt, and pepper.
Stir until heated through.
Pour contents into a 9" pie plate lined with one pie crust. Cover with top crusts and cut several slits for steam.
Bake in a preheated oven (350 F) for 45-55 minutes.
So that's it — just boil the veggies, thicken the broth into a gravy, dump everything into a pie crust, and bake.
This is honestly the simplest recipe I can come up with that does NOT use cream of chicken soup — and although I'm not against using cream of chicken soup, it definitely doesn't taste nearly as delicious as when you make the "gravy" sauce from scratch.
Plus, aside from a knife, a stock pot, a bowl, and a spoon, there are almost no dishes to wash after making this meal — so I promise it's really NOT as overwhelming as you might think.
And if Nora likes it, I'm pretty sure your kids will too!
A Few More Question:
I've gotten a lot of similar questions over the years, so here are some of those answers:
Can I freeze this?
Yes, BUT I would only freeze the filling — not the entire pie. I will often make a double or triple batch of the filling, cook one pie for dinner, and then put the rest of the filling in a freezer container for later. When I want to make a pot pie again, I simply defrost the filling, dump it into a prepared pie crust, and bake. If you freeze the entire pie, it will take FOREVER to bake and the crust will most likely be soggy. Plus, it will take up more room in your freezer.
Can I make it ahead?
Again, yes… BUT I would just make the filling ahead of time and store it in a food storage container in the fridge (it should keep for a few days). Then, when it's time to bake the pie, pour the ready-made filling into the crust and bake.
Does it taste good as leftovers?
Oh my word… yes! This is one of our favorite leftover dishes — perfect for lunch the next day or another dinner later in the week.
Can I mix and match veggies?
Yes, of course! You can use whatever veggies you have on hand — the main thing is that you have at least 3 cups of veggies to adequately fill the crust.
One thing to keep in mind is that if you're using fresh veggies, you'll want to add those first so they can simmer and cook through. If you're using frozen or canned veggies, you can add them at the end so they don't get too mushy. Also, make sure the veggies are chopped quite small otherwise it could be a bit awkward to eat!
And you could easily make this a vegetarian dish by adding 5 or more cups of veggies and omitting the chicken.
What types of meat can I use?
I've honestly never made this with anything other than shredded chicken or turkey, but I know people who have made it with ground turkey, ground beef, shredded pork, and even chopped ham.
I almost always have 2-cup bags of cooked and chopped turkey and chicken in the freezer so that's why I usually just stick to the traditional — but feel free to experiment if you have different meats on hand. The biggest thing is just to make sure the meat is FULLY COOKED before you add it to the pie.
Ok, I think that's about it for the main questions I get.
And honestly, this is a really simple recipe — especially if you use frozen veggies and have your meat cooked ahead of time. Plus, the fact that you can freeze the filling for later makes it possible to double or triple the "fruits of your labor"