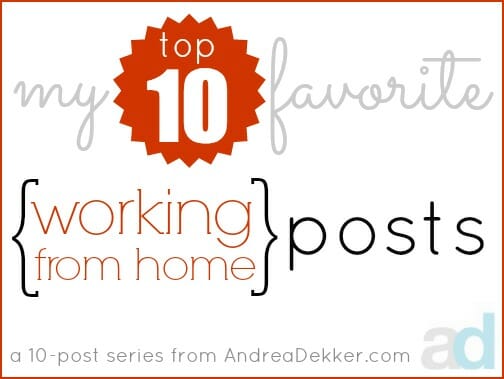 As I planned ahead for the arrival of baby Simon, I thought it might be fun to resurrect some of MY favorite posts from the past 3.5 years of blogging. I'll be publishing this 10-post series during the 4 weeks after his birth (read all the posts here).

I hope you enjoy reading (or re-reading) these posts as much as I'll be enjoying the extra snuggles, books, smiles, and naps with Nora and Simon!
I have been working from home (either part time or full time) for 7 years now. This means I was a "work-at-home-person" WAY before I became a "work-at-home-mom" — and let me tell you, adding the "mom" part really spiced things up a bit and gave me a run for my money!
It took quite a while for me to adjust to working full-time from home AND being a full-time mom. I still have so much to figure out (especially now with two kiddos at home) but I've also learned a lot these past two years.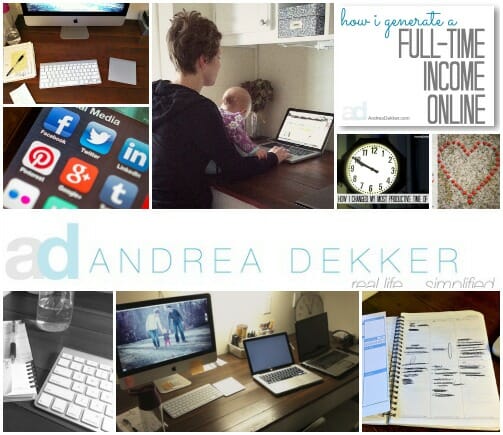 Here are my Top 10 Favorite Working From Home posts — in no particular order.
I wrote this post last month for the "7-year anniversary" of starting my business and it was such a fun post for me to write. I got to look back on the journey I've taken these past 7 years (no it was not always fun or happy or profitable) and see how all the different pieces of the puzzle came together to point me in the direction of my dream job — all without me ever even realizing it.
If you've been struggling to find work you're passionate about or to find your dream job, I'd highly recommend reading this post.
Related Post = 5 Lessons From 5 Years in My Own Business
.
As I mentioned above, I'm now working full-time from home and actually (finally) making a full-time income 🙂 However, what most people don't realize is that in the world of blogging and online business, there are so many ways to make an income.
Believe it or not, only about half my income comes directly from my blog — I break down all the details in this post.
.
This post is almost a year old now, so obviously some things have changed — and with two kids at home now, I'm certain even more will change. However, if you've ever wondered what a semi-typical work day looks like for me, this is it!
.
After Nora was born, I was in complete and utter shock as to how much time and energy a new baby took up — especially one who didn't sleep well. I was used to getting up early, being SUPER productive in the morning hours, doing less demanding projects in the afternoon, and then going to bed on time. I was basically worthless after 9:00pm!
However, since Nora was a very poor sleeper and a VERY early riser, I no longer had those glorious morning hours to work. I was lost (and really tired!) So I decided that my only option was to somehow change my most productive time of day to the evening hours when Dave was home to take over Nora Duty.
It took a while and it definitely wasn't easy, but I can now say that I'm able to be super productive in the evening (and even late-night) hours.
Related Posts:
.
If you've ever worked from home, been self-employed, or even worked from a remote location without a boss telling you what to do all day long, you know the necessity of creating and working with self-imposed deadlines.
This post describes some of my self-imposed deadlines, how I create them, and how I help myself stay motivated and on track with meeting my deadlines.
.
This post still makes me smile because I know just how hard it was for me to break out of my comfort zone and leave Nora for 2 whole days. However, with Dave's encouragement, I was able to take advantage of an awesome business and personal opportunity… and I learned some really great lessons too!
.
So this post definitely isn't specific to JUST people who work from home — it's for anyone who's ever used any type of social media at some point in their life (which is probably every single person reading this post right now!)
I think a huge part of working from home is being able to properly manage my time — and since almost all my work is done via my computer (and the internet) social media has the potential to be a HUGE time-suck for me. However, as I mention in this post, social media is NOT necessarily to blame… keep reading to learn more!
.
Although I've had my business for 7 years, I've only been blogging for half that time. However in the past 3+ years, there have been 3 major concepts that have helped me grown, expand, and enjoy the sometimes stressful and tedious process of running a blog.
Related Post = How to Start a Blog in 8 Simple Steps
.
This post is actually almost two years old — but I'm still using most of these same concepts to work ahead on my blog posts and alleviate TONS of stress. This system obviously won't work for every blogger, but it sure works REALLY well for me!
.
I couldn't make a Top 10 Favorite Working From Home list without including the HUGE, MASSIVE rebranding project I tackled last spring. It's been almost exactly a year since I launched "AndreaDekker.com" and completely changed my business name, brand, logo, etc.
It was kind of stressful and there were MANY weeks and months when I wondered if I did the right thing. However, looking back, I'm SO happy I made the switch and I've really enjoyed putting a more personal spin on my blog posts. I hope you've enjoyed that too!
.
So that's my list…
Which working from home posts are your favorites?