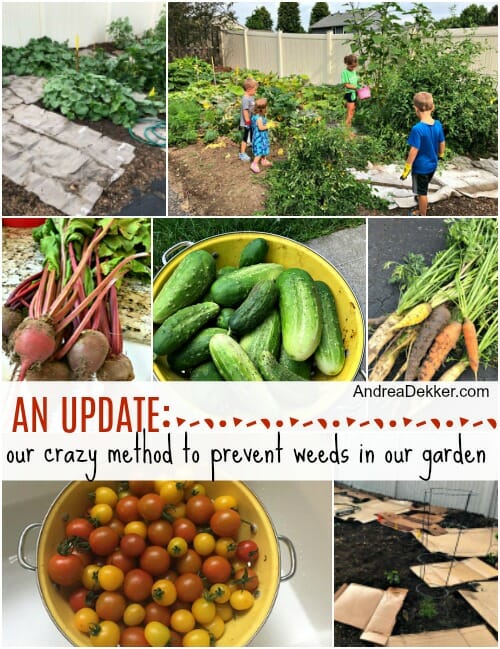 Earlier this spring, I shared our "new-to-us" crazy plan to keep weeds out of our vegetable garden…
Essentially, we laid a bunch of cardboard over the dirt (around the plants) as a way to block weeds from growing.
It looked somewhat ridiculous, we got lots of questions from friends and neighbors, and (I'll be honest) Dave and I were not super optimistic it would even work… but based on several failed attempts to block weeds in the past, we figured it couldn't hurt to try something new again.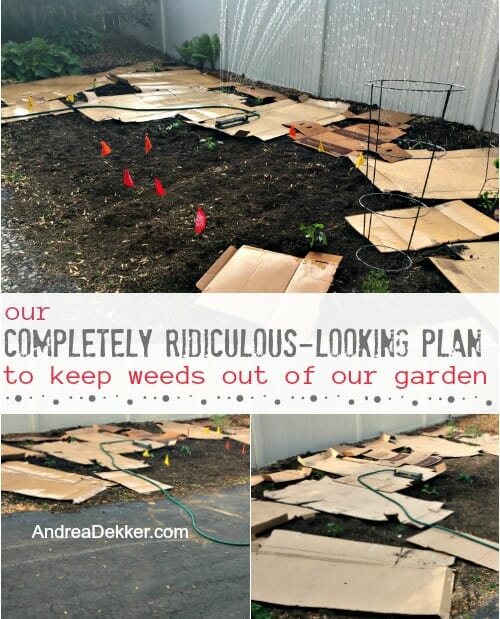 Well the verdict is in… and I'm happy to share that this method worked wonderfully!
Initially, we still needed to weed around the plants we grew from seeds (carrots and beets) but other than that, we did almost ZERO weeding in our garden the entire summer (this is very abnormal for us!)
I peeked under the cardboard several times throughout the summer, and it was basically bare dirt with a few dying weeds that tried to get through but failed — so yeah, we're pretty excited about that!
Of course, it wasn't the prettiest or most picture-perfect vegetable garden, but we've gotten lots of delicious veggies so far — and we don't really care what our garden looks like at this point since it's behind our garage and not visible from most places in our yard.
Something to consider if you're planning to try this method:
In general, we usually plant mostly "sprawling plants" — zucchini, salad cucumbers, pickling cucumbers, spaghetti squash, butternut squash, etc. so we are able to leave A LOT of empty space between plants.
This makes it significantly easier to spread cardboard down in the spring. It would be more difficult to do if you had many smaller plants closer together.
Also, it would be almost impossible to spread cardboard around seeded areas (at least not until after the seeds pop through).
A Few Things We Might Change Next Year:
We're planning to try this same technique again next year… but we'll probably make a few changes.
We will use many layers of newspaper in some of the tighter areas as cardboard is harder to cut and squeeze into smaller spaces.
We will use u-shaped stakes to hold down the cardboard — it got dry one day and started to blow around so we used some of our snow stakes to keep it in place for a while!
We will put the cardboard / newspaper even closer around the plants.
We will put straw (or something a little more decorative) over the cardboard/newspaper to make it slightly more aesthetically pleasing!
.
All in all, we are VERY happy with how well this weed-prevention worked — even happier with the fact that it was extremely simple, essentially free, and environmentally friendly too!
Have you ever tried this weed-prevention method in your own garden?
How did it work for you?
Do you have any other methods that have worked well?