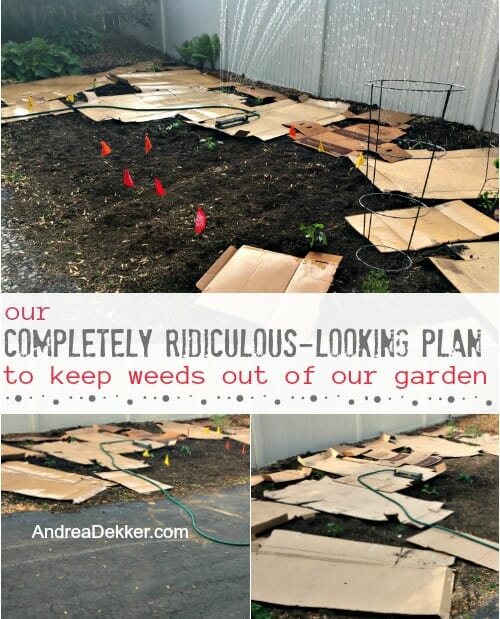 After a 5-year garden hiatus, we planted our first garden at our farmhouse 5 summers ago. It wasn't anything special, but it was "good enough" and we enjoyed having a few home-grown veggies again.
Since then, we've planted some type of garden every spring… but our garden really only looked nice and neat ONE of those years!
The other years, our vegetable gardens ended up way too crowded and completely covered with weeds by fall.
Sigh…
Part of the problem is that our garden area really isn't anywhere close to large enough for all the things we'd like to plant.
We have a plan to eventually move our garden out to the front yard (possibly with raised beds) but we aren't ready to implement that quite yet as we know it will be a significant time investment to keep a front-yard garden looking neat and tidy all summer long.
SIDE NOTE: if any of you have (or had) a front-yard garden, I'd love to hear your thoughts on it — pros AND cons!
So for the time being, our vegetable garden is tucked back on a little plot of land behind our garage where no one can see it unless they drive ALLLLL the way to the very back of our driveway, past the house and garage!
We usually do a good job weeding our garden until mid-July when it gets SO hot and humid that we don't want to be outside unless it's to swim in the pool.
Then, it quickly goes down-hill until we pull everything out in October.
We swear we will do a better job the next year… and we do… until mid-July when the heat and humidity strike again!
We've tried various methods to keep the weeds down but we haven't had much luck yet:
I don't like the idea of spraying or spreading chemicals around our vegetables
We can't spread Preen because then our vegetable seeds won't germinate
We tried straw, but EVERY time we spread straw, we end up growing hay because of seeds that get mixed in with the straw
We've tried spreading grass clippings, but that is SO stinky and everything ends up covered with grass (including our feet)
We've tried pine needles, but that's makes the soil very acidic
We've tried diligently weeding (like every single day) but, as I mentioned above, that gets really old by mid-July!
We've even tried mulch, but that's expensive AND then we end up with a bunch of mulch that doesn't break down in the soil as quickly as leaves and other organic matter does.
NOTE: if you're just going for looks, straw definitely looks the best, in my opinion!
Our Completely Ridiculous-Looking Weed Prevention Plan:
This year, we're trying something new — and boy does it look ridiculous! I'm almost a little embarrassed to share pictures on the blog!
We laid out cardboard over the non-planted areas in hopes that it will prevent weeds from being able reach the soil to germinate!
We've read about it, and apparently it's a great plan — newspaper apparently also works for this.
We've been saving our cardboard boxes for a couple months now, and after cutting them all open, we laid them out in and around our various plants to cover most of the soil.
Then we watered the garden REALLY well to soak the cardboard so it wouldn't blow away (we do have it staked down in a few places).
So far, it seems to be working… but it's only the middle of June, so only time will tell if it works all season long!
I normally don't like to share something on the blog until I'm sure it will work, but since I've gotten a fair number of emails asking about weeds in the vegetable garden, I thought it might make sense to share our current system now — with plenty of time for you to put cardboard or newspaper down around your vegetables while they are small.
NOTE: If you don't have cardboard, get boxes from Aldi, ask around on Facebook, or look on Craigslist. People are always getting rid of boxes! And remember, layers of newspaper work too!
Of course, we couldn't put cardboard over the seeded areas (up front by the flags) so I'm not sure what will happen there, but I do think this cardboard method has potential, despite how crazy it looks!
Plus, it was free, it's non-toxic, and it's safe for kids and plants — win, win, win!
I will most definitely write an updated post later this fall — but in the meantime, I'd love to know…
What are your best methods for growing a weed-free vegetable garden?