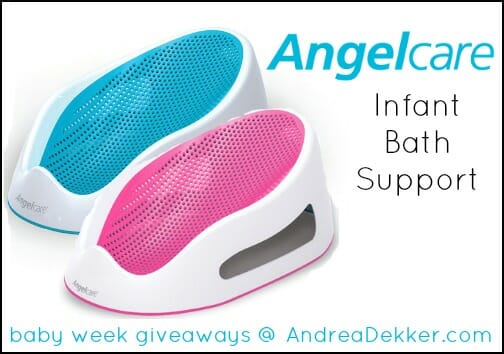 It's time to celebrate Baby Dekker #2 here on the blog, and what better way to do that than with a week of fun baby-related posts and giveaways!

Click here to view the 12 fabulous giveaways — all geared to make life with a new baby a little simpler, more organized, and more fun!
Some of you already know this — but although we have 3 full bathrooms in our house, none of them have a bathtub! Dave and I are both "shower" people (baths totally gross me out!) but we figured we'd need to put a bathtub in eventually once we started having kids.
Well, we accomplished the "have kids" part… but over two years later, we still haven't accomplished the "putting a bathtub in" part 🙂
However, it really hasn't been a big deal at all — honestly! We simply have a good-size blow-up tub for Nora that sits in one of our unused showers.
Nora LOVES her blow-up tub!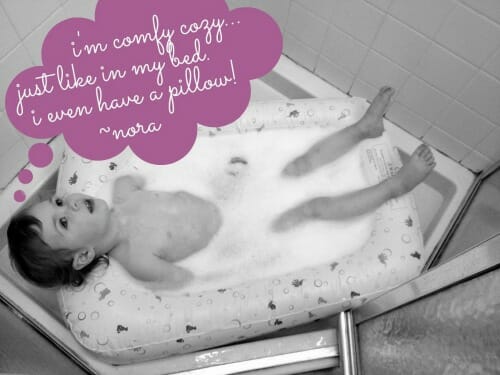 However, this type of tub obviously won't work for newborn babies who can't sit up by themselves — so we needed another option.
When Nora was a baby, we borrowed an infant bathtub from a friend, but it was super bulky, awkward, and I never really loved it (but it was free so I didn't complain). So when Angelcare reached out to me with their new Infant Tub Support, I enthusiastically said I'd love to test it out with the new baby.
The only thing I was slightly concerned about was that it wouldn't fit inside our big kitchen sink or inside Nora's blow-up tub. However, I had no reason to be concerned as it easily fit inside both the sink and Nora's tub!
Of course, Nora thinks this is the perfect bathtub for her babies — but I've reiterated over and over again that once baby brother arrives, he will get to use it too. She's pretty excited about helping me give him baths, so hopefully she won't be too upset to lose her doll's bathtub 🙂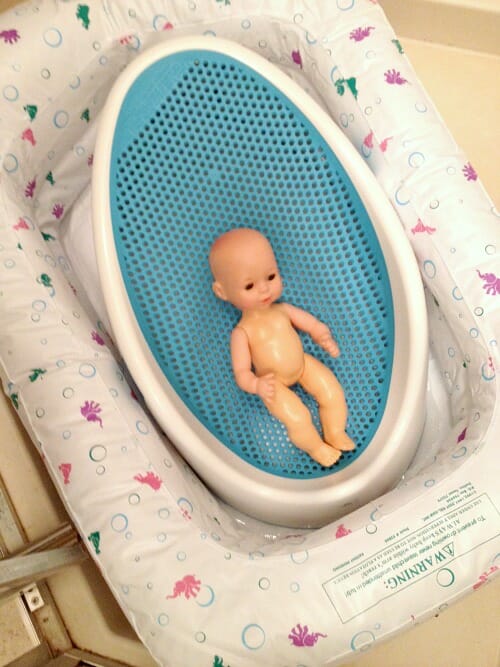 Here are some of the unique features of the Angelcare Bath Support:
Hygienic and Mildew-Resistant – The mesh material allows water to drain easily from the bath support and dries quickly.
Fits Directly into Bathtub – You can place it directly into your bathtub — or if you're like us and don't have a bathtub, you can put it in your sink or inside your toddler's blow-up tub!
Easy to Store – This baby bath support has a hook for convenient storage.
Ergonomic Design – Ergonomically designed for your baby's comfort and safety.
Soft-touch Material: Seriously, it's SOOO soft and just the right amount of cushiony flexibility to assure baby's comfort.
Durable, Lightweight Plastic – This bath support is designed to keep its shape over time — and I'm not exactly sure how much it weighs, but probably only a few ounces!
I'm super excited to put this tiny tub to use with the new baby — and based on how clean Nora's baby dolls have been, I'd definitely give it an A+ and highly recommend it to anyone looking for an infant tub insert!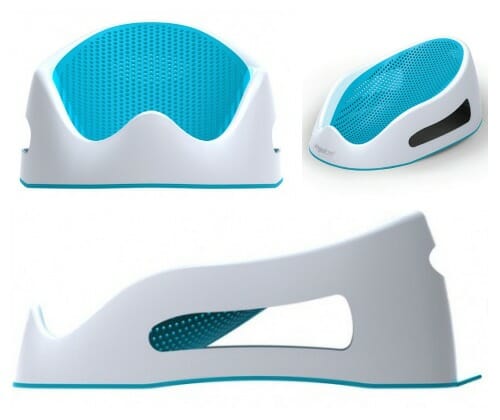 More about Angelcare:
Angelcare was established in 1997 and offers peace of mind to busy parents by building innovative baby care products of the highest quality for everyday life.
Angelcare is renowned for its one-of-a kind patented Sensor Pad, which detects all of baby's slightest movements.
Visit Angelcare on the web:

Website: www.angelcarebaby.com
Facebook: Angelcare
Twitter: @angelcare
Pinterest: Angelcare Baby
YouTube: Angelcare
Enter To Win This Giveaway!
Today, one lucky reader will win the new Angelcare Infant Bath Support!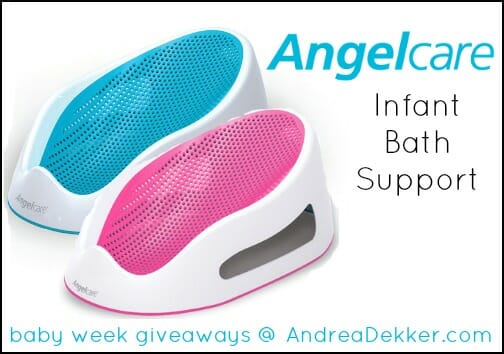 To enter, simply use the Rafflecopter widget below (it might take a second to load). This is a new way of entering giveaways on my blog but it will hopefully make things easier for me AND simpler for you!
First, enter your name and a valid email address (so I can contact you if you win) and click "log in" (you are logging into THIS specific giveaway, and I will be the only one who sees your email address.) Next, click "Enter to Win". Finally, click the big green ENTER button!
a Rafflecopter giveaway

All baby week giveaways end at 11:59 pm EST, Sunday, 2/16/2014 and are open to US residents, 18 years or older. The winners will be randomly selected via Rafflecopter and notified via email. I received a duplicate prize package in exchange for hosting this giveaway — but all opinions are 100% my own. Please see my full disclosure policy and contact me with any questions you have. Good luck!