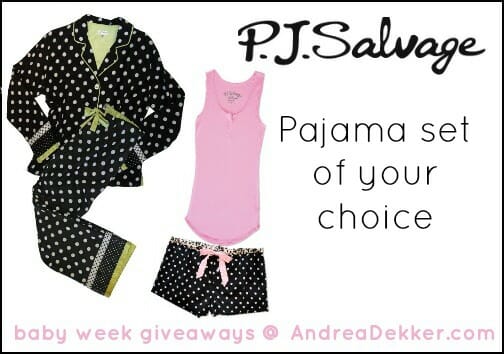 It's time to celebrate Baby Dekker #2 here on the blog, and what better way to do that than with a week of fun baby-related posts and giveaways!

Click here to view the 12 fabulous giveaways — all geared to make life with a new baby a little simpler, more organized, and more fun!
Way back in college, I was given a P.J. Salvage pajama set as a gift. I had always been a big pajama lover — but when I tried on the P.J. Salvage pajamas for the first time, I was instantly amazed by how comfortable they were, how soft they were, how well they fit, and (after a couple years of wearing them) how LONG they lasted!
Since then, I have always had at least one pair of P.J. Salvage pajamas — and I wear them every single night.
.
Insert imaginary photo of me in my jammies @ 37+ weeks pregnant 🙂
.
Since I love my pj's so much, I decided that a new set of P.J. Salvage pajamas would be my "gift to myself" after Nora was born — after all, I knew I would most likely be hanging out in my pajamas for a majority of the day. So instead of a more trendy "push present", I splurged on awesome new jammies that have served me well for the last 2+ years.
Now, with baby #2 on the way — and a spring baby instead of a fall baby like Nora — I wanted another set of lighter-weight pajamas as my "reward" for pushing this baby out!
This time around, instead of flannel pj's, I chose their line of super soft jersey fabric that practically feels like silk on your skin (except WAY nicer than silk because it breathes!) It's soft, smooth, stretchy, and oh-so comfortable.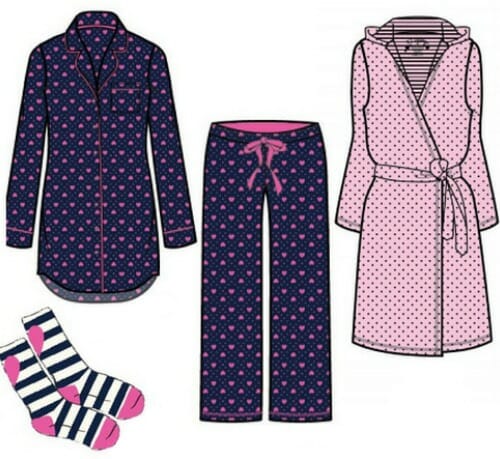 As you can see by the image above, I got a matching night shirt and pants, a light-weight jersey robe, and a pair of their amazingly soft slipper socks (which Nora absolutely loves!)
I've mainly just been wearing the socks (for obvious reasons). However, even though these definitely aren't maternity pajamas, I can still get the pants and the robe to fit over my belly — not so much with the night shirt though!
Whether you're a pajama set junkie like me, a tank top and sweatpants girl, or even a fancy lingerie lady — I'm fairly confident the P.J. Salvage shop has something you'll love!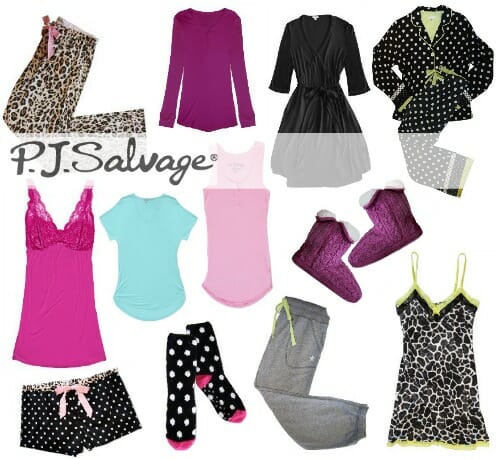 More about P.J. Salvage:
Known for using luxury fabrics and chic patterns, P.J. Salvage transformed nightwear and began a renaissance in bedroom fashions that has crossed over into loungewear and everyday wear.
Paying meticulous attention to every detail, P.J.Salvage prides itself in superior quality, luxurious fabrics, celebratory fits, and chic style.
Visit P.J. Salvage on the web:

Website: pjsalvage-shop.com
Blog: Sweet Dreams
Facebook: PJ Salvage
Twitter: @pjsalvage
Pinterest: P.J. Salvage

Enter To Win This Giveaway!
Today, one lucky reader will win a pajama set of their choice from the P.J. Salvage shop!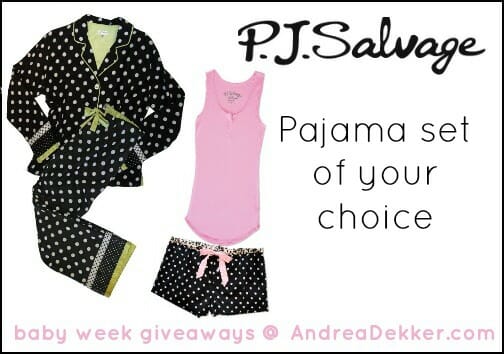 To enter, simply use the Rafflecopter widget below (it might take a second to load). This is a new way of entering giveaways on my blog but it will hopefully make things easier for me AND simpler for you!
First, enter your name and a valid email address (so I can contact you if you win) and click "log in" (you are logging into THIS specific giveaway, and I will be the only one who sees your email address.) Next, click "Enter to Win". Finally, click the big green ENTER button!
a Rafflecopter giveaway

All baby week giveaways end at 11:59 pm EST, Sunday, 2/16/2014 and are open to US residents, 18 years or older. The winners will be randomly selected via Rafflecopter and notified via email. I received a duplicate prize package in exchange for hosting this giveaway — but all opinions are 100% my own. Please see my full disclosure policy and contact me with any questions you have. Good luck!