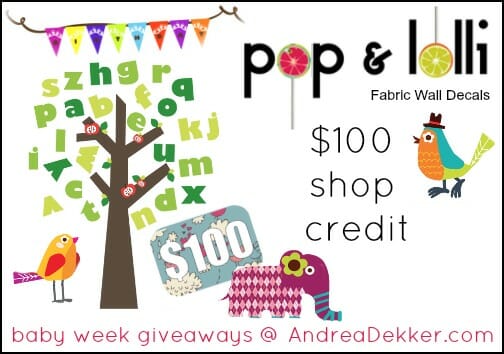 It's time to celebrate Baby Dekker #2 here on the blog, and what better way to do that than with a week of fun baby-related posts and giveaways!

Click here to view the 12 fabulous giveaways — all geared to make life with a new baby a little simpler, more organized, and more fun!
You know how much I love plain neutral colors in my home… right? Well, I do. I feel like the walls in our home absolutely must be neutral — otherwise I'm so confined as to how I can decorate with all my lovely painted furniture and various accessories.
However, now that we have a toddler and another baby on the way, I've come to realize that pops of bright colors really can be super fun — especially if those pops of bright colors are 100% removable at any given time 🙂
I've always been intrigued by the stick-on wall decals that are so popular these days — but they all seem so difficult to apply, and if you mess up with the application or want to change the location later on, you're basically out of luck. I've often thought, "they should invent removable wall decals that aren't so difficult to apply… and that's when I found the Pop & Lolli Etsy Shop!
Pop & Lolli is an amazing company that creates huge HUGE fabric wall decals — specifically for kids — and yes, the decals are all 100% removable, reusable, and "restickable"!
Their massive Rainbow Promise wall decal is one of my favorites.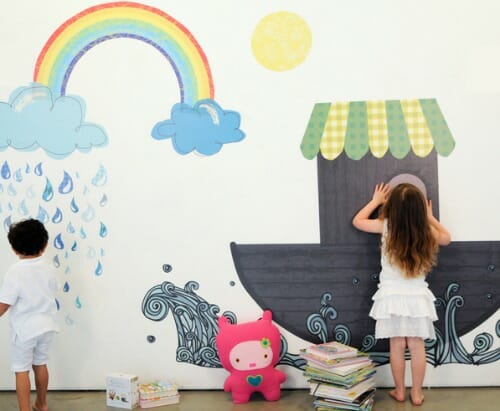 We are currently LOVING the Pop & Lolli Reusable Fabric Alphabet Wall Decals — especially since Nora has been on a huge "ABC" kick lately.
Literally any time she sees any letters, she starts singing the abc song — so I pretty much hear that song 852 times each day 🙂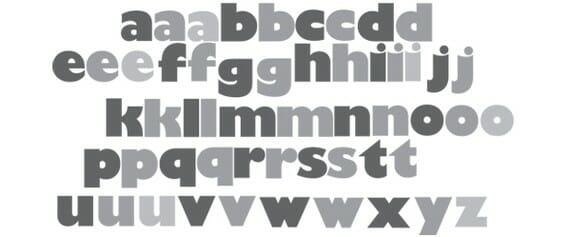 It's amazing how easy it is to move the letter decals around to create new words — or "new abc's" as Nora calls them. We've had a lot of fun writing words on our walls — and I can't wait to show you what we did with them in our nursery (come back tomorrow morning for that!)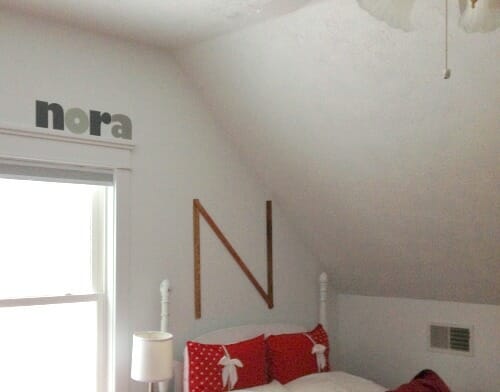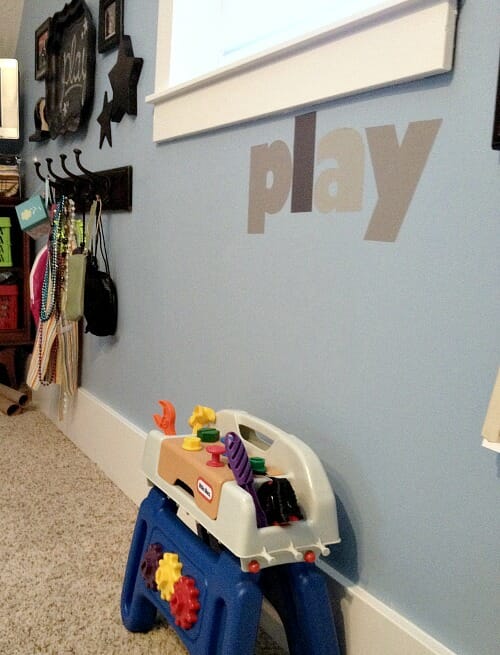 Of course, the Rainbow Promise and Alphabet are just two of of the many fabulous wall decal options Pop & Lolli offer in their fabulous Etsy shop and via their website.
If we had a wall big enough, I would totally splurge for the fabulously bright and detailed Iconic Cultural World Map (Dave was literally drooling over this as he loves maps).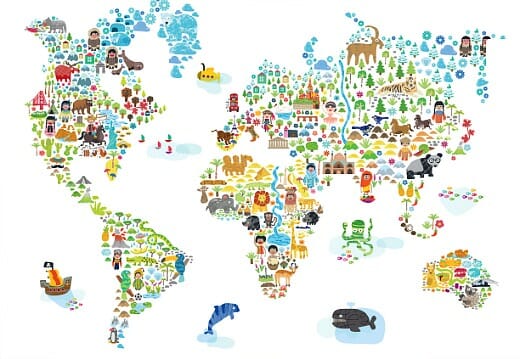 I'm also still trying to figure out what we could do with a set of these lovely Fun Fetti dots!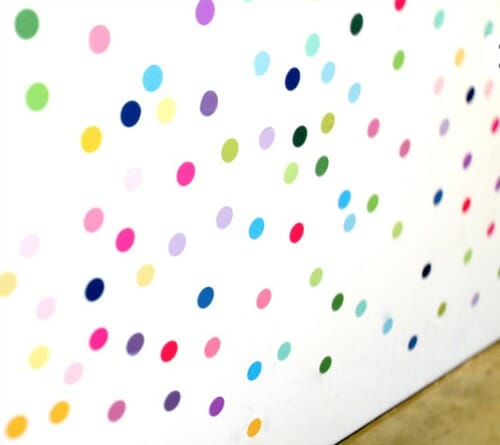 And this Tree of Knowledge… it's just too cute!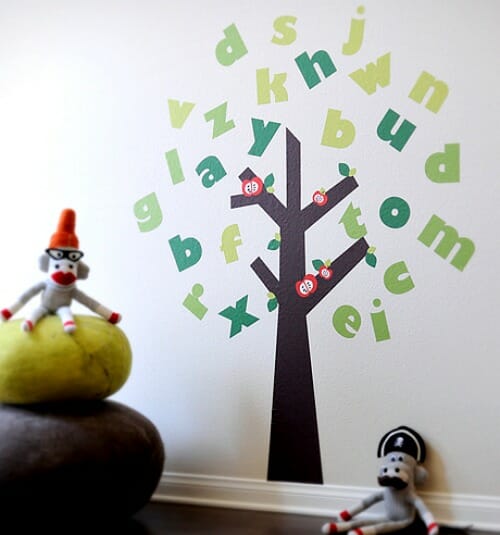 There are so many fabulous wall decals to choose from — it's almost impossible to decide what ones to buy!
If you're looking for a fun, educational, AND clutter-free way to surprise any little kiddos you know — Pop & Lolli has you covered!
More about Pop & Lolli:
Originated from the mind of a former Walt Disney Imagineer and birthed out of desperation; Pop & Lolli truly delivers BIG in every way. Pop & Lolli chic wall murals create a complete immersive environment and provide an opportunity for expression & exploration; something every kid deserves.
Pop & Lolli believes in impact. And to make an impression, size can definitely help!
With every set of Pop & Lolli decals purchased, it's chic 2 change will provide educational materials and resources to positively influence a South African child in need.
Visit Pop & Lolli on the web:

Website: www.popandlolli.com/shop
Etsy Shop: Pop & Lolli
Facebook: Pop & Lolli
Twitter: @PopandLolli
Pinterest: Pop & Lolli
Instagram: PopandLolli
Enter To Win This Giveaway!
Today, one lucky reader will win a $100 gift card from Pop & Lolli — good towards any single purchase in their shop!
Pop & Lolli is also offering a 10% discount to all my readers from now through February 16th. Simply type code AD10 at checkout!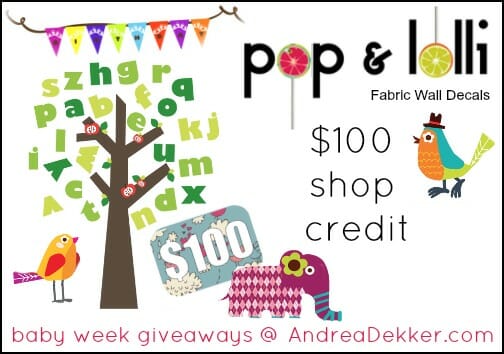 To enter, simply use the Rafflecopter widget below (it might take a second to load). This is a new way of entering giveaways on my blog but it will hopefully make things easier for me AND simpler for you!
First, enter your name and a valid email address (so I can contact you if you win) and click "log in" (you are logging into THIS specific giveaway, and I will be the only one who sees your email address.) Next, click "Enter to Win". Finally, click the big green ENTER button!
a Rafflecopter giveaway

All baby week giveaways end at 11:59 pm EST, Sunday, 2/16/2014 and are open to US residents, 18 years or older. The winners will be randomly selected via Rafflecopter and notified via email. I received a duplicate prize package in exchange for hosting this giveaway — but all opinions are 100% my own. Please see my full disclosure policy and contact me with any questions you have. Good luck!