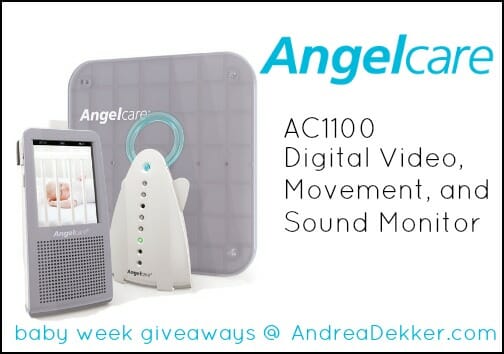 It's time to celebrate Baby Dekker #2 here on the blog, and what better way to do that than with a week of fun baby-related posts and giveaways!

Click here to view the 12 fabulous giveaways — all geared to make life with a new baby a little simpler, more organized, and more fun!
When I was researching monitors before Nora was born, I KNEW I wanted one of the Angelcare monitors with the under-the-mattresses movement sensor pad. I really wanted my babies to sleep on their stomach if that's what was comfortable for them — but I felt nervous about letting them sleep on their stomach without the sensor pad.
So since that was just early enough that video monitors were not super popular yet (I didn't even know they existed) I purchased the more basic Angelcare monitor that was just for movement and sound.
And as I suspected, Nora LOVED sleeping on her tummy and it was the only way we could get her to fall asleep for months and months — boy was I glad I had the peace-of-mind of the movement sensor pad under her mattress!
Now that Nora is in her new bedroom upstairs, we felt that we really needed two monitors — one for her room and one for the nursery. Nora's room is just too far away from our room for us to hear her when she's crying in the middle of the night, and since she still wakes up 3-4 times per night, we definitely get good use out of our monitor!
We knew we wanted another Angelcare monitor with the Movement Sensor Pad — but this time, we wanted a video monitor as we realized how helpful it would have been when Nora was a tiny baby.
For the last couple of months, we've been "testing out" the Angelcare Digital Video, Movement, and Sound Monitor in Nora's room — and I have to say, it's pretty amazing! Even though we plan to move the video monitor to the nursery after the new baby is born, we're having fun peeking in on Nora when she's actually sleeping and using the walkie-talkie feature to tell her to get back into bed!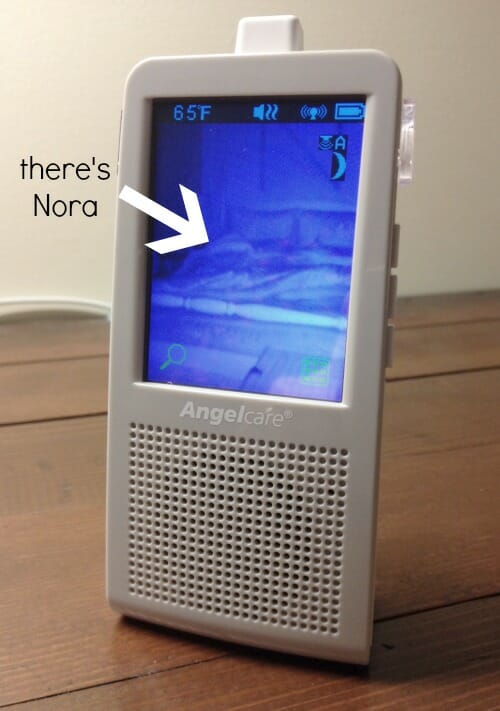 This monitor has all the features we LOVE about our other Angelcare monitor with the added functionality of a video camera — definitely a huge plus in our opinions!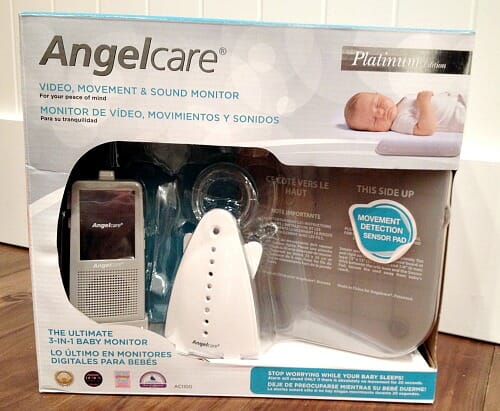 These are just SOME of the amazing features of this video monitor!
Under-the-Mattress Movement Sensor Pad — Senses baby's movements and will sound an alarm if no movement is detected after 20 seconds. We don't use the pad with Nora but we will use it with the new baby
Color Video Transmission – You can use this monitor with or without the video feature; but honestly, I LOVE the video feature and peeking in on Nora (and eventually new baby) while they sleep!
Night Vision (Infrared Camera) – The infrared camera can easily stream video in the dark, so you can see what's happening in the nursery without waking up baby.
LCD Touch Screen – a.k.a. you can use it like any other touch screen device 🙂
2-Way Talk-Back Feature – This monitor functions like a walkie-talkie which is awesome when naughty toddlers get out of bed 50 times a night!
Temperature Display and Control – This is such an awesome feature since our house is kind of drafty and we were always concerned if the nursery (and now Nora's bedroom) was too hot or cold. Now we know for sure and can adjust with portable heaters or fans. You can even set an alarm to alert you if the temperature gets too high or low.
Portable & Rechargeable Parent Unit – I love that the parent's unit is fully portable (it even has a clip to attach to your clothing) and I also love that it comes with rechargeable batteries and a charging base so I don't need to be replacing batteries every 2 weeks.
Nursery Night Light – The top of the baby unit can serve as a gentle nightlight — perfect for all those middle of the night wake-ups when any other light is just too bright.
Adjustable Camera Angle – Position your baby video monitor for the perfect view – and safely out your child's reach. Moms and dads love this feature, especially since it helps create a safe sleep environment as their child reaches new milestones and becomes more curious.
Parent Unit Locator – You know, for all those times you accidentally misplace the parent's unit!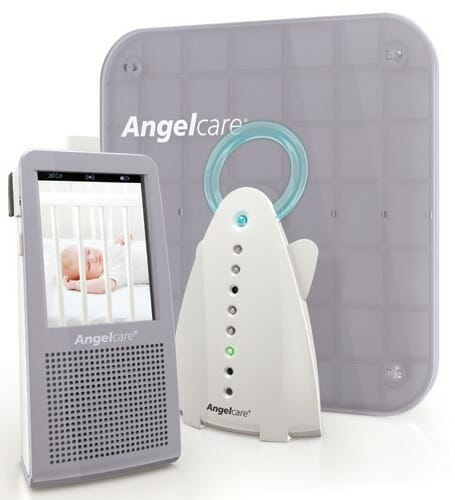 More about Angelcare:
Angelcare was established in 1997 and offers peace of mind to busy parents by building innovative baby care products of the highest quality for everyday life.
Angelcare is renowned for its one-of-a kind patented Sensor Pad, which detects all of baby's slightest movements.
Visit Angelcare on the web:

Website: www.angelcarebaby.com
Facebook: Angelcare
Twitter: @angelcare
Pinterest: Angelcare Baby
YouTube: Angelcare
Enter To Win This Giveaway!
Today, one lucky reader will win the top-of-the-line 3-in-1 Digital Video, Movement, and Sound Monitor from Angelcare!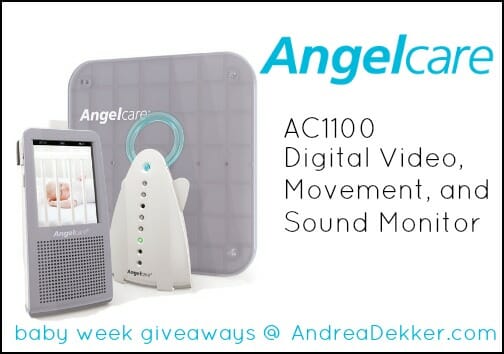 To enter, simply use the Rafflecopter widget below (it might take a second to load). This is a new way of entering giveaways on my blog but it will hopefully make things easier for me AND simpler for you!
First, enter your name and a valid email address (so I can contact you if you win) and click "log in" (you are logging into THIS specific giveaway, and I will be the only one who sees your email address.) Next, click "Enter to Win". Finally, click the big green ENTER button!
a Rafflecopter giveaway

All baby week giveaways end at 11:59 pm EST, Sunday, 2/16/2014 and are open to US residents, 18 years or older. The winners will be randomly selected via Rafflecopter and notified via email. I received a duplicate prize package in exchange for hosting this giveaway — but all opinions are 100% my own. Please see my full disclosure policy and contact me with any questions you have. Good luck!