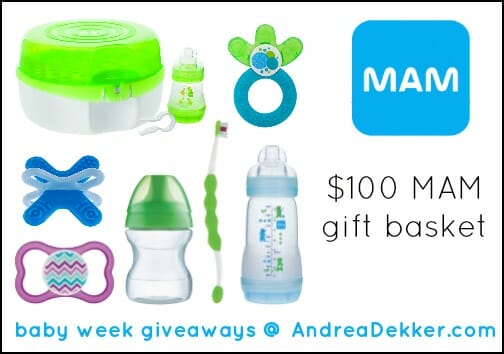 It's time to celebrate Baby Dekker #2 here on the blog, and what better way to do that than with a week of fun baby-related posts and giveaways!

Click here to view the 12 fabulous giveaways — all geared to make life with a new baby a little simpler, more organized, and more fun!
Due to some of the sensory issues we've experienced with Nora, it's safe to say that feeding and any type of "oral care" have been a constant battle for the past 2 years. Nora almost never took a bottle or a pacifier, it was a massive months-long struggle to find any sort of sippy cup she would use, and teeth brushing is still a big issue for us… sigh!
Because of this, I'm super thankful there are companies like MAM who specialize in making all sorts of high-quality oral care items for all stages of baby life — even picky sensory kids like Nora!
Thanks to the MAM products, we were able to give Nora a bottle ONCE IN A GREAT WHILE, get her to finally start drinking out of a sippy cup, and at least start brushing her teeth with plain water (we have to start somewhere, right!)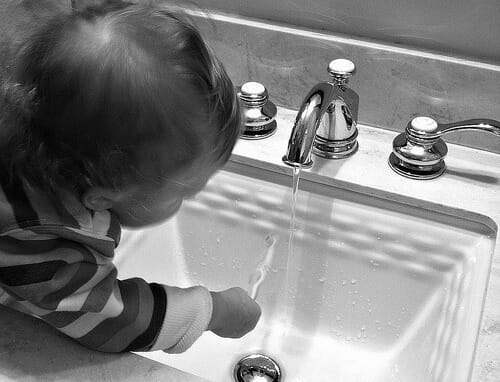 Obviously, Dave and I were thrilled to have found products that worked for Nora — but we were even more excited to know that all the MAM products are BPA-free and designed with such an incredible amount of technology behind them.
Not only do the products LOOK fabulous, they function really well too.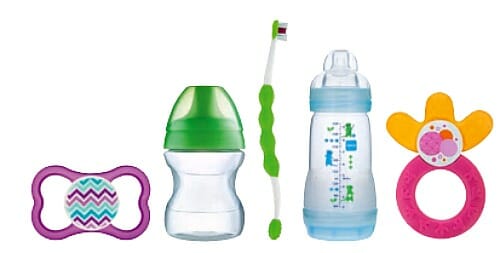 Take their Anti-Colic Bottles for example:
For starters, the bottoms actually screws off to make the cleaning process WAY easier — plus they can easily be sterilized in the microwave in about 3 minutes! On top of that, they offer a variety of interchangeable nipples to accommodate different aged babies, AND the base ventilation system provides a smooth milk flow, which reduces air swallowed by baby, gas and burps.
That's a lot of stuff packed into a seemingly simple (and stylish) baby bottle!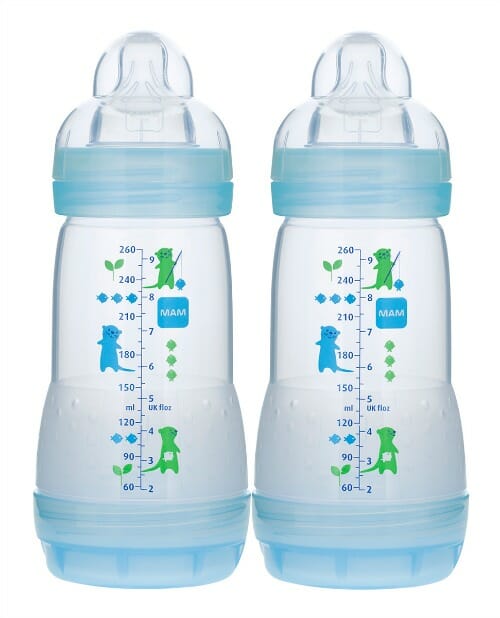 I've honestly never been disappointed in any of the MAM products we've used, so I'm super excited to be fully stocked up on MAM goodies before the arrival of baby #2!
More about MAM:
MAM knows that being a parent is not always easy. That's why they make products that are smart and simple to use.
For over 35 years they've been obsessed with making innovative pacifiers, bottles, cups, teethers and toothbrushes — all to provide parents with solutions and babies with optimal care at all stages.
Visit MAM on the web:

Website: www.mambaby.com
Blog: MAM USA Blog
Facebook: MAM USA
Twitter: @MAMBABYPinterest: MAM USA
YouTube: MAM USA
Join the MAM club for exclusive discounts and offers.
Enter To Win This Giveaway!
Today, one lucky reader will win a $100 gift package of assorted MAM products including: MAM bottles, teethers, pacifiers, drinking cups, and oral care items!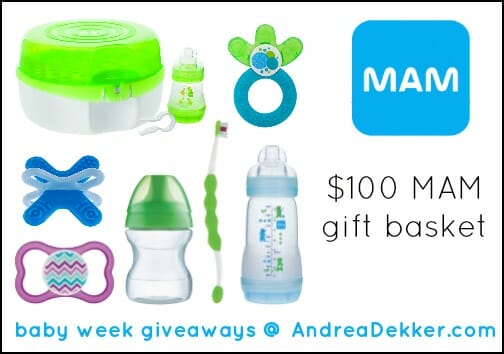 To enter, simply use the Rafflecopter widget below (it might take a second to load). This is a new way of entering giveaways on my blog but it will hopefully make things easier for me AND simpler for you!
First, enter your name and a valid email address (so I can contact you if you win) and click "log in" (you are logging into THIS specific giveaway, and I will be the only one who sees your email address.) Next, click "Enter to Win". Finally, click the big green ENTER button!
a Rafflecopter giveaway

All baby week giveaways end at 11:59 pm EST, Sunday, 2/16/2014 and are open to US residents, 18 years or older. The winners will be randomly selected via Rafflecopter and notified via email. I received a duplicate prize package in exchange for hosting this giveaway — but all opinions are 100% my own. Please see my full disclosure policy and contact me with any questions you have. Good luck!