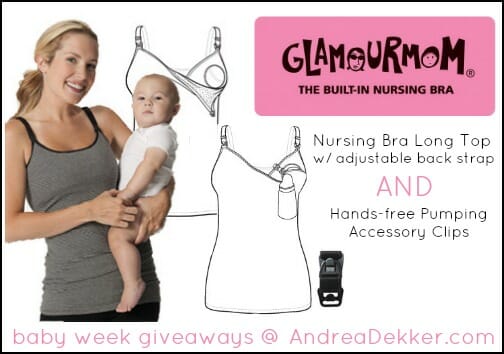 It's time to celebrate Baby Dekker #2 here on the blog, and what better way to do that than with a week of fun baby-related posts and giveaways!

Click here to view the 12 fabulous giveaways — all geared to make life with a new baby a little simpler, more organized, and more fun!
A couple months before Nora was born, I started my search for a few good nursing tank tops since all my friends had told me "you'll wear them EVERY day!" Unfortunately, due to my extremely long torso, I couldn't find anything that fit me even remotely well.
I tried different brands, different styles, different sizes, but NOTHING worked for me.
I was starting to get frustrated and wondering if I'd ever find anything in time for my baby's arrival — and then (totally out of the blue) I was contacted by Line Rothman, the founder of Glamourmom. She told me she had these fabulous nursing tanks that she would love for me to try.
I was not super optimistic after my already long and unproductive nursing tank search — but I told her I would try one and tell her what I thought.
The moment the tank arrived in the mail, I ripped open the package and tried it on. I was INSTANTLY amazed by how comfortable it was, how stretchy it was (in a really good way), how supportive it was, and (most importantly) how LONG it was! I was sold and fired off an email to Line right away singing the praises of Glamourmom!
Since then, I've amassed quite a collection of Glamourmom Nursing Gear — all of which came in handy since I wore them every day for 21 months due to Nora's sensory issues and her refusing to eat solid food, take a bottle, etc.
The Glamourmom Nursing Tanks literally saved what little sanity I had left after nursing round the clock for that long!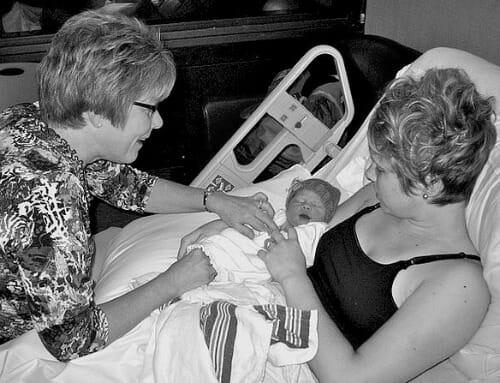 A few MORE reasons I love Glamourmom tops:
They are really long — which means they fit my long torso and I don't ever have to worry about my stomach hanging out. (Oh, and if you don't have a long torso, they have plenty of other tanks that are normal length)
They are SO comfortable. I wore one of these nursing tanks every single day under whatever I was wearing — even in the bridesmaid dresses for my sister's wedding.
They are slimming. There is just enough spandex in these tanks to really "hold you in" — which is something my post-baby-belly will be very thankful for in a few weeks!
They are very modest. Although I'm definitely not one to nurse in any type of public setting, it's still nice to be able to nurse without baring all — even when I'm just at home. As you can see by the image below, these tanks make it almost impossible to tell if you are nursing or just holding your baby.
They look like a "normal" tank top. This may sound trivial, but when you know that you'll be wearing nursing attire for the next several months of your life, it's nice to have things that look normal and don't scream, "I'm wearing a nursing top".
They have lots of variety. Not only are there a ton of styles to choose from — there are also loads of different colors and patterns to choose from as well, so you can mix and match to fit your style and your wardrobe.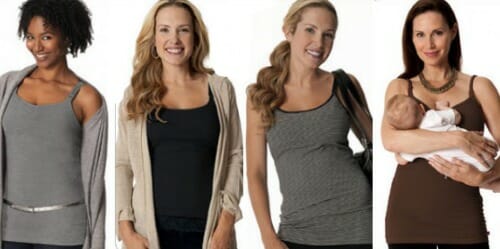 Recently, Glamourmom came out with a new line of Hands-free Pumping Accessory Clips — so I'm super excited to try those out with baby #2 (provided he actually takes a bottle). Just one more thing to help simplify life with a new baby around — I'll take it!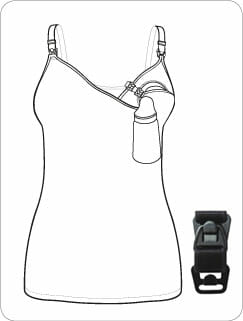 More about Glamourmom:
The Glamourmom Nursing Bra Tank was born out of necessity in 2000 shortly after founder Line Rothman gave birth to her first daughter. Since then, Glamourmom has evolved into an internationally loved brand. Their expanding collection is designed exclusively with moms and moms-to-be in mind with the idea that every woman deserves to be a Glamourmom!
Visit Glamourmom on the web:

Website: glamourmom.com
Blog: From Mom to Glamourmom
Facebook: Glamourmom
Twitter: @glamourmomtanks
Enter To Win This Giveaway!
Today, one lucky reader will win a Nursing Bra Long Top with adjustable back strap AND a set of Hands-free Pumping Accessory Clips from Glamourmom!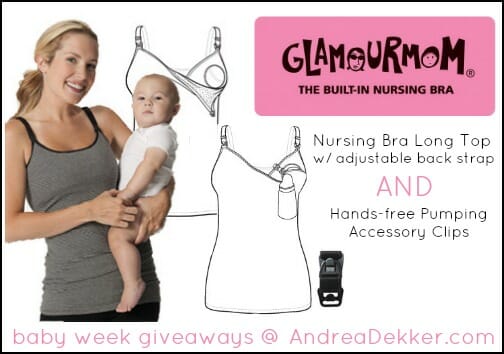 To enter, simply use the Rafflecopter widget below (it might take a second to load). This is a new way of entering giveaways on my blog but it will hopefully make things easier for me AND simpler for you!
First, enter your name and a valid email address (so I can contact you if you win) and click "log in" (you are logging into THIS specific giveaway, and I will be the only one who sees your email address.) Next, click "Enter to Win". Finally, click the big green ENTER button!
a Rafflecopter giveaway

All baby week giveaways end at 11:59 pm EST, Sunday, 2/16/2014 and are open to US residents, 18 years or older. The winners will be randomly selected via Rafflecopter and notified via email. I received a duplicate prize package in exchange for hosting this giveaway — but all opinions are 100% my own. Please see my full disclosure policy and contact me with any questions you have. Good luck!