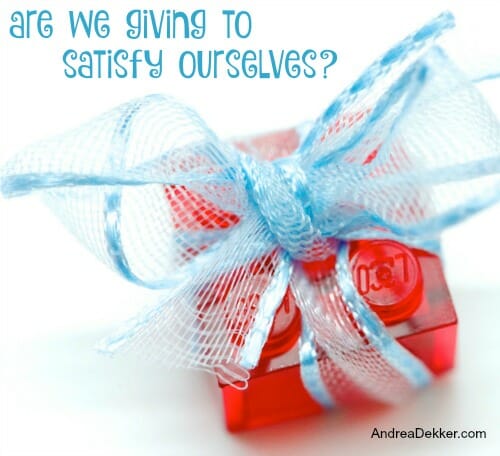 I've had this post written in my head for several months already, but I've hesitated to actually publish it because it has the potential to come off as snotty and ungrateful. However, I promise that is not my intent.
Instead, I hope it simply encourages you to stop and think for a few moments before you give to charity, give to the food pantry, give to a local organization, give overseas, or even give to your own friends and family.
There are so many times when we (myself included) have our own agendas for giving — we want to give what WE want to give, whether or not it is useful, needed, or appreciated by the recipient.
There are hundreds of examples I could share… but I've chosen 7 that hit close to home for me personally. I think they are enough to get my point across!
1. Donation Center Drop-Offs:
I've written about this before (read that post here) but I have to mention it again today.
As you probably already know, I'm a HUGE advocate of purging, selling, and donating things we no longer need, use, want, or love. However, just because we don't need, use, want, or love something does NOT mean our local donation center will want it either.
Please, if your stuff is trashed, if it doesn't work, if it's missing important pieces, or if it's long-outdated technology, just put it in your own trash can or figure out how to recycle it.
One man's trash is not always another man's treasure — and bringing our "trash" to a donation center so we feel better about getting rid of it simply creates more work and expense for the organization, meaning less funds and energy devoted towards the overall mission of the organization.
.
2. Food Pantry Gifts:
Our church collects non-perishable foods and paper goods on a regular basis, and our family often donates a few items each time — but do you know HOW MUCH MORE these food collection agencies can do with a simple $5 or $10 donation (either cash or a grocery gift card)?
Most food pantries buy in bulk, often get special pricing, and know exactly what foods are needed most. So although they will gladly and cheerfully accept whatever foods we give them, they almost always prefer small (or large) cash or gift card donations as they can really stretch these dollar to buy exactly what they need.
Of course, I am not discouraging anyone from giving food (unless it's expired food… PAH-LEEZE do not give expired food!) I know giving food is a fantastic tangible way to share what we have with people in our own community (and it's a great learning experience for children too). However, the next time you run to the store to buy groceries for donation, maybe just get a $5 or $10 gift card instead.
In fact, our local food pantry often has "double days" or "triple days" when we can buy a gift card on certain days and the amount will be doubled or tripled by the grocery store or a local business. This means I can buy a $5 gift card and the organization will get $15 — which is SO much more beneficial than a box of cereal or crackers.
.
3. Disaster Relief Donations:
I am not extremely knowledgable on how disaster relief donations work — but I've read enough to know that there are lots and lots and lots of very UNHELPFUL donations sent, simply because we are giving to satisfy our own need/want/desire to help.
We hear of a need and we want to help (which is awesome) but instead of pausing and thinking about a logical way to help, we simply do what WE want to do at that moment.
We (US government) spent $300,000 to ship bottled water to West Africa when we could have simply sent water purification pumps for $300 (and not polluted their community with plastic water bottles).
We (Americans) sent winter coats to Honduras in the summer.
We (Americans) sent so many completely useless and unneeded toys and stuffed animals to the children affected by the Sandy Hook Shooting that the local relief organizations had to rent warehouses to store everything (and find extra volunteers to sort through everything).
Just last year, a family in our school community was devastated by a house fire while they were on vacation. They literally lost everything and had very specific requests for donated goods. Yet even still, they ended up with so many random donations of unusable goods and clothing that they simply asked for all donations to stop.
This quote sums it up pretty well:
"Generally after a disaster, people with loving intentions donate things that cannot be used in a disaster response, and in fact may actually be harmful," said Juanita Rilling, director of the Center for International Disaster Information in Washington, D.C. "And they have no idea that they're doing it."

~ source: this CBS news article (a fabulous read if you're interested in disaster relief donations)
.
4. Operation Christmas Child Shoeboxes:
This is another one I've touched on before in previous blog posts — but I want to mention it again.
These shoeboxes are so great, the organizations behind them are fantastic, and I'm confident the people sending boxes are doing it with the best of intentions… but so often, the contents of the boxes are not a good fit for the children receiving them.
They get XL t-shirts left over from events because in our minds "these shirts are better than nothing". They get toys with English instructions, markers and crayons with no means for acquiring paper to use them on, and personal hygiene and cosmetic items that are not culturally appropriate.
The boxes are packed and shipped with love (based on what WE would like), but without stopping to think through how they will be received.
I read this article a couple years ago and have remembered it ever since. It has such great eye-opening advice and practical tips for sending useful and culturally appropriate items in an OCC shoebox.
.
5. Mission Trips and Service Projects:
I've heard countless stories from pastors, missionaries, and non-profit organizations about mission trips and service projects that are executed with the best of intentions… but really do nothing to serve the community in need.
They serve OUR need to feel like we are giving back and doing something helpful… but that's not really the point (at least it shouldn't be the point).
In Jen Hatmaker's book (For the Love) she talks about an Ethiopian community that put dirt and mud on specific buildings every single year because there was one church group who insisted on cleaning and repainting these specific buildings year after year. The building did not need to be cleaned or repainted and the community asked the church to do different acts of service — but they wanted to paint… so they painted.
A little closer to home, I've heard first-hand how so many people in my own community want to "serve" but only if they can do it "their way". So they serve, and feel great about their service… but they were the only one who benefited.
Not exactly ideal!
.
6. General Gift-Giving:
So far, all my examples have been focused on giving in the form of donated goods and services to those who are less fortunate; however, I think this principle certainly applies to general gift-giving with friends and family — especially at Christmas time!
I love giving and receiving gifts — but I know not everyone feels the same way. That said, I have gotten my fair share of "are you kidding me" gifts from people who clearly don't know me as well as I thought… and I've even received several "what were you thinking" gifts from people who DO know me but just didn't put much time or consideration into the gifts they gave me.
As I get older, I can more easily shrug my shoulders at the lack of effort, but there are still times when it really bothers me (especially when it's a gift from someone who knows me well).
I question why they would give me a gift card to a place they know I would never go, a regifted item that certainly isn't my taste — like random chachkies I have no use for but were likely found at bargain prices, or something "similar" to what I asked for but not really what I wanted.
I know this is verging on "ungrateful", and I promise, it really doesn't bother me that much anymore. I'm simply using it as an example to show how easy it is to get sucked into giving to satisfy ourselves. The givers probably thought "at least it's something" to justify their last-minute gift — while I was left feeling underappreciated because they didn't put any thought into my gifts.
.
7. Everyday Gifts of Service:
Last, but certainly not least, I want to touch on general everyday gifts of service to local people, groups, and organizations very near and dear to us (not overseas mission trips or disaster relief).
I will be the first to say that Dave and I are the recipient of MANY MANY amazing gifts of service from our family members, church friends, neighbors, etc. The good gifts of service FAR outweigh the not-so-good gifts… but for the purpose of this post, I'm focusing on a couple not-so-good gifts of service 🙂
For example, when you say you'll bring a meal to someone at 5:00, but then forget and simply pull something out of your freezer and bring a completely frozen meal to a hungry family with crabby kids and a new baby at 5:00, that is not a great gift of service. It would have been much more helpful to come with a $5 Little Caesar's Pizza.
Similarly, when you say you want to "help" by watching my children for a couple hours while I work from home, it is not helpful to sit and chat with me the entire time while my children run around trying to get someone to give them a little attention. If you want to chat, wait until Dave is home and we'll go somewhere quiet. If you want to help, get the kids out of my hair for 45 minutes.
And finally, if you want to volunteer, please just do whatever they ask you to do (even if it's not glamorous). In my pre-tiny-children-who-need-me-ALL-the-time life, I did a lot of volunteer work and was always amazed how many "volunteers" had their own agenda. They wanted to volunteer, but only if they could do the jobs they wanted to do — which really didn't end up helping or "serving" these organizations all that well. If anything, it put more work on the people in charge because they often ended up doing all the little jobs no one else wanted to do, instead of overseeing all of the other work.
I realize that in all of these examples, the intentions of the givers are almost always good, kind, and sincere.
Most people do not intend to create more work for nonprofits, burden victims of disasters and developing communities, or even give unwelcome gifts to our family and friends — but without realizing it, this is what can happen when we "give to satisfy ourselves".
Please keep giving… but also, please take a few minutes to think (or even ask) how our gifts can best be used by the recipient to create a win-win situation for everyone!