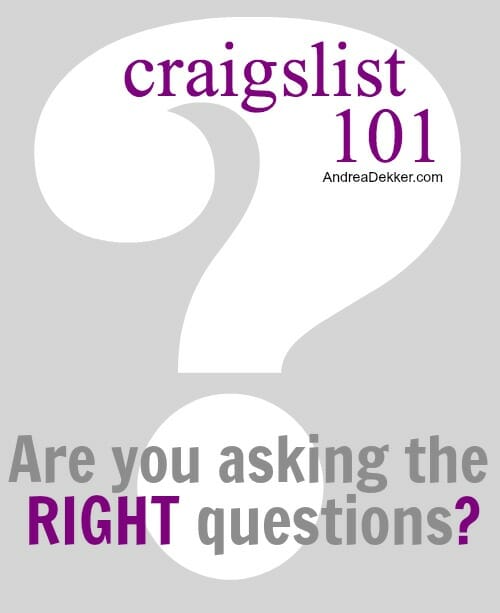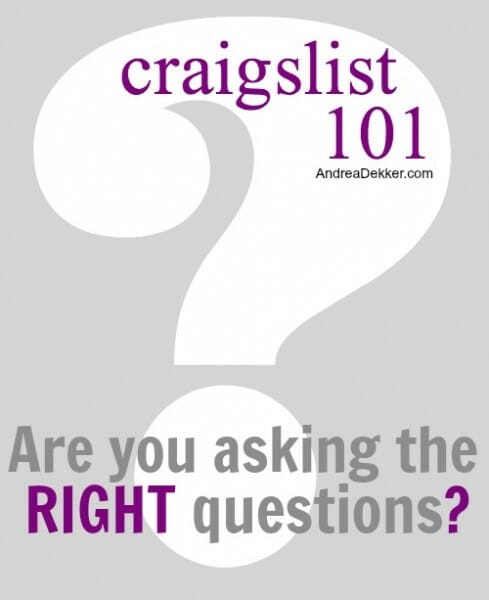 As a VERY experienced Craigslist buyer, I've had my fair share of "are you kidding me?" reactions after arriving to buy what I THOUGHT was going to be a great bargain.
Either the item was much smaller or larger than I envisioned, in much worse shape than I thought, damaged in a way that was not alluded to in the ad posting, smelled like smoke, was covered with pet hair, or any number of other reasons that caused me to rethink my purchase decision.
Thankfully, those experiences are getting fewer and farther between as I've learned a lot about asking the right questions via email (or sometimes phone) before I waste precious time and gas to pick up my treasures.
If you haven't had the best luck buying things via my favorite online marketplace, it might be because you're not asking the right questions ahead of time. Don't get too discouraged — it's really not as difficult or complicated as you might think.
Below is a list of some great questions you can ask (based on what you're buying) to hopefully get a bit more clarification and avoid those awkward and annoying "are you kidding me?" moments.
.
Starter Questions:
Can I see a few more pictures? I always want to see at least 2 or 3 pictures — and the pictures MUST be of the actual item in the person's home, not just a screen shot from Amazon.com or some other website.
Has this item always been in a non-smoking home? I have a very sensitive nose, so if they lie to me (which has happened before) I will be able to tell almost instantly when I arrive to pick up the item. If it's not already listed in the post, I always ask if the item has ever been in a smoking home — this saves me a lot of wasted time.
Do you have any pets? This isn't necessarily a deal-breaker for me, but I personally don't love pets or pet hair (especially if it's furniture or baby items)
Is this actually YOUR item or are you selling it for a friend or family member? If it's not actually theirs, they probably won't be able to answer many of the questions below so often I don't waste my time with people trying to sell for others.
Did you purchase the item brand new? If so, when and from where? If not, where did you get it from and when? You'd be surprised how many people are selling used items that they don't know where they came from or when they were initially purchased. This isn't a huge deal for lots of things, but it is a bigger deal for baby items or other items that expire.
Is the price is negotiable? I like to know what I'm dealing with and if there's any wiggle room in the price. I don't ask this question if the post clearly states he the "price is FIRM", but for the most part, I'm much more likely to look at an item when I know the price is somewhat negotiable.
Approximately where are you located? I never ask for an exact address right away, because that will sometimes scare people away. Instead, I ask for a general location (like close to this school, or mall, or major cross streets). This way, I can get a feel for how far away they are and if it's worth my time and gas to go get the item.
Electronics Questions:
NOTE: I will admit that I've almost never purchased any type of electronics device from Craigslist because I'm not knowledgeable enough to know exactly what I'm getting. However, I do know LOTS of people who successfully purchase electronics from Craigslist on a very regular basis. If you're going to buy electronics, I'd definitely recommend knowing what to look for and what to watch out for. I'd also suggest asking these questions:
What are the model and serial numbers? I'm not sure you can really look up any information using these numbers, BUT I've been told that if the seller is reluctant to give out that information, it could mean that the item is stolen or there is some sort of recall on the item.
Do you have your purchase receipt and/or any warranty information? If it's a high-ticket item, they really should have their original receipt and warranty information (I know we keep all that information for our pricey electronics). Even though the warranty most likely won't transfer to you, it's still a nice way of verifying that they are actually the original owners as well as when and where the item was purchased.
Furniture Questions:
What are the measurements? Make sure to get ALL of the measurements too as you'll need to make sure it fits your space and the vehicle you're bringing it home in.
Are there any imperfections? Usually I won't care too much about imperfections on furniture since I almost always paint everything anyway. However, it's still nice to know what I'm getting into before I arrive — and you'd be surprised how often sellers intentionally don't mention these things.
Where do you use this item? The main reason I ask this question is because I like rustic-looking furniture and sometimes, I'm planning to use a piece INSIDE but find out they've been using it OUTSIDE for years and it's really dirty and gross.
Jewelry Questions:
Can we meet at ________ jewelry store (the store of YOUR choice) to have them look at the items? If the seller doesn't agree to this, it's probably because the jewelry isn't real or it's stolen. I know I wouldn't have an issue meeting someone at a local jewelry store if I was selling the "real deal".
This question should pretty much cover everything as the jewelry store employee SHOULD be able to answer all your other questions or address any concerns.
Baby Item Questions:
When and where was it purchased? In general, I don't have an issue buying used baby items as long as I feel like the person is telling me the truth about when and where the item was originally purchased (as well as answering all those other questions above — like coming from a smoke-free, pet-free home) Also, by asking this question, I can look on that store's website and find out the original price to know of the sale price is a good deal or not.
How long have you used it and for how many children? This will just give me a little more information about general wear and tear.
What are the product model and serial numbers? When it comes to baby things, you can usually use these numbers to check if there are any recalls or consumer concerns for that specific product. You can also usually find out if the item is expired or not based on these numbers.
Clothing and Accessories Questions:
When and where was it purchased? Just to make sure it's relatively current styles and that they didn't get it from Goodwill and then are trying to turn a profit.
Do you have the certificate of authenticity? If you're buying a high-end bag or designer shoes, they will almost always come with a certificate of authenticity. If the seller doesn't have that certificate, it's most likely a fake (I don't care what they say!)
Does it fit true to size? Sizing between brands is so variable that this is good question to ask. The seller would have no reason to lie about this, and it should be a relatively easy question to answer. This has been particularly helpful for me when buying children's clothing as some brands run much larger. I've saved myself many trips by asking this first!
Will you have a place for me to try this on when I come? Although it might feel weird to try clothing on in someone else's home, I would suggest wearing a thin tank top and leggings under your current outfit (or under your kid's outfits) so you/they can relatively quickly try on the the clothing.
.
Two Final Tips:
1. Depending on what you're looking to buy, you might also try Googling: "what to look for when purchasing _____". I know I've done this a few times and have been very surprised by the questions, comments, or recommendations from others who have also purchased that specific item.
2. Take a few minutes to look up the item on Amazon.com. This not only gives you the chance to see what the item sells for brand new, it will also allow you to read various reviews from other buyers. There have been many times when I was surprised to find that I can buy the item brand new for only a few dollars more than the used price. This gives me the opportunity to barter a bit more (unless they say price is firm) and explain why I would need a lower price to justify buying used.
Asking these questions has saved me so much time getting out to see items that wouldn't have been a great fit for me — and you all know how much I hate wasting time!
Obviously there are many more categories and questions I could add to my list; however, I'm leaving that open for you guys…
Do you have any other questions you always ask when buying on Craigslist?