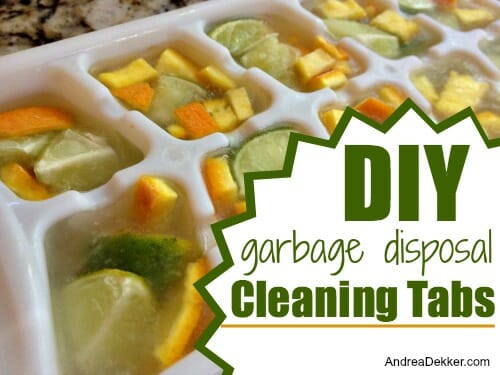 Have you ever noticed a gross smell coming from your sink — or, more likely, from your garbage disposal?
Compared to most people, I have an extremely sensitive nose (just ask Dave) and I'm always sniffing out stinky kitchen odors. I've noticed that in general, smells get worse for me in the summer time — probably because the weather is warmer so things rot quicker.
Our garbage disposal is right next to our trash can, so usually, when I smell something stinky in the kitchen, it's one of those two options. If the smell doesn't go away after I take out the trash and flush the disposal with cold water, I know it's time for a "garbage disposal cleaning tab" — which I make myself and keep on hand for stinky situations.
This "recipe" is extremely easy and can be whipped up with almost no effort. Also, since these cleaning tabs ares frozen, you can make a bunch at a time and store them for as long as you want.
Recipe for Garbage Disposal Cleaning Tabs:
INGREDIENTS:
a variety of citrus peels and/or whole fruits (you should be able to make 12 ice cubes with one large orange or grapefruit peel)
white vinegar
ice cube trays or mini muffin tins
DIRECTIONS:
chop citrus peels (or whole citrus fruits) into small chunks
place chunks into ice cube trays or mini muffin tins
pour vinegar over peels until compartments are full
place trays in the freezer until completely frozen
store tabs in trays or in a zip-top bag in freezer until you're ready to use
CLEANING INSTRUCTIONS:
When you're ready to freshen your garbage disposal, simply shove a couple tabs down your disposal, turn on the cold water, and run the disposal until the grinding sounds stops.
The vinegar should help disinfect any bacteria in your disposal, the citrus peels will give off a pleasant aroma, and the ice will help to sharpen your disposal blades!
The assembly process should only take a few minutes (I can easily make 24 cubes in less than 3 minutes), and then you'll just need to wait for them to freeze.
This is a GREAT use for citrus that might be going bad in your refrigerator — or even the peels of citrus you eat on a regular basis. Just put the peels in a bag in the freezer and once the bag gets full, use those peels to make your disposal cleaning tabs. Also, keep an eye out for citrus on the discount produce rack. Who cares if it's a little bruised or past it's prime if you're just going to chop it up for the freezer.
I love this simple method for cleaning the garbage disposal… it's so quick and easy — and almost free!