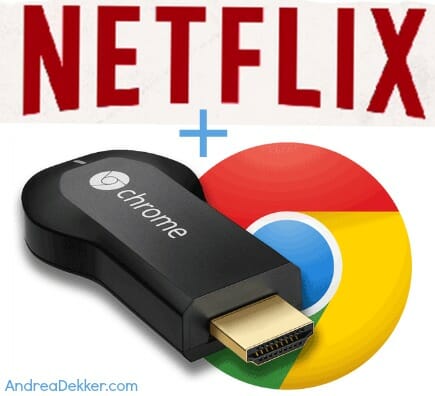 Just to be clear, Dave and I have never been huge TV watchers. We both have followed certain week-night shows over the years, but we are definitely NOT the type to just sit and veg-out in front of the TV (even if we had nothing else to do).
After having kids, our TV watching went from a couple shows a week to sometimes catching the evening news — if we were lucky! Even if we got Nora in bed before 11:00pm and just wanted to sit and relax for a half hour, there was nothing good on anyway (we've always had the most basic, BASIC cable package we can find because we can actually get internet cheaper when we pair it with cable).
Anyway, this past Fall, my sister told us about Google ChromeCast and how they purchased the $35 device and then used it to stream Netflix to their TV. Dave and I were instantly intrigued and did a little research ourselves. We used some Staples Rewards money to get the ChromeCast USB device for only $1, and then did a free trial of both Netflix and Amazon Prime to see which one we'd like best.
It didn't take us long to decide that Netflix fit our TV needs/wants a lot better than Amazon Prime, so we canceled the Prime membership before the trial was up and stuck with Netflix.
.
I think it's safe to say that our entire family has enjoyed using Netflix with our ChromeCast these past few months, as we can now watch a few of our favorite shows when and where it's convenient for us.
Here are just a few reasons why we're loving Netflix + ChromeCast…
NOTE: This post is not sponsored in any way 🙂
1. Nora can watch Daniel Tiger any time.
I realize some of you don't let your kids watch TV… and I applaud you for that. But honestly, I don't think I'd make it through the day if I didn't let Nora watch a few episodes of her most FAVORITE show ever.
Before we had Netflix and ChromeCast, I would literally plan our day around the fact that Daniel Tiger was on at 11:00am. I'd make sure we were home by 11:00 so she could watch that show, then we'd eat lunch, read books, and I'd start the LONG process of trying to get her to lay down for a nap.
Now, we can watch Daniel Tiger whenever it's convenient for us (like when I'm feeding Simon and she's squirting multiple pumps of my nice lotion all over the place).
This in itself is 100% worth the $7.99 monthly Netflix fee 🙂
2. Dave and I can watch a favorite show when it's convenient.
Like I mentioned before, we don't watch a ton of TV, but we both have a few favorite shows. We both really liked The Office, Friends, This Old House, and we recently got hooked on Cake Boss.
It's so nice to be able to watch one episode of a favorite show or rerun when there's nothing else on and we just want to watch something other than bad reality TV, Judge Judy, the NEWS, or some type of crime-related drama.
3. "Free" movies!
Netflix doesn't have every movie, but they have a lot of them! And it's been really fun to watch part or all of a movie on a long weekend or over Dave's spring break. We haven't watched many movies yet, but I'm guessing we'll probably use this feature more now that Dave is off of school for the summer.
They also have tons of kids' movies, which Nora really isn't old enough for — but again, it will probably be very useful in a few years.
4. We can stream shows from our phone, iPad or computer.
With a traditional Netflix membership, you can either order movies in the mail or watch them on your computer, iPad, or Phone. However, when you pair Netflix with ChromeCast, you can stream anything you're watching via the Netflix App directly to the ChromeCast device on your TV.
This means I can scroll through shows on my phone while I'm feeding Simon or while Nora is napping on my lap without having to move a muscle or disturb any little people around me. It also means I can watch that show on our nice big TV instead of squinting to see it on my phone or iPad… AND that if I start watching a show on the TV, I can easily pause it… and then start watching it again on my phone, or iPad.
5. It stops after each episode.
I absolutely LOVE that the whole program shuts down after each individual show.
This means that in order to watch another episode, you need to manually open the Netflix app again and select the next episode. This also means that it's much less likely that we'll get sucked in to watching one episode after another. We can watch one and then be done and move on to more productive activities 🙂
6. No commercials!
I don't think I need to elaborate on how wonderful this feature is!
I can watch a 30 minute show in about 21 minutes, and a 1 hour show in about 46 minutes.
The one downside to Netflix is that we can't watch any current shows or movies — but that hasn't bothered us too much. We love watching reruns of our favorite shows — and they have some pretty good cooking and travel shows too (yes, we're nerds like that).
I realize Netflix and ChromeCast aren't for everyone, but the pair has certainly been beneficial for us with a new baby around and lots more down time on the couch holding him.
We love that ChromeCast doesn't have any recurring fees and that the Netflix fee is quite reasonable — especially when you consider the cost of more expensive cable, DVR, etc. etc.
I'm sure in the long-run, this duo probably decreases our productivity a little bit — but I know I regularly use it as a "reward system" where if I get a certain amount of things crossed off my list, I'll watch one 21-minute episode of something before bed (while I'm making my to-do list for the next day!)
Do you use ChromeCast, Neflix, Amazon Prime, or any other programs like this?
If so, which ones are your favorites?