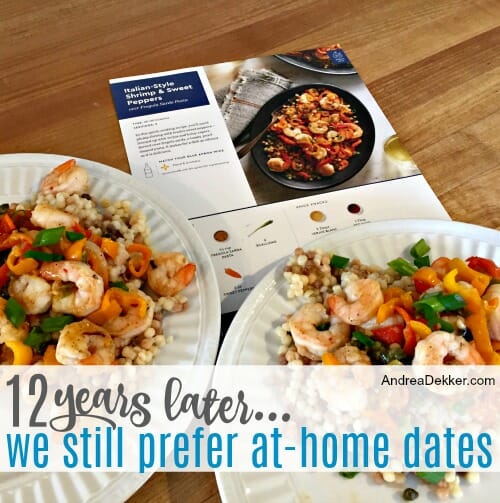 Dave and I will celebrate our 12th anniversary next week; and while a lot has changed in our lives over the past 12 years, our love for at-home dates has stayed the same!
True Story: After our wedding reception, we went to our new house and ate grilled cheese as our first meal at home together… just hours after we were married!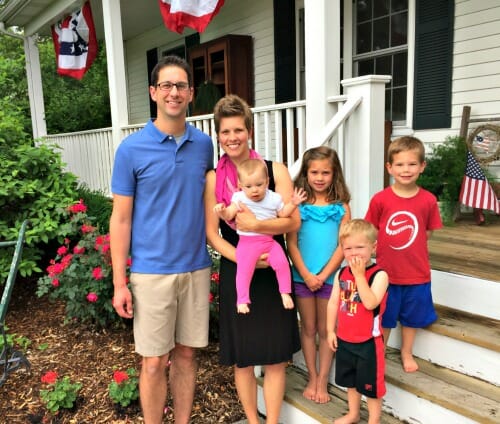 To celebrate our anniversary (and our love of at-home dates), I'm offering some fun freebies from Blue Apron at the end of today's post!
.
I do realize we're probably not "normal" in our preference to stay home versus go out, but it just works so well for us!
We have lots of friends and relatives who regularly go out together (sometimes several times a week). They hire a babysitter or ship the kids off to grandparents' houses. They have creative plans for what they will do. They go out, enjoy themselves, and return home happy and refreshed.
It seems like such a fun concept…until Dave and I actually try to implement it in our own lives. Then we realize just how much work a simple date night can be for us.
Find someone to watch the kids, decide on what to do or where to go, make food for the kids, wait in traffic or long lines, wait for drinks, wait for food, wait for the event to start, come home early because we didn't enjoy the movie or the show, realize that Clara didn't stay sleeping so she's been awake all night and is now super tired, get to bed way too late, feel tired and behind the entire next day because we were out late and didn't complete any of our normal evening activities.
I know that might seem awfully pessimistic, but it's honestly how I feel about "going out".
It's frustrating, expensive, and not nearly as glamorous as movies or books make them sound (at least not in my opinion).
Eating out on our honeymoon… one of the only date pictures we have!
On the contrary, hanging out at home in comfy clothing (after the kids are in bed), eating good food we didn't have to wait for or constantly assure the waitress we're enjoying, and simply throwing our plates in the dishwasher before getting back to our Netflix movie is SO MUCH MORE relaxing!
And since I enjoy cooking (most of the time), I'd much rather make food at home than pay 4 times as much at a crowded, noisy restaurant that doesn't let me eat in my PJ's!
As many of you know, Dave and I have enjoyed occasional Blue Apron meal deliveries for well over 4 years now (our most recent shipment arrived on my birthday this past weekend!)
It's SUCH a fun treat for us to make special meals using ingredients we might not normally cook with… right from the comfort of our own home!
Honestly, we've never had a bad meal yet — they are SO yummy!
The pre-portioned ingredients mean almost no prep for me, and no wasted food later on.
The simple-to-follow picture directions mean little room for error.
The clearly-labeled ingredients and included nutrition facts mean we know exactly what we're eating.
The delivery to our front door means one less thing for us to do!
Win, win, win, win!
Have you wanted to try Blue Apron… but still haven't signed up?
If you want a fun at-home date night… Blue Apron is so much less expensive than paying a babysitter and going out!
If you'd like to step out of your cooking comfort zone and try new ingredients and new cooking techniques… Blue Apron can help.
If you'd like a mini-break from planning every single meal of every single day… Blue Apron will give you that break.
Blue Apron will also give you a discount! They are currently offering $50 off 2 weeks worth of meals to anyone who places their first order via this link!
What are you waiting for? Give it a try and enjoy a few at-home dates!
This is a sponsored post on behalf of Blue Apron. All opinions are my own.