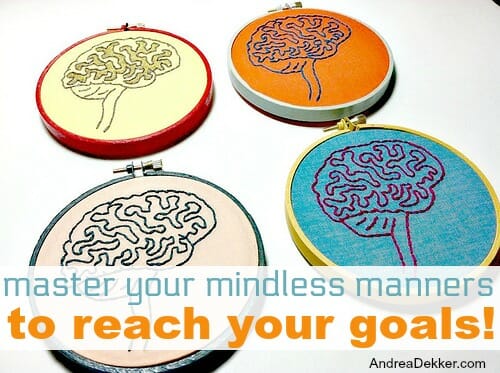 I'm back with another goal related post (yes, I know it's halfway through the year, not the beginning of a new year) because I'm a firm believer that in order to reach our goals, we must revisit them on a very regular basis — sometimes daily, and for sure weekly.
Obviously, there are many things that can sabotage progress towards our goals… but one issue I often notice (even in my own life) is when "mindless manners" get in the way.
Some examples of my own mindless manners are:
Sitting down to work on a blog post or VA work and aimlessly scrolling through Facebook or getting bogged down by unimportant emails instead of working on the project I sat at my computer to do.
Snacking on food just because it's there, not because I'm actually hungry.
Opening my phone to take a picture of something and then spending more time "quickly" checking my email or sending a text message.
Buying something we don't need or really even want, just because it's "only $0.50" at the local thrift store and my kids would really like it.
Doing 'just one more thing' and then 'just one more thing' when it's time for me to get to bed… and then going to bed much later than I wanted to.
Tell me I'm not the one one who struggles with these!
.
There are countless other examples I could mention, but I have a feeling we all know what our own mindless manners are. The problem is we often don't "catch" ourselves until it's too late.
We have good intentions of being productive, eating healthier foods, staying on task, saving money, getting to bed on time, waking up earlier, etc. but we get busy doing something else, and we lose focus on the tasks at hand and the goals we're working towards.
As the saying goes… "old habits die hard".
I love habits for so many reasons — except when they are not-so-great habits I'm trying to break!
.
When it comes to mindless manners, one trick that works for me is to simply focus on "mastering" ONE of my mindless manners at a time.
For example, way back in February, as I was snacking on ridiculous amounts of Valentine's candy, I decided I wanted to master my mindless snacking… especially snacking on junk food when I wasn't even hungry.
I'm a HUUUUUUGE snack-lover with an enormous sweet-tooth, so I knew this would be a difficult habit to break. I slipped up so many times in the beginning, but I slowly learned to pause before grabbing a snack, and instead, to stop and question whether I was really hungry for something or not.
If not, I just had a drink of water or grabbed a piece of gum. If I was actually hungry, I forced myself to choose raw veggies, sliced fruit, or a small yogurt parfait instead — something that would actually satisfy my hunger, versus candy or a cookie.
It's been just over 4 months since I started working towards mastering this mindless manner, and it's honestly still really challenging.
As I mentioned in my post the other day, I still have sweet treats on regular basis, but they are very small portions and eaten as planned treats, not just mindlessly any time I see food sitting out.
As a result, I lost the last of my baby weight and now eat SO many more nutritious foods (which means my family is also eating healthier!)
I have a feeling I will struggle with my love of snacking for many years to come, but I'm thrilled with the fact that I'm taking steps in the right direction.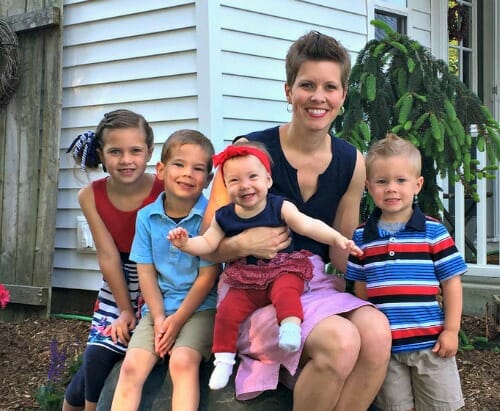 Another example is my desire to wake up early (or at least before my kids) throughout the summer.
Dave and I always say we're going to wake up early in the summer, but we never actually stick with it. We give in to staying up too late at night, and then sleep in until the kids wake us up in the morning.
While this might not sound like a horrible situation, my days run so much smoother and I am personally much happier if I am fully dressed and ready to go, with a few to-do's crossed off my list and breakfast ready when my kids wake up. The entire day seems to be better, calmer, and easier when I wake up early.
So this summer, I have gotten up between 5:00 and 5:30am every day except one — it's amazing how much I accomplish before anyone else is awake!
Of course, this means I need to get to bed on time as well (which is where the mastering my mindless manners comes into play). I have to force myself to stop what I'm doing so I can take a shower and get to bed on time in the evenings. It doesn't always work, but more often than not, Dave and I have been doing a better job of getting to bed on time and a really great job of waking up early every day.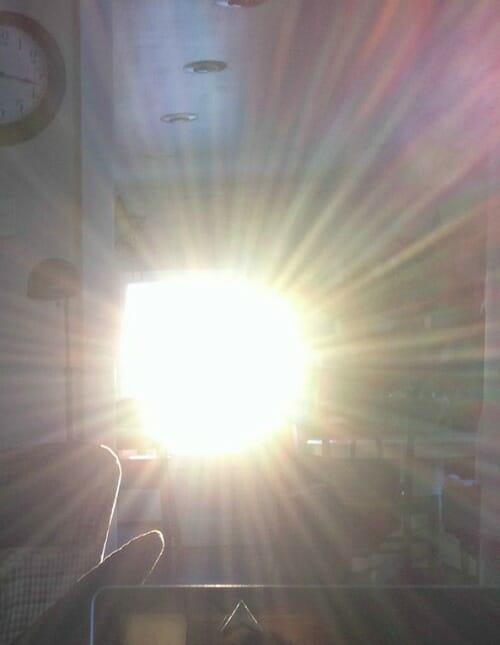 There are always more mindless manners I could work towards, but when I focus on one at a time, I have a much higher success rate! So I'll continue working, slowly but surely, towards mastering various mindless manners as I have time and energy.
After all, even a little progress is still progress!
.
Read more Goal Motivation!
If you're struggling to meet one or more of your goals, I would highly recommend reading a few of the posts below. It's amazing how often we just need to re-read or re-hear something in order for it to FINALLY sink in!
.
What are a few "mindless manners" you'd like to get control over in order to reach YOUR goal?
.
SIDE NOTE: 13 years ago today, Dave shocked my socks off by proposing to me when I was least expecting it — still one of my most favorite stories to tell (read all about it in this post!)